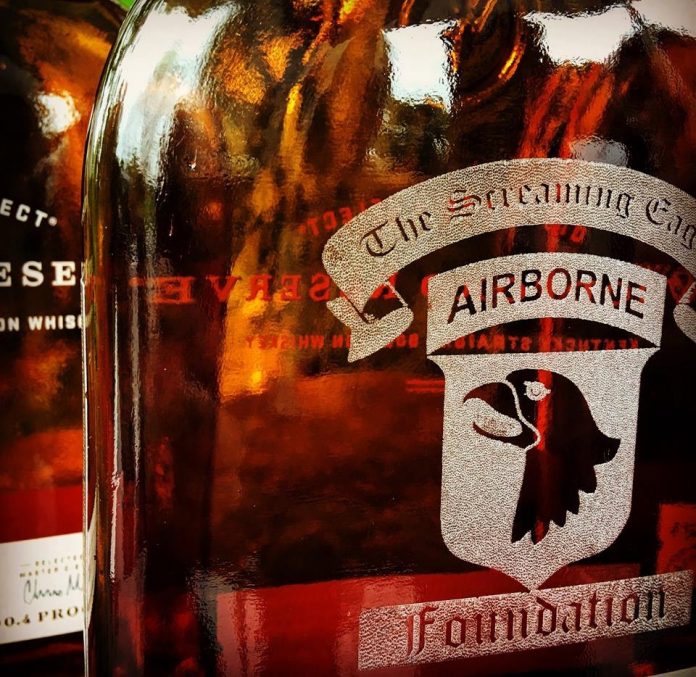 Woodford Reserve will honor the memory of the 101st Airborne Division soldiers who gave their lives in service to the nation with a special engraving program on Memorial Day weekend benefitting the Screaming Eagle Foundation.
Woodford Reserve Distillery, located in Versailles, Kentucky, will engrave bottles May 25-28 and donate $5 per engraving to the Screaming Eagle Foundation. Visitors 21 years and older can purchase a bottle of Woodford Reserve to be engraved with a personalized message of their choice. Additionally, $1 will be donated for each drink sold at the Woodford Reserve Distillery Bar over Memorial Day weekend.
For those not in Kentucky, ReserveBar.com, where available, will be engraving bottles — use the promotional code WR101st to receive free engraving.
For more information on the program, click here, or visit the 101st Airborne Division Association Facebook page.
The engraving program is one of the ongoing efforts from the members of BRAVE, Brown-Forman's veterans' resource group, to honor and recognize the dedication and sacrifice of the men and women serving in the military.
"BRAVE, in conjunction with the Woodford Reserve Distillery, various off-premise retailers and our military channel, are honored to partner with the Screaming Eagle Foundation," said David Page, BRAVE member and 101st Airborne Division veteran. "The Screaming Eagle Foundation has done so much to help not only 101st Soldiers but also other soldiers through various scholarship funds with our state schools. It is an honor to be working with them again."