In 1954, Margie and her husband Bill Samuels Sr. founded a little ol' Bourbon company named Maker's Mark. I wonder if they had any idea then that their adorable Ma' and Pa' startup would someday become a global powerhouse? Perhaps it wasn't by mere chance that it did. And as it turns out, 67 years is just a mere drop in the bucket of whiskey making for this First Family of Bourbon. Like the bottle's iconic red dripping wax, the Samuels family name drips heavily with both distilling and American history going back 200 years (and change).
Robert Samuels, great descendent…well…many times over, made whiskey during the Revolutionary War for G. Washington's troops. His son, John Samuels, would in 1820 build a home nesting just outside of Bardstown on a colossal working farm that eventually would encompass 18,000 acres of land. That same farm in 1844 would host the family's first commercial distillery – T.W. Samuels Distillery.
The T.W. Samuels Distillery would be passed down generation upon generation until 4th gen member, Bill Samuels Sr., decided to be a maverick and start his own distillery with its own name – Maker's Mark. The captivating red wax, bottle design, and name being the brainchild of wife Margie Samuels. The mash recipe was reinvented by Bill Sr. who sought a softer and more pleasant whiskey vs that made by his preceding bloodline. The rest is history…continued.
Wouldn't it be something to see the very first vessel used to dip the very first bottle of Maker's? Or the antique book that was key in inspiring the namesake? How about a timeline of dusties (vintage bottles) from T.W. Samuels Distillery all the way to present day Maker's?
Rob Samuels, current Maker's Mark COO and 6 gen going back to T.W., decided it was time to showcase his family's extraordinary history in its original homestead. Beginning in September 2021, you will be able to not only visit and see this sacred holy land of Bourbon Making History, get this, you'll be able to stay there during your ultimate Bourbon Pilgrimage to Bourbon Country!
After leaving the Samuels Family ownership in the 50's, Rob made the plunge on somewhat of a whim and bought the home earlier this year. After a transformation whirlwind of just 4 months, his vision has created a hospitality destination like no other. It now boasts the best of both architectural worlds where breath taking federal style meets just the right balance of modern chic accents throughout the 200+ year old home.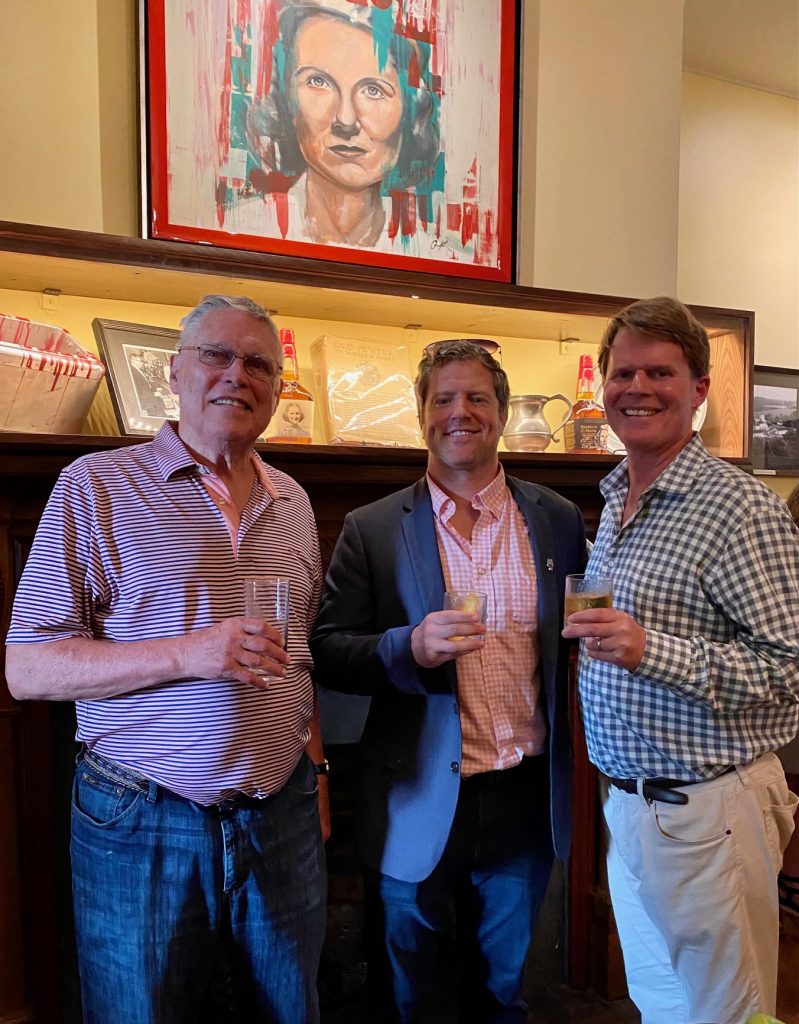 Perhaps best demonstrating is the kitchen with all modern amenities and having this gorgeous original mammoth fire place, original wood floors and exposed brick, with glass works by famed glass blowing artist Stephen Powell and mantle portrait of Rob's father, Bill Samuels Jr.
Both bathrooms on the 2nd floor are full-fledged new age swanky, but I have no problem with that:)
In the parlor room, beneath the Margie Samuels contemporary portrait stands a stunning shrine of Maker's artifacts that helped inspire the bottle design. Margie had a penchant for the craftsmanship of antique pewter and the "mark of the maker" signifying the artist of each hand crafted piece.
Total geek out moment – the original deep fryer used to dip the very first MM bottle!
In the parlor room, how awesome is this?! A Samuels "Hall of Makers" shrine accompanied by a bad ass vintage time-line of bottles.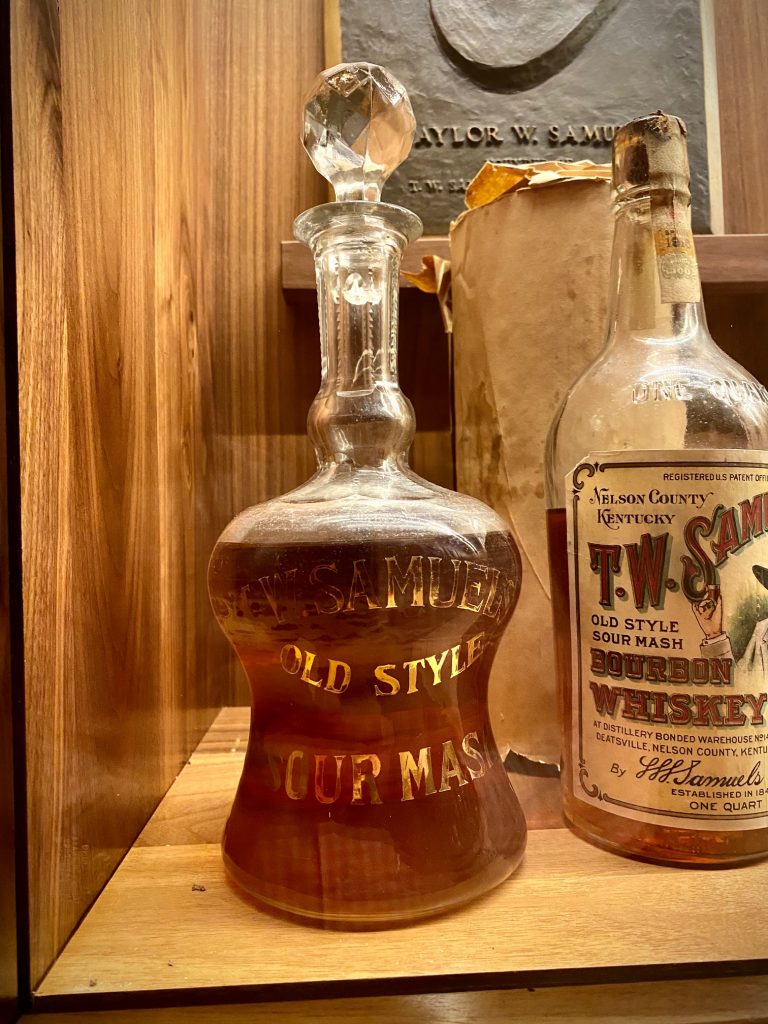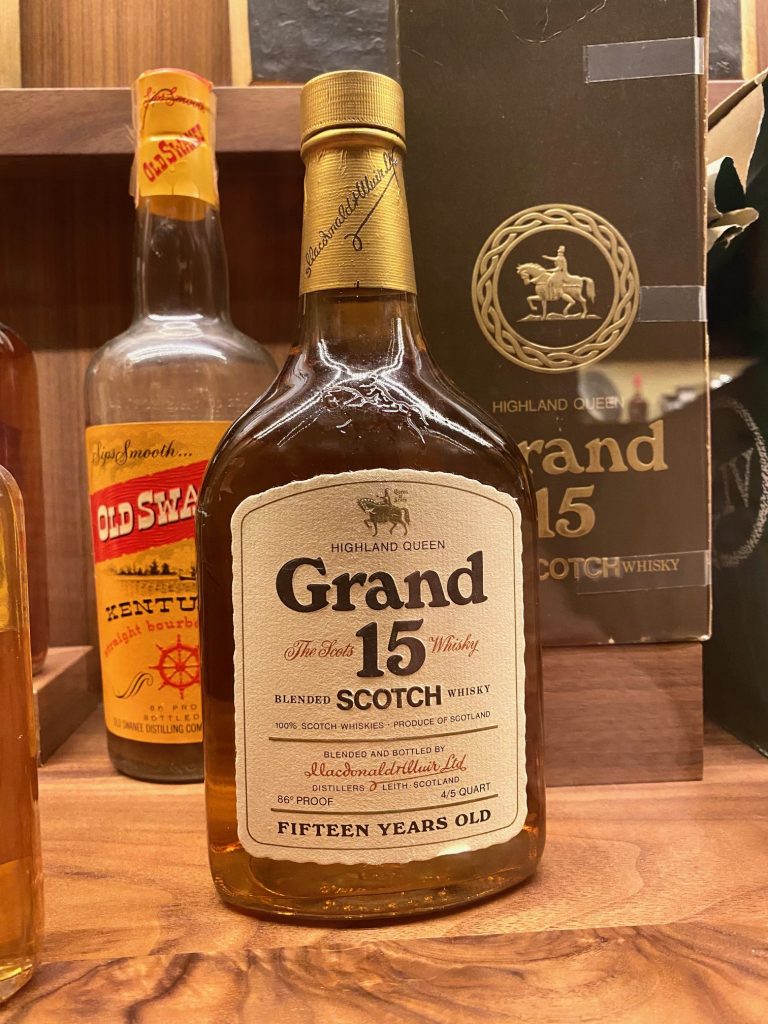 Per Bill Samuels Jr – This gun was surrendered by Frank James (James Gang bank robbers) on the Samuels Home lawn to Bardstown sheriff (and distiller) T.W. Samuels, thus officially ending the Civil War in 1865.
The mother of Jesse and Frank James, Zarelda, married T.W. Samuels older brother Reuben Samuels. The James brothers would go on to make quite a name for themselves in the banking world.
ADDRESS: 160 South Saint Gregory Church Rd, Cox's Creek, KY 40013
PHONE: 502-999-0203
SLEEPS: Up to 8 Guests; 3 Bedrooms (2 king, 1 queen, 2 pullout beds)
~3,500 Sq Ft: Basement, 1st Floor, 2nd Floor
Covered porch with outdoor dining area
Stone patio featuring gas grill and fire pit
Whole Home wifi
Ensuite bathrooms
Website: thesamuelshouse.com
Architect & Interior Design Info
Architectural Firm: "rc3". Craig Rushing. Architect + LEED AP. www.rc3.us [email protected]
Space & Visual Curation: Jeffrey James. [email protected] 859-533-3634