Join Bob Eidson, a founder of The Bourbon Review for a once-in-a-lifetime barrel pick experience. Taste straight from the barrels at one of the longest operating distilleries, as you and 5 others select a barrel of Antique Weller. Widely recognized as an exquisite "wheated" whiskey, this private barrel selection is a whiskey-lovers dream!
Guests will arrive on Wednesday, August 1st, 2018. Check-in to the chic 21c Lexington, a boutique hotel with public art installations, located in downtown Lexington, Kentucky – the heart of Bourbon Country! Festivities begin at 7pm, where you'll embark on a 4-course meal, specially prepared by Executive Chef Jonathan Searle at Lockbox, a restaurant located in the hotel lobby.
WELLER BOURBON DINNER
TO START | Summer Vegetables in Kentucky
– heirloom tomato, vidalia, cucumber, field pea hummus & summer herbs
– milk-clarified Weller Special Reserve Bourbon cocktail, a special cocktail invented by Norma, called the "Clearance Clarence"; note: you'll probably drink this in 2 sips… it's THAT good
SECOND | New Orleans BBQ Shrimp
– creole butter & rice middlins'
– barrel-aged Brewlevardier, using Antique 107 proof Weller Bourbon and a sidecar of Norma's homemade coldbrew coffee; aged for 12 weeks, this is a unique variation on the classic Boulevardier, using Cocchi Di Torrino vermouth & Aperol
SUPPER | Black Hawk Farms Beef Tenderloin
– crispy brioche, tomato mostarda, tender beans & jus
– Weller 12 year Bourbon, neat; sidecar of room temperature premium-filtered water with dropper
DESSERT | Chocolate Donuts
– salty bourbon caramel & lots of powdered sugar
– William Larue Weller Bourbon
You and this small group will dine in the private dining "vault", adjacent to the kitchen. Retire to your corner-king room after the dinner, to rest up for the next day's Bourbon adventure! If you wanted to test the nightlife, there are 20+ bars in walking distance to the hotel.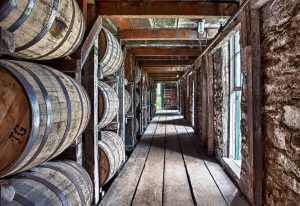 Day 2 of this adventure starts with a luxury motor coach ride to Buffalo Trace Distillery. We'll start with a tour by either Freddie Johnson, 3rd generation employee, or one of the other bourbon stalwarts of the nation's longest continually-operating distillery, where they made "prescription" whiskey during prohibition, per Dr's orders (cough, cough). This is where some of the most famous Bourbons in the world are bottled; such as Blanton's, George T Stagg and Pappy Van Winkle. Located in nearby Frankfort (the state capital of Kentucky), the distillery hugs the Kentucky River banks and is a scenic 30 min drive from Lexington.
After our tour, we'll enjoy a lunch to prep for the afternoon barrel selection. We will gather around several carefully selected Weller barrels, being made available for sampling. The tasting will be lead by founders of The Bourbon Review, with the ultimate goal of selecting ONE barrel for private selection. We'll taste at barrel proof, straight from the barrel; but we recommend adding a little water, to know what the Bourbon will taste like when it's bottled at 107 proof. Upon conclusion of the barrel pick, we'll hop on the motor coach back to Lexington. Next stop = Justins' House of Bourbon, for a private tasting of some vintage whiskey from yesteryear. This is just a short hop from the hotel, and you'll be able to pick up some unique bottles from the House of Bourbon, to hold you over until your private barrel selection bottles are ready.
In closing, you are free to roam for dinner, amongst the 20+ restaurants walkable to the downtown hotel. How could you even top the 4-Course dinner from the night before? This concludes the planned activities, but the founders of The Bourbon Review are likely to retire to Belle's Cocktail House, for a premium rooftop view of the Thursday Night Live concert series. They'll save you a seat in the spacious couch seating overlooking the old courthouse square down below.
This is truly, the Ultimate Weller Barrel Pick Experience. Exclusively offered for the first time ever through The Bourbon Review, this unique opportunity is perfect for a small group of friends, family or Bourbon enthusiasts. Not available for sale elsewhere.
Highlights include:
– Unique 'once-in-a-lifetime' Antique Weller 107 barrel pick experience @ Buffalo Trace Distillery, with the founders of The Bourbon Review
– 4-Course dinner prepared by Executive Chef Jonathan Searle (Lockbox), with each course paired with a different expression of Weller Bourbon
– 2 nights at the 21c Hotel in downtown Lexington; August 1t & 2nd, 2018
– Tasting of vintage Bourbon, at Justins' House of Bourbon
– Transportation to/from the distillery and the House of Bourbon
– 1-year subscription to The Bourbon Review magazine (print + digital)
– Opportunity to purchase the selected Bourbon, once it has been bottled, from Justins' House of Bourbon
Disclaimers:
– Must be 21+ to purchase
– Event is non-transferable
– All sales are final, no cancellations
– Group consensus will drive the barrel selection
– This experience does not include the purchase of whiskey, just the curated event experience, as made possible by The Bourbon Review
– The selected barrel will move to bottling, at a later date (within 4 months of the barrel pick experience date); this bottled whiskey will be made available for sale at Justins' House of Bourbon
– No minimum bottle purchase requirement, maximum number of bottles available per purchase is 6 x 1-Liter bottles
– No whiskey will be allowed to leave the distillery upon conclusion of the tasting experience, per state law
– It is currently illegal to ship whiskey out-of-state
– Experience does not include travel to/from the 21c Hotel in Lexington
– For questions, please contact [email protected]; or send a message to him through Instagram (@cot5r)