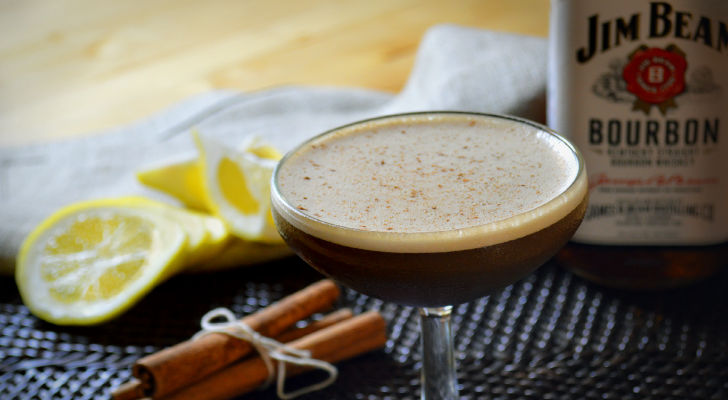 Did you know there are roughly 40 million Irish-Americans living in the U.S. today? That's seven times more than the entire population of Ireland. "The Irish American" combines the classic American ingredients of bourbon and cola with Cider to produce a cocktail that captures the crisp, fruity flavors of a traditional Irish cider all while mimicking the look and slightly bitter taste of Ireland's favorite dark stout.
The Irish American
· 2 parts Jim Beam Bourbon
· 1½ parts infused cola syrup
· ½ parts apple cider
· ¼ parts lemon juice
· 1 egg white
· Cinnamon stick for garnishing
Making infused cola syrup: Combine everything in an appropriately sized stainless steel pot and turn on to medium heat. Reduce by half and strain out the coffee and cinnamon. Continue reducing until only 1½ cups remain. Cool. Refrigerate.
Infused cola syrup ingredients
· 5 cups cola
· 4 tablespoons coffee grounds
· 2 cinnamon sticks
Cocktail Instructions: Build cocktail in shaker. Dry shake until frothy. Add ice. Shake till cold. Strain into a rocks glass or coupe. Grate cinnamon into the top of cocktail as garnish/aromatic.
Sent to us by Gerry Keane over at Jim Beam; the cocktail was created to help celebrate the melding of Irish-American cultures.