Somewhere in between carving the turkey and going into a coma on the couch to watch football, drinking a cocktail may be in order on Thanksgiving Day. Don't entertain your uncle's idea of a Jose Cuervo Margarita. Head to the bar cart and make yourself something festive. Not pumpkin spice egg nog festive, but an after dinner drink that feels of the season. Here are 13 cocktails for the occasion. 
Hot Apple Toddy 
If you're like one of the millions of Americans who have a heaping meal on Thanksgiving, you may be feeling it in your stomach after dinner. Midnight Rambler's Christy Pope has a drink to soothe your ailing body, something she calls "an apple dessert drink is perfect for settling the stomach and initiating a nap." 
2 oz Laird's Applejack
0.5 oz Demerara Syrup
3 oz Boiling Water
1/2 baked apple with fresh nutmeg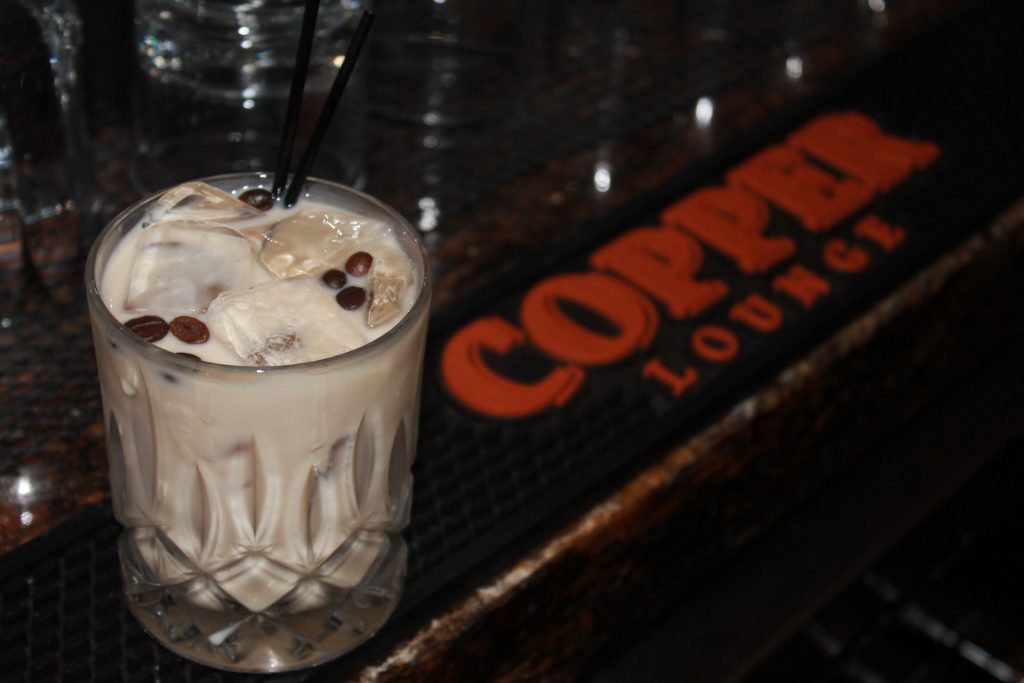 The Wild Dude
Inspired by The Big Lebowski, The Wild Dude is from Scott Allen, bar manager of Copper Lounge at InterContinental Los Angeles Century City. "It's a bourbon-based coffee drink, made with a delicious combination of Frangelico (a hazelnut liqueur) and Kahlua – giving this digestif cocktail its great coffee flavor," he says of the take on a White Russian. "This version uses Wild Turkey as the base spirit, thus 'The Wild Dude' dude is born."
1.25 oz Wild Turkey Bourbon
.75 oz Kahlua
.75 oz Frangelico
1.0 oz Cream
Garnish with coffee beans

Tokyo Tea Time 
When fall and winter roll around, Joseph Lapi of RPM Steak in Chicago turns his mind from vodka and gin to whiskey. "A great whiskey cocktail gives a certain comfort that only a full belly of stuffing can provide," says Lapi. "This recipe has a easy black tea infusion (about 2 tsp per 750ml of whiskey, steep for 1 hour) which adds a very soothing and comforting aromatic (I use Litchi Noir which is black tea scented with fresh crushed litchi fruit). Tag team that in with demerara syrup for a touch of sweetness and cardamom bitters for some spice and it will have you sitting, listening to your uncle's jokes all night long."
2 oz Black tea infused Nikka Coffey Malt whiskey (Litchi Noir)
.25 oz Demerara Syrup
.25 oz Luxardo Maraschino Liqueur 
1 dash Cardamom bitters 
Stir over ice. Strain over a large rock with a star anise.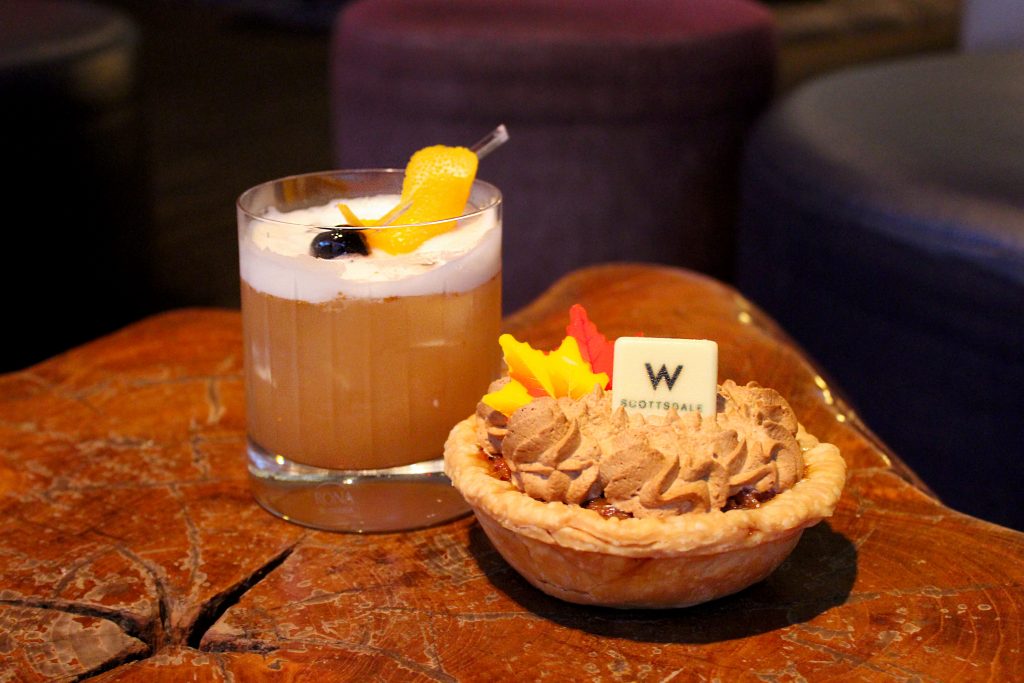 Smooth Operator
"After a big Thanksgiving meal, you need something to cut through that Tryptophan turkey haze," says David Cronin, General Manager of W Scottsdale in Arizona. "Our Smooth Operator cocktail includes figs, honey and lemon, which are all natural indigestion remedies. The Creole Bitters in this recipe gives strong notes of anise and pine to settle the stomach and give a zing of aromatic energy." 
Smooth Operator 
2 figs
1 tbsp Honey
Juice of ½ Lemon
1.5 oz Bourbon (we use Maker's Mark)
Egg white
Dash of Creole Bitters
Muddle figs, honey and lemon in a mixing glass. Add bourbon and shake with ice. Strain, remove ice, add back into mixing tin and top with egg white. Shake again (without ice) and pour over ice. Garnish with a dash of Creole Bitters, a cherry and orange zest.
Adieu
"Here in the north, Thanksgiving may as well already be winter," says Ambrose Burke of Eastside in Minneapolis. "So after turkey, cranberry sauce, and stuffing, this cocktail will settle the stomach and warm the soul with flavors of golden raisin, honey, apple, and a touch of smoke and licorice from a singed star anise pod."
1 star anise pod 
1 dash bittercube trinity bitters 
.5 oz Drambuie 
.5 oz Lustau Amontillado Sherry
1.5 oz Daron Calvados
Stir and strain into neat pour glass. Garnish with a star anise pod that's been singed by flame.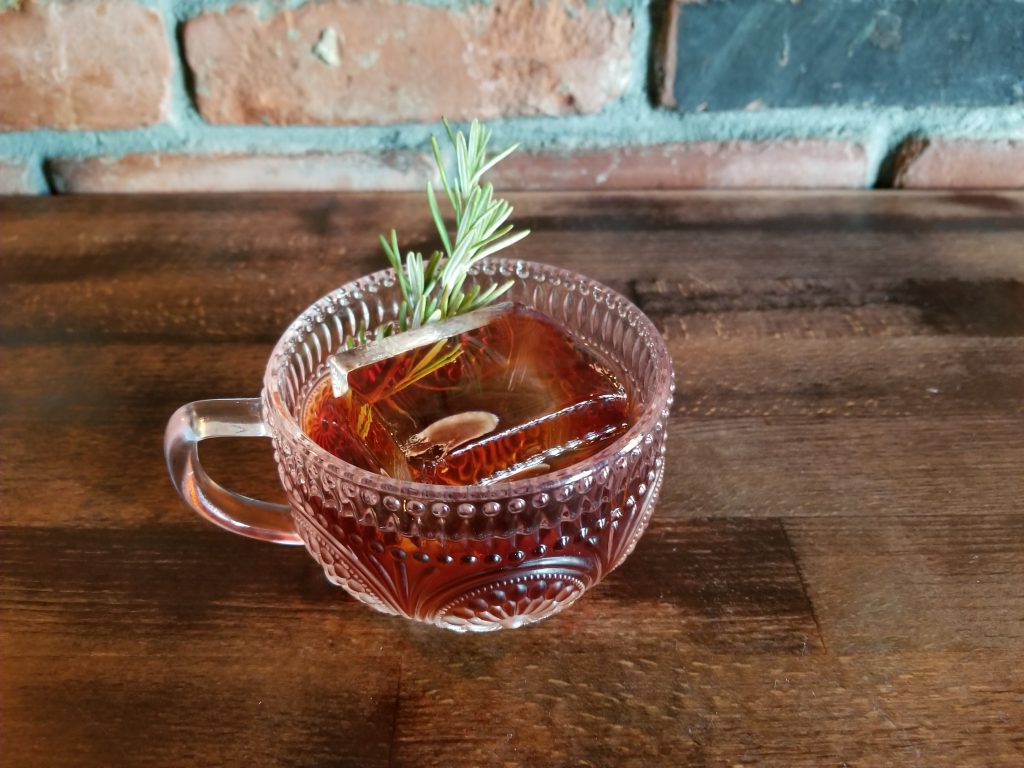 After the Fall
Evan Charest of Severance in Los Angeles, described by some as the Willy Wonka of the wine and low ABV cocktail experience, has a Pommeau-based digestif that you'll want to drink straight through to the new year. "It has a very light and bright quality that is perfect after a big meal," says Charest. "Pommeau is made by mixing Calvados and freshly made apple juice which gives the cocktail a nice balance without the palate fatigue of many post dinner cocktails." 
2 oz Pommeau
.5 oz Tawny Port
.5 oz Chinato
1 Dash Orange Bitters
Add all ingredients to a mixing glass. Stir and strain over large ice. Garnish with a sprig of rosemary. 
New York Old Fashioned
Mikey McFerran, bar director of The Spaniard in New York is responsible for this cross between a bourbon Old Fashioned and a brandy Wisconsin Old Fashioned. "It's the best of both worlds.," says McFerran. "Brandy is a very wintry drink—I always imagine drinking it by a fire —so this cocktail is perfect for sipping by a fireplace, whether real or fantasy. It gives you that warmth, even if you're just sitting in the glow of the old yule log video looping on your TV in the background."
1 oz Bertoux California Brandy
1 oz Bourbon
sugar cube
3 dashes bitters
2 cherries
Orange wheel
In an Old Fashioned glass, muddle sugar cube, one cherry and orange wheel. Add brandy, bourbon and bitters, and stir to combine. Add crushed ice and garnish with a cherry.
Coffee-infused Boulevardier
This cocktail is straightforward and caffeinated. "Coffee is obviously a crowd-pleaser after a big meal and dessert, but after a Thanksgiving meal, folks might like a little something more," says Andrew Hannigan of Bastion in Nashville. "Campari and vermouth have digestive qualities that are delicious and perfect to settle the stomach." 
1oz Coffee-Infused Wild Turkey 101 Rye (Freshly Ground Crema Coffee) 
1oz Campari
1oz Carpano Antica Vermouth 
Stir, strain, serve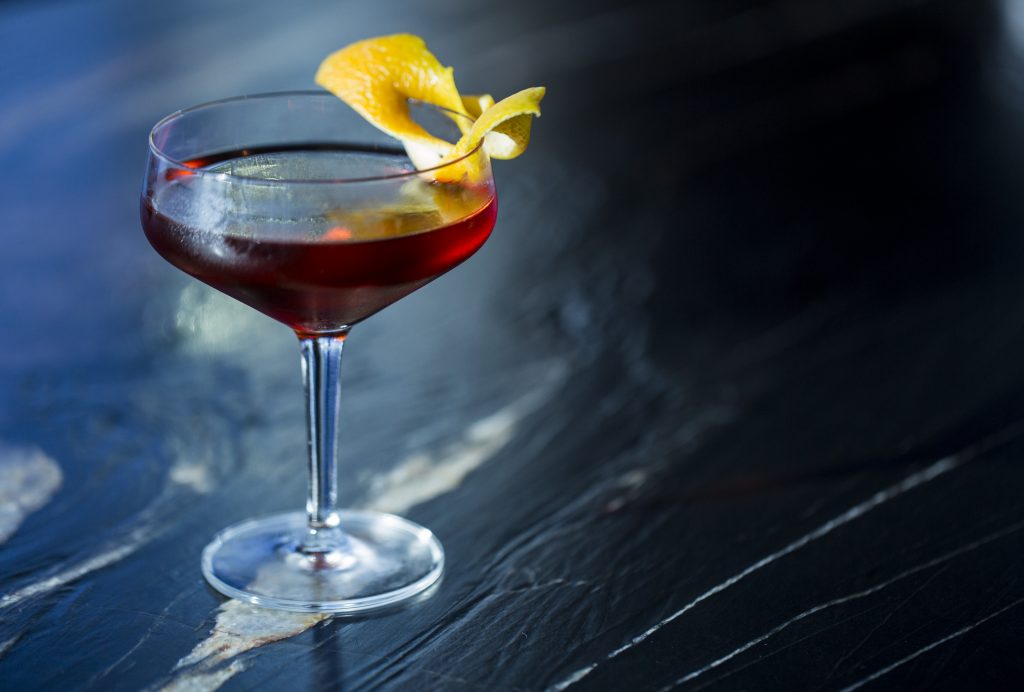 A Take on the Boulevardier
In Downtown LA,  Kate Victoria at 71Above knows the pain in the pleasure of Thanksgiving. "What happens when the pumpkin pie comes out and you reach the point of no return? You need the perfect cocktail to settle your stomach and your anxiety caused by spending countless hours with your family. The Boulevardier," she says. "Classically made with equal parts bourbon, Campari, and sweet vermouth, I like to add Amaro Montenegro digestif as well as a dash of All Spice bitters, stirred, to make you feel all warm and cozy for the rest of the night." 
2 dashes All Spice bitters 
1.5oz Blantons 
0.75oz Carpano Antica Sweet Vermouth 
0.5oz Campari 
0.5oz Montenegro Amaro 
Stirred and strained, served in a coupe glass. Garnish with a dehydrated orange slice. 
Angeleno Nightcap
"The Rutte Genever gives a great foundation and body to the cocktail," Darwin Manahan at Genever says of the Angeleno Nightcap. "The Carpano Bianco adds body while the Amaro Angeleno brings a nice bitter finish. This is not only a great palate cleanser but it is also a great cocktail to help settle the turkey aftermath." 
1.5 oz Rutte Genever 
.75 oz Amaro Angeleno 
.5 oz Carpano Bianco 
Stir and serve in a Nick and Norah glass.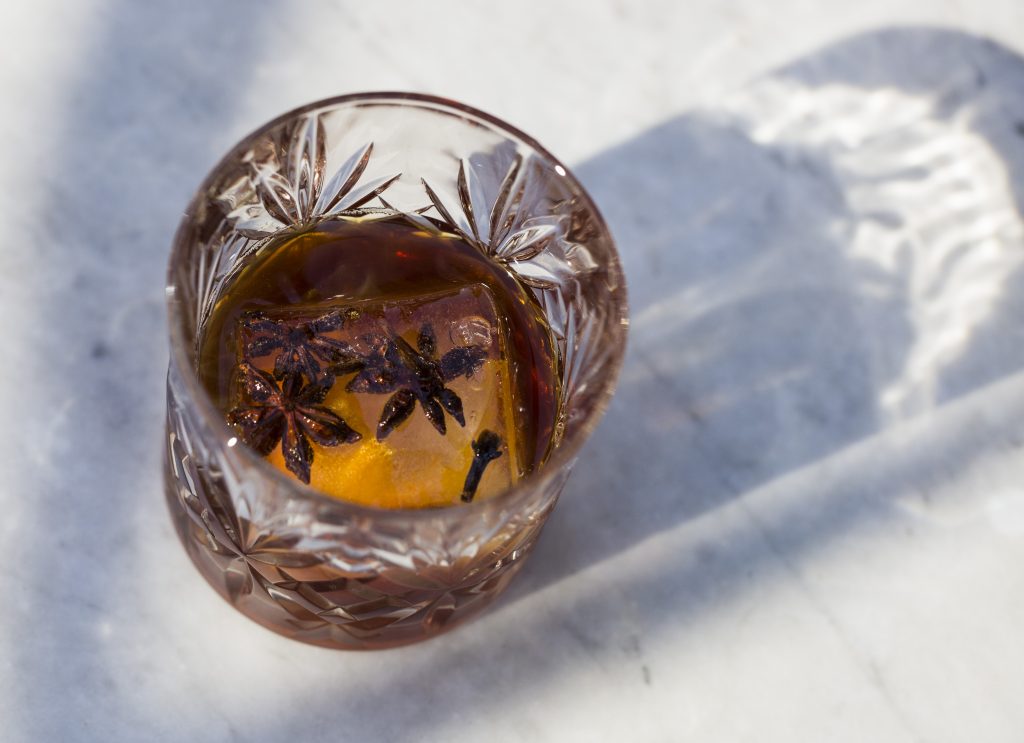 Brown Eyed Earl
The Brown Eyed Earl from Lindsay Barker at Momed is the pick me up you need when you're about to start snoring in a Lazy Boy. "The Earl Grey in the Scotch provides just enough caffeine to battle the tryptophan of a big Turkey meal to keep you awake long enough to enjoy some dessert," Barker says. 
2 oz earl grey infused scotch 
.5 oz smith and cross rum 
.5 maple syrup 
2 dash green bar orange bitters 
2 dash chocolate walnut bitters 
Stir and serve in a glass with an Arrack rinse. 
Modus Operandi. 
An amaro daiquiri of sorts, the Modus Operandi is a cocktail by Matt Tocco of The Patterson House in Nashville that's tart, sweet, bitter, and spiced—exactly what you need after the decadence of a Thanksgiving feast. "I make it for anyone asks for dealers choice," says Patterson House's Harrison Peaks. 
1.5 carpano antica
.5 amaro di angostura
.75 lime
.375 Demerara 
Stir and serve. 
The Benevolent  
The Benevolet is another good bet for a stomach-soothing amaro cocktail. "Averna is an amaro which would aid in the digestion and also features coffee to counteract all that tryptophan. Gobble gobble," says The h.wood Group's Bar Director, Justin Campbell at Mason Restaurant in Chicago. 
1.5 oz Avion Silver Tequila
.5 oz Simple Syrup
.5 oz Averna
1 oz Cold Brew Coffee
1 oz Egg White
1 dash Mole Bitters
Shake, serve up in a Nick & Nora glass. Garnish with espresso beans.