The Bourbon Review sits down with Kristofer Bentley, half of the duo that is Sundy Best
When Kristofer Bentley first declared an English major at Centre College in Danville, Kentucky, he had no plans to use his love of writing to make music. "I read the Stallions of the South," he remembers. "Twain, Faulkner… I wanted to bring people together with my words."
And bring people together he has. Together with bandmate Nick Jamerson, a friend from Prestonburg, in the eastern part of Kentucky, Sundy Best has toured not only Kentucky and surrounding states, but all the way to Canada. Bentley counts The Grand Ole Opry as one of his favorite spots to play – but follows it closely with the Mountain Arts Center in his hometown. "Pretty much anywhere we play, we can count on at least one person from Prestonburg being in the crowd."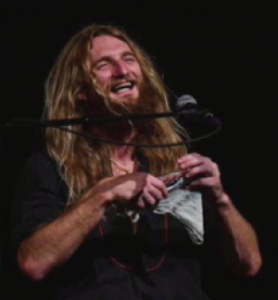 Sundy Best may be made up of Prestonburg boys, but their musical beginnings took place in Lexington, at a bar called Redmon's. Larry Redmon, proprietor, had organized college nights on Thursdays, where young live music acts could cut their teeth. "I think Larry called us on a Tuesday, and we were playing by that Thursday."
Their headlining show at the Kentucky Bourbon Festival comes at the end of a busy summer for the band. Their "Summer of Sundy" at Lexington's The Burl saw the boys and other local artists play from noon till dark every Sunday. While their show at the Kentucky Bourbon Festival's Music on the Lawn event will only run 9:45 to midnight, those needing a little more Sundy in their life can visit Mammy's Kitchen in Bardstown on Wednesday, September 13th at 7:30 PM.
Bentley is more than ready for the shows. "Playing festivals, and anywhere outdoors really, is my favorite… and Bourbon was my first love," he says as we sip a Jefferson's Ocean in The Bourbon Review offices. As we discuss the story behind the Jefferson's brand, the musician draws similarities in the creative processes behind both Bourbon and music. "I love seeing ideas come to fruition – coming out just like they pictured it. Just watching people do what they're passionate about."
There is an unfiltered selflessness that immediately hugs you, when you're in the presence of Kris & Nick. For many fans, the Sundy Best inertia does feel like a collective experience. Co-publisher Bob Eidson had this to say, "Kris is the 'real deal.' Having spent some time around him & Nick, and their circle of friends, I feel a hometown pride for their success. Through them, I discovered another singer/songwriter named Grayson Jenkins, and his song 'Good Side of Bad.' That song has been my summer soundtrack."
Together, Eidson & the Sundy Best duo share a common lineage of mentorship from Larry Redmon. "It's cool to see how Larry's influence continues to impact people. Larry made his shows feel like a collective experience, and Sundy Best merged the authentic involvement of the audience with social media. It's been cool to watch these guys evolve and create the wake of positive energy that surrounds them. Their music touches a familiar nerve, and at times it can expose vulnerabilities that we're not comfortable with. 'I Wanna Go Home,' starts with 'I don't like it in the city… cause nobody knows my name,' I mean… haven't we all felt that way at some point? Having come from Lexington and lived in 5 other states, I know I've had many nights in a new city where no one knows my name. But that's just how it applies to me… it applies to everyone, and then the chorus comes in with a haunting resignation, 'I Wanna Go Home.' It doesn't mean you should go home, rather, it conveys a longing. I'm sure there are tens of thousands of college students who have felt a similar vulnerability, and can relate." Eidson continues, "Their music taps into a tradition of storytelling that the Scots-Irish brought with them. Wherever the Scots-Irish went, they brought their music… [ pause ] and their whiskey!"
The interwoven culture behind Kentucky's Bourbon history and its music do not escape Bentley. "There's so much musical talent in Kentucky," says Bentley. Music on the Lawn will take place over three nights at The Kentucky Bourbon Festival, and feature a variety of local acts.  Friday night (September 15th) will feature Kaleb Cecil and the band Terra Bella, while Van Winkle and the Spirits will open for Sundy Best on Saturday. On Sunday afternoon, the Kentucky Bourbon Festival will come to a close as Mississippi Millie plays until 5. Guests of the festival will be able to enjoy all musical acts at no charge, although other festival events will have ticket costs.
Events for the upcoming Kentucky Bourbon Festival can be found at https://www.kybourbonfestival.com/event-list/bourbon-festival-events/