Jeptha Creed Distillery is nestled on 64 gorgeous acres in Shelbyville, KY, right off I-64 near Louisville. It is owned and operated by the Nethery Family and let me tell you, they've built something special. They grow their own heirloom "bloody butcher" corn on site. They cultivate their own honey. They even grow different varietals of mint plants which pack their own unique flavor for Julep season, of which is in high gear. It's nature paradise,
If you're looking for a lovely evening and some much needed reprieve, look no further as they are hosting "Jammin' at Jeptha', an outdoor concert series which will host 2 different shows this summer. Kicking off Saturday, June 10th will be The Highway Women followed by JD Shelburne on August 12.
Tickets are available now! https://jepthacreed.com/events/category/jammin-at-jeptha/
BARREL TASTING EXPERIENCE: It's not everyday you see a rickhouse armed with a platoon of leather chesterfield chairs. If you embark on their Barrel Tasting Experience, you might easily find yourself in one of them, sippin' straight from the barrel!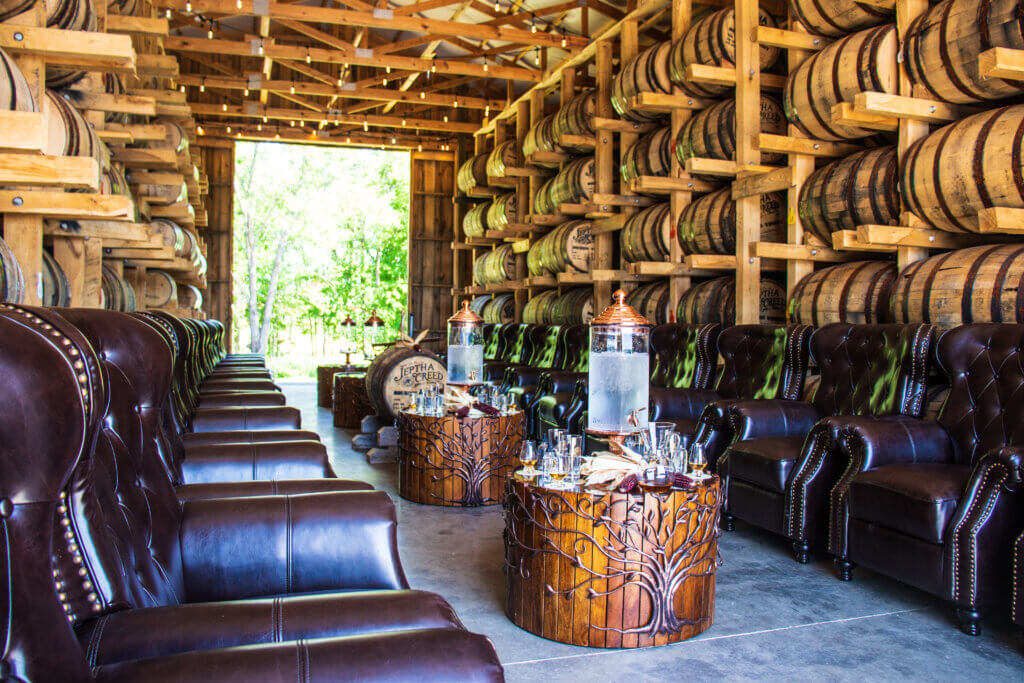 SUNDAY…BLOODY SUNDAY: Doesn't this just look fun, albeit intimidating.
Per Jeptha's Facebook: We are excited to offer our new Sunday Bloody Mary Pitcher: The Game Day. Grab some friends and come by for a delicious one-of-a-kind Bloody Mary! Available only on Sundays (12pm – 5pm) Pricing starts at $120, Made to serve 4.