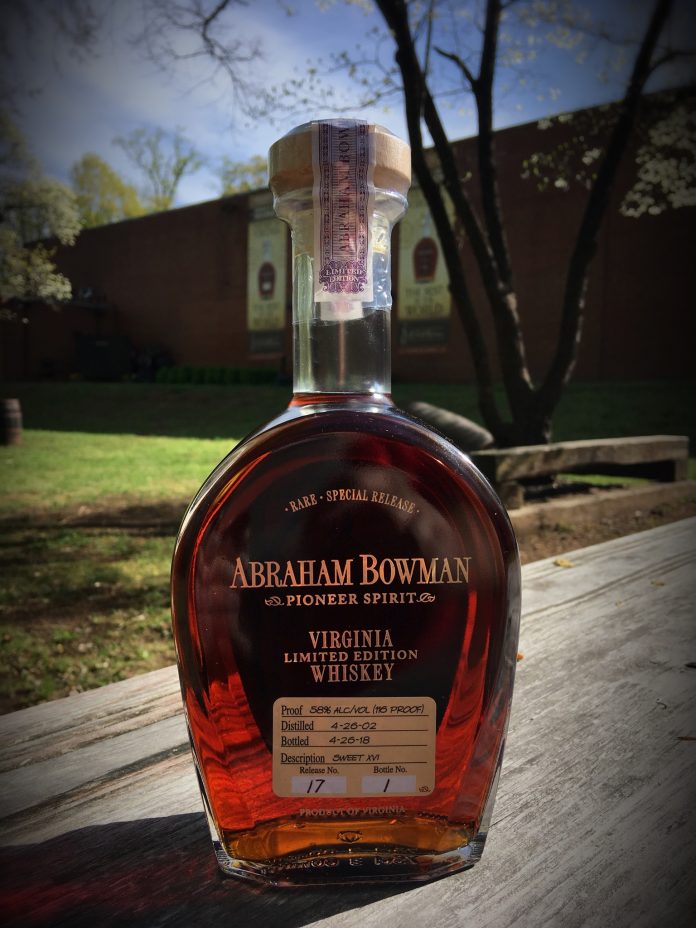 A. Smith Bowman Distillery announces the latest release in its Abraham Bowman line of experimental whiskey, the Abraham Bowman Sweet XVI Bourbon.
This limited release explores how barrel entry proof affects Bourbon flavor profile over long aging periods. The Bourbon was allowed to age for sixteen years prior to bottling. This release is comprised of a Bourbon recipe that was distilled to a typical distillation proof. It was then barreled in new charred American white oak barrels at four different entry proofs – 125, 114, 105, and 90 proof. Each of the barrel proofs were evaluated individually over the course of sixteen years before marrying the barrels together to comprise the Abraham Bowman Sweet XVI Bourbon.
The Abraham Bowman Limited Edition Sweet XVI Bourbon is part of a series of limited edition whiskies, named after Abraham Bowman, the commander of the 8th Virginia Regiment in the American Revolutionary War. Each edition of the Abraham line is a different expression and a new release is offered a few times a year. This is the 17th release in the Abraham line. The Abraham Bowman Limited Edition Sweet XVI Series Bourbon will be available for Virginia residents to purchase through the VA ABC Lottery, and will be available in the A. Smith Bowman Distillery Visitor Center starting Saturday, April 28.
Quantities are very limited and most product will be available in Virginia, however limited amounts will be available in other states this summer. The Abraham Bowman series aims to release new and different expressions of innovative whiskey for each release, so it is unlikely this exact Bourbon will be repeated. The total age of this Bourbon is 16 years and bottled at 116 proof. These 750 ml bottles have a suggested retail price of $69.99.