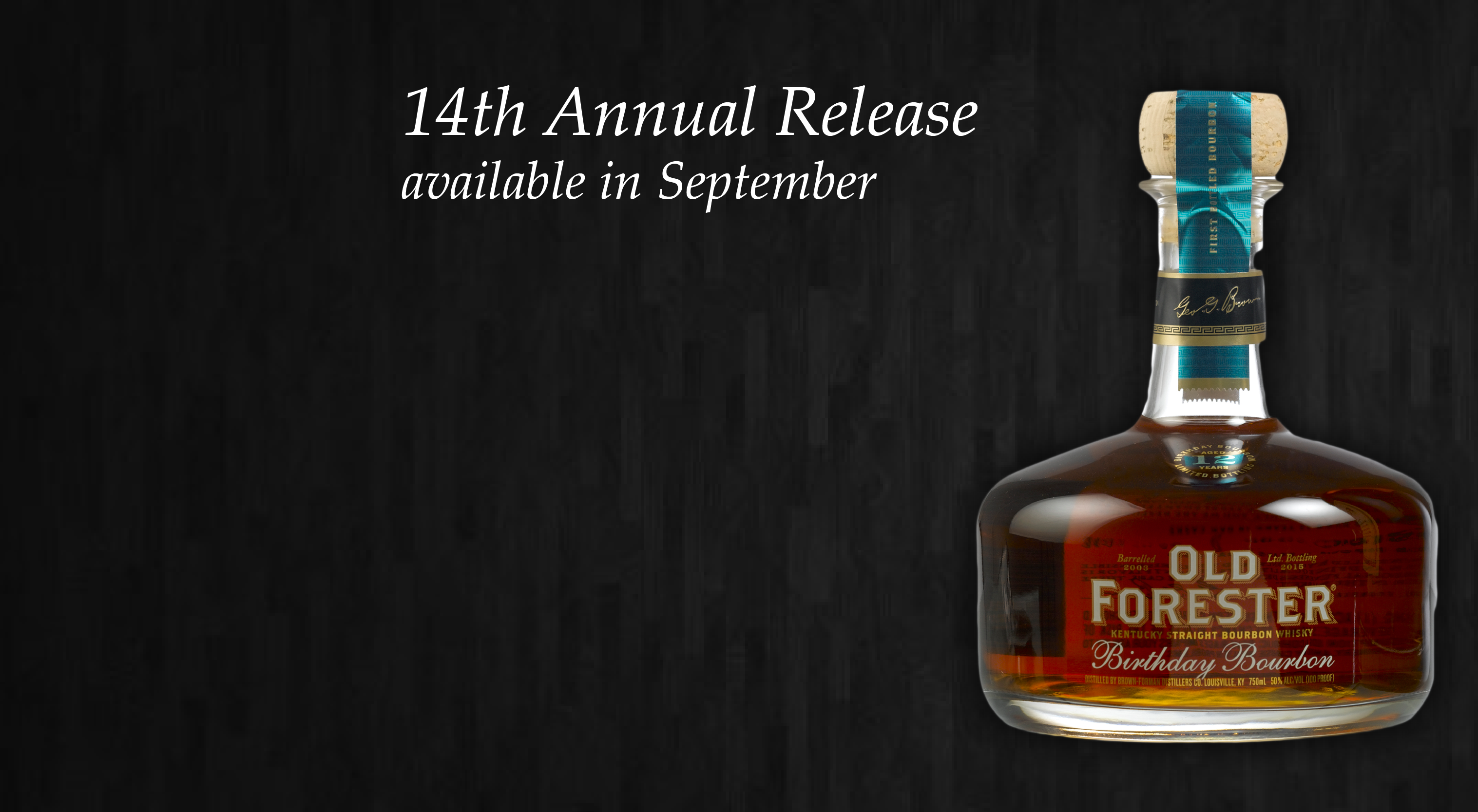 By Justin Thompson
For the last 145 years, Old Forester has been crafted using the time-honored methods established by George Garvin Brown, the founder of Louisville-based Brown-Forman and Old Forester. To commemorate Brown's September 2nd birthday, Old Forester annually releases an expression of its highly-acclaimed Bourbon. This year marks the 14th limited edition release of the coveted 12-year-old product but the first time Birthday Bourbon is offered at 100 Proof.
"This particular lot of barrels is unusual because it matured in the same warehouse location instead of multiple sites. The lot aged near a window and close to a heat cycling duct, exposing all of the barrels to very high temperatures, resulting in the very robust, intense wood-derived characteristics exhibited by this exceptional vintage," said Master Distiller Chris Morris.
Selected from a single day of production, this limited edition small batch Bourbon is vintage-dated (June 13, 2003) – offering a one-of-a-kind flavor profile that will never be replicated. Its unique decanter style glass bottle is a throwback to the late 1800's when Old Forester was first produced. Each bottle features the founder's signature and the year in which the bourbon was barreled and bottled.
The 2015 Birthday Bourbon joins two other 100 proof Old Forester expressions on the shelves: 100 proof Signature and newly released this summer, Whiskey Row Series 1897 Bottled in Bond. Available starting in September, the 2014 Old Forester Birthday Bourbon will have a suggested retail price between $69.99-$79.99. Only 2200 (6 bottle) cases will be available for purchase nationwide. ​
Since its introduction in 2002, Old Forester Birthday Bourbon has received unprecedented acclaim and has collected honors from USA Today, Malt Advocate, Whisky Magazine, Spirit Journal, Ultimate Spirits Challenge, Wine Enthusiast, and Santé. A favorite among critics, Old Forester Birthday Bourbons have taken home gold from numerous tasting competitions including "BEST BOURBON, Double Gold Medal" in the 2012 San Francisco World Spirits Competition as well as "Gold" medals in the 2005, 2006 & 2007 competitions. The 2012 expression received a 95 rating and was given the "Ultimate Recommendation" in the 2013 Ultimate Spirits Challenge. The 2007 expression was also named American Whiskey of the Year at Malt Advocate WhiskyFest New York.