When you think of Memphis, you think of BBQ, right? Blues, probably. B.B. King. Beale Street. Maybe a few more titans of music. The other King, the "Blue Suede Shoes" one. Johnny Cash. And you can't forget the Peabody Hotel and those cute duckies. Now, another exciting chapter is soon to unveil in the old soulful southern river city.
Since the start of Prohibition (1919), Memphis hasn't had a homegrown mash to bottle Straight Tennessee Whiskey to call its own. That's all about to change. And who better to do it than cousins Alex and Chris Canale, co-founders of Old Dominick Distillery.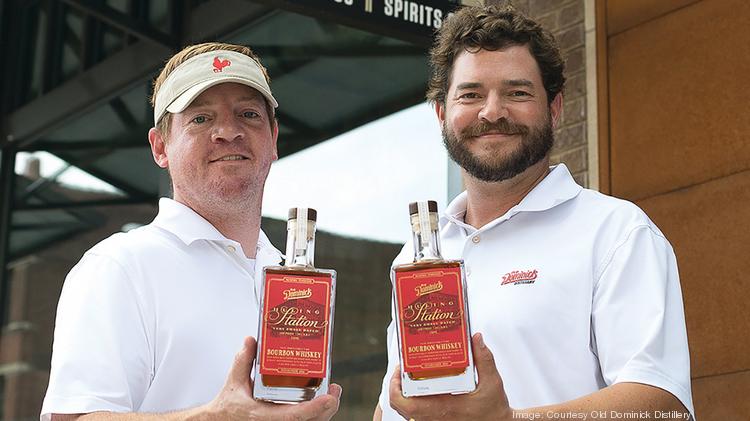 It's in the blood, plain and simple. Their great-great grandfather, Domenico Canale, initially founded the Memphis based brand all the way back in 1866. An Italian immigrant, he worked his way from hauling fruit for his uncle's company to starting his own food and spirits wholesale business. Like most booze businesses, Domenico's company would not survive the disaster of Prohibition.
In 2017, Alex and Chris set out to revive their ancestry's legacy, founding Old Dominick Distillery. Now, the distillery is set to revitalize their city's legacy in releasing not just one, but two Tennessee Straight Whiskies.
"This milestone marks a new generation of spirits distilled in Memphis," said Chris Canale, Jr.,Owner of Old Dominick Distillery and parent company D. Canale & Co. "This whiskey is 150 years in the making. We are proud of the product and are confident Domenico would be too."
Set for release on Nov 1st, they will go to market with an 85 proof and a Bottled-in-Bond STW.
Old Dominick's Straight Tennessee Whiskey is aged for a minimum of four years in West Tennessee White Oak barrels. Featuring a mash bill rich in corn and balanced with rye and malted barley, Straight Tennessee Whiskey opens with vanilla, tobacco, anise, and caramel on the nose, per the brand. Sugar Maple Charcoal filtering delivers a mellow, medium-bodied whiskey, lightly sweet with caramel and crème brulee with a hint of oak and vanilla for a silky finish.
Behind the bottles and just as proud and excited as anyone is ODD Master Distiller Alex Castle. Castle has been with the distillery since its inception. A Kentucky native and University of Kentucky chemical engineer grad, she was working as a production supervisor at Wild Turkey back in 2015 when opportunity came calling. You have to admire Castle's gumption and mox, leaving a behemoth like Turkey for a non-existent distillery in Memphis, where she is now also the company VP.
"It's been 20 years since I first decided I wanted to be a distiller, and this dream has taken meseveral different directions that I did not anticipate," said Alex Castle, Master Distiller and SeniorVice President. "As a Kentucky native, I did not think I would ever make a Tennessee Whiskey,and yet, here we are. I am beyond proud to be a part of such a historic release, and I hope thatthis whiskey is something that Memphis can be proud of."
EARLY BOTTLE SIGNING – OCT 29th
Whiskey enthusiasts will have a chance to meet Castle during a special bottle signing at an early, limited release of Straight Tennessee Whiskey on Saturday, October 29, from 12 to 3p.m. at the Distillery. Attendees can purchase one bottle of each whiskey at the event.
Both the Old Dominick Straight Tennessee Whiskey and Bottled-In-Bond will be available for purchase on Tuesday, November 1, at the Distillery in Downtown Memphis and area liquor stores. Old Dominick Distillery plans on broader regional distribution in early 2023.
Visit Old Dominick Distillery at 305 S. Front Street, Memphis, for tours, tastings, cocktails, and purchasing Old Dominick products and branded merchandise. For more information, news, and upcoming events, visit olddominick.com.