PRESS RELEASE From Rabbit Hole Distillery
QUICK FACTS
108.8 Proof (Cask Strength)
Blend of Cavehill and Heigold
Finished in Char 1 Toasted Barrels
Less than 1,000 Bottles
SRP $650
Now Available
Rabbit Hole's Founder and Whiskey Maker Kaveh Zamanian presents Tenniel, a limited edition Double Barrel Cask Strength Kentucky Straight Bourbon Whiskey that reflects his relentless commitment to crafting original expressions of bourbon over the ten years since the brand was founded.
Tenniel is an expression that melds his two signature Kentucky Straight bourbon recipes to an intriguing new creation.
Tenniel blends Cavehill, Rabbit Hole's signature four grain triple malt bourbon with Heigold, the brand's high rye double malt bourbon and finishes the spirit in a number one char toasted barrel. Per the brand, the result is a luxurious sipping bourbon with an alluring aroma of baking spices, stone fruits, toasted nuts and almonds that unfurls into layers of oak, tobacco, nutmeg, cumin and vanilla on the palate and cascades to a captivating finish of custard, allspice and mint.
The expression is presented at full cask strength with a proof of 108.8 (54.4% Alc/Vol).
Kaveh notes,"When it comes to creating one-of-a-kind bourbon, I have always kept one foot in the past, one foot in the present and my eyes firmly fixed on the future. Tenniel embodies this approach. As we reflect on our ten-year anniversary, it's the perfect opportunity for me to give a nod to the original recipes that put us on the map and take them to the next level. By flexing my blending muscles and increasing the complexity from a whiskey-making standpoint with double oak, I believe we have created a spirit that speaks to how far we've come as a brand in a relatively short time and foretells how much more we will contribute to the American whiskey space in the decades to come."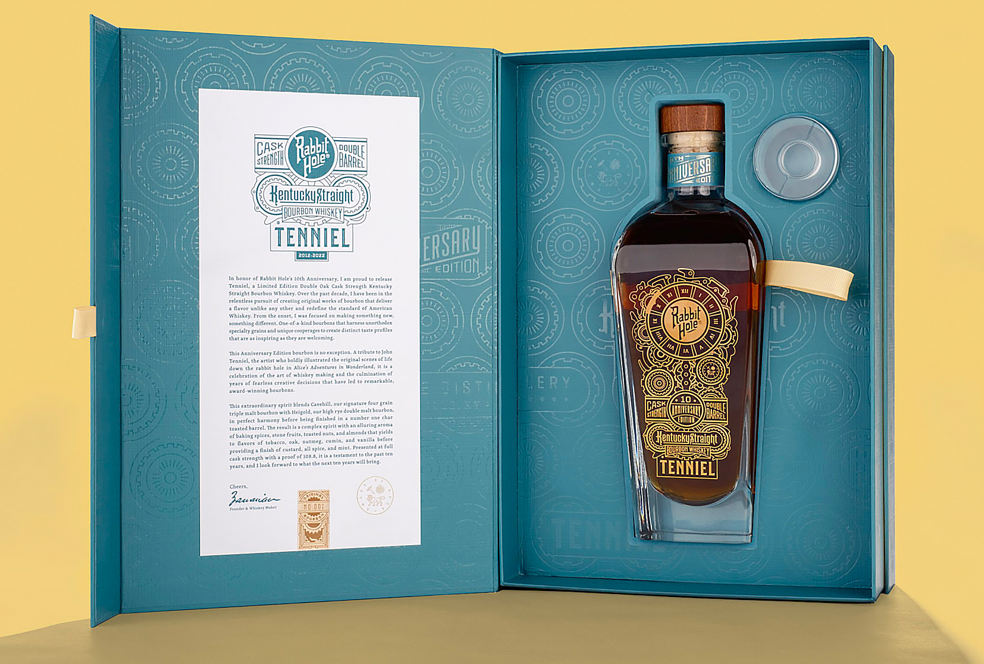 Rabbit Hole Tenniel is now available. A total of 939 sequentially-numbered crystal decanters and premium gift boxes are being released for sale at Rabbit Hole Distillery and for purchase online in limited markets for a suggested retail price of $650.
Kaveh Zamanian recommends that Tenniel is enjoyed at full strength or with a touch of water to release added layers of detail and encourages imbibers to enjoy the spirit according to their personal preferences.
Bottle Namesake
Tenniel is named in tribute to John Tenniel, the artist who boldly illustrated the original scenes of life down the rabbit hole in Alice's Adventures in Wonderland and whose works inspired the spirit's bespoke packaging. Against a teal background with gold artwork and accents, the box detail features an illustrated clock set to 10 which gives a nod to the ten years since Rabbit Hole's founding. Upon opening, an ornate crystal bottle complete with a crystal stopper is revealed alongside a certificate with special messaging from Kaveh Zamanian.
For the latest Bourbon Industry news, visit us at www.thebourbonreview.com