Maker's Mark has dropped some deliciously big news this week. The red wax darlings of Loretto, KY are embarking in a brand new chapter in releasing their oldest Bourbon to date – Maker's Mark Cellar Aged Bourbon. And not just a new release, but an altogether new annual release theme.
Cellar Aged will be an annual, limited release available in specific markets around the world. The unique maturation approach of Cellar Aged will be consistent every year, but the specific blend of aged bourbon will vary based on which barrels are ready, by taste. 
The upcoming inaugural release of Cellar Aged is a marriage of 12-year-old and 11-year-old whisky – 87% and 13%, respectively – bottled at cask strength (115.7 proof).
Cellar Aged will be available for a suggested retail price of USD $150.00 in the United States in September 2023; in London, Munich and select Global Travel Retail accounts in October 2023; and in Tokyo and Singapore in early 2024.  
The theme Maker's wants to convey is that aging is not just about time in the barrel, but the environmental surrounding the barrel itself and how that strongly influences flavor. Essentially, how that time is actually spent and used.
To become Maker's Mark Cellar Aged, barrels of the distillery's classic distillate first spend approximately six years aging in traditional bourbon warehouses, where they endure the Kentucky climate and its temperature swings season after season until they reach full maturity and can be called "Maker's Mark." Barrels are then moved into the distillery's proprietary whisky cellar for an additional five to six years of aging before being blended to taste and bottled. Built into the natural limestone shelf of the Kentucky hills, the cellar's consistently cool environment slows down the tannic impact that occurs during maturation. The intent being the bourbon to develop a deeper, darker flavor with hidden depths, but no bitterness.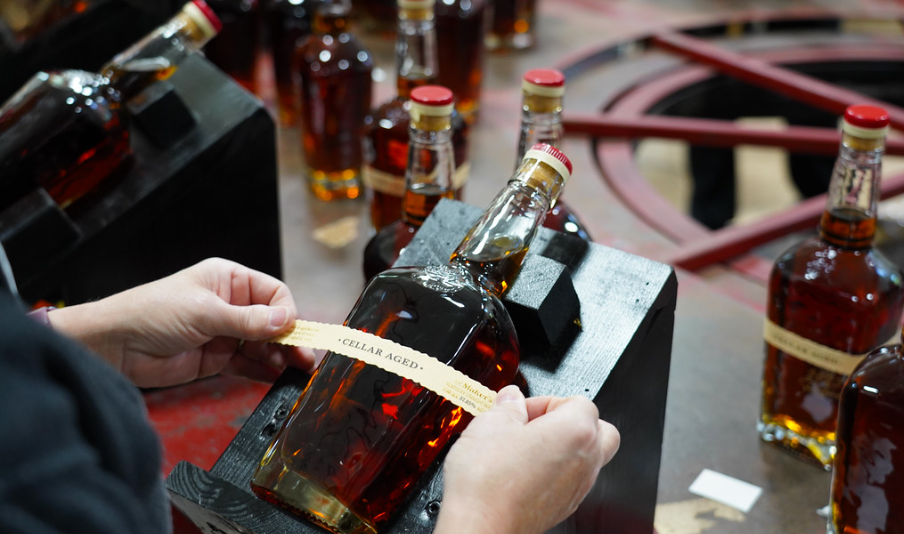 STATEMENT FROM THE BRAND: Since its founding in 1953, Maker's Mark has aged its whisky to taste – not time – to achieve the vision set by its founders: bourbon without the bite that's always smooth, soft and creamy. Maker's Mark Cellar Aged stays true to this philosophy, delivering a richer, deeper and more complex older bourbon, free from the harsher tannic effects commonly found in extra-aged American whiskies, as a result of our innovative maturation process that starts in traditional Kentucky warehouses and finishes in the distillery's one-of-a-kind limestone whisky cellar. 
"For more than 65 years, aging our whisky for a decade-plus wasn't something we did," said Rob Samuels, 8th generation whisky maker and grandson of the founders at Maker's Mark. "It's not that we didn't believe in it; we simply hadn't found a way to do it that didn't compromise on our taste vision – until now. Cellar Aged embodies an older whisky that's distinctly Maker's Mark. One rooted in challenging convention, delivering new flavor experiences from the environment that surrounds us, and building on a taste vision that's been generations in the making."
This innovative and taste-led approach in pursuit of an older Maker's Mark expression continues the boundary-pushing mindset that has shaped the brand since the beginning. Founders Bill and Margie Samuels challenged category norms when they burned their 170-year-old family recipe, choosing to use red winter wheat instead of rye in their mashbill for a softer, smoother bourbon. This spirit of asking "what if?" was present in the introduction of Maker's Mark 46, which is crafted using a proprietary wood-stave finishing technique, and in Maker's Mark Private Selection, which became the industry's first custom barrel program upon its launch in 2016. 
This is an exciting new chapter from Maker's as we are excited to see how this whiskey turns out and what will be next on the red wax horizon!
For the latest in Bourbon, visit www.thebourbonreview.com