Garrison Brothers Distillery (Hye, TX), Texas' first legal whiskey distillery established in 2006, recently released Lady Bird, a Texas Straight Bourbon Whiskey infused with Texas wildflower honey and finished in a cognac cask, This new expression, almost eight years in the making, is Garrison Brothers' ninth addition to their bourbon portfolio and its sales will benefit the Lady Bird Johnson Wildflower Center in Austin.  
We're not gonna say there's a lot going on here. But it's fair to say, there's a fair amount going on here – flavor intriguement wise. You got Texas heat, bringing with it more barrel interaction. You got honey infusion. You got a cognac cask…for 3 years. That's considerably longer than the average finish game. And bottled at a sturdy 114 proof. Ok, maybe there is a lot going on here, and we can' help but be curious to try it!
Lady Bird was first aged for 4 years in new white American oak barrels before being infused with Burleson's Texas Wildflower Honey for an 8-month period. The bourbon was then transferred to French XO Cognac casks, where it matured for an additional 3 years. Bottled at a potent 114 proof, Lady Bird Bourbon is hand-sealed with a distinct Prairie Purple wax. The initial release will feature just over 5,904 bottles for the market.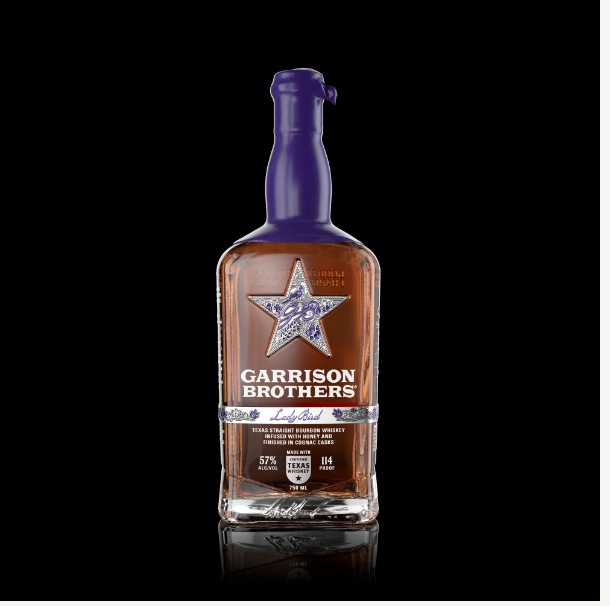 "As you indulge in our Lady Bird bourbon, you'll be greeted by the inviting aroma of freshly cut grass and sweet honey, accompanied by subtle notes of black cocoa waffle cone and honey wafers, creating a warm and enticing experience," says Donnis Todd, Master Distiller at Garrison Brothers. "Upon taking your first sip, true decadence unfolds on the palate, revealing the rich taste of warm buckwheat pancakes, dark chocolate-covered cherries, and malted milk balls. The complex profile also includes the indulgent essence of cognac cherries, dried figs, and plums, offering a luxuriously unique tasting experience. The finish is long and satisfying, lingering on the tongue and leaving a lasting impression of the succulence derived from the harmonious marriage of honey and cognac flavors." 
"Like her namesake, this complicated but sophisticated bourbon creates beauty, elegance and distinction wherever she roams and with whomever she encounters," says Garrison Brothers Distillery co-founder, Nancy Garrison. 
For each bottle sold, Garrison Brothers will generously donate $5 to the non-profit organization Lady Bird Johnson Wildflower Center, supporting their efforts in environmental conservation.  
"We're grateful for the commitment and support provided by the Garrison Brothers and for their demonstrated leadership generating awareness about native plants and landscapes," said Lee Clippard, Executive Director of the Lady Bird Johnson Wildflower Center. 
Garrison Brothers Lady Bird Texas Straight Bourbon Whiskey will be available for purchase at fine liquor and spirits retailers across the nation with a suggested retail price of $179.99 and will be served at select restaurants and bars beginning mid-May 2023.  
For more information and to find Lady Bird, go to www.garrisonbros.com. 
For the latest on Bourbon New Releases, please visit us at www.thebourbonreview.com.