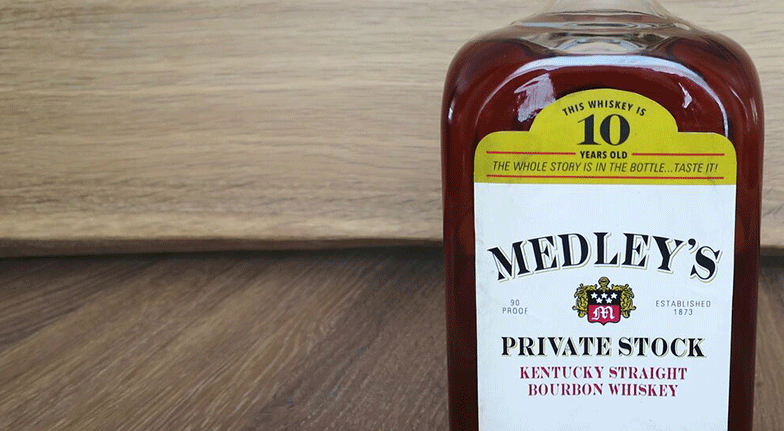 By Justin Thompson
It's becoming harder and harder to find Bourbons with an age statement on them these days, especially with ages in the double digits.  While the Bourbon Boom has made several brands succumb to demand pressures and remove their age statement, so they can instantly fill more bottles with younger and higher inventory juice, Medley Brands just announced they plan on releasing a 10-year-old expression this fall.  
Medley's Private Stock will be a 10-year-old limited release from the father and son team of Charles and Sam Medley.  They are also in charge of Wathen's Kentucky Bourbon, Medley Bros., and Old Medley Kentucky Straight Bourbon Whiskey.  
Medley's Private Stock is inspired by Charles' great-great-grandfather who used to produce a Bourbon under the same name in 1873.  His great-grandfather sold the brand in 1939 and not much is known to what happened to it since then.  The packaging is inspired after a bottle that Charles found in his basement of the original Medley's Private Stock that his great-great-grandfather started.  
Charles is the last member of his family to have distilled at the family's distillery in Owensboro, KY which has been closed since 1992.  The property was recently purchased by new ownership that plans on distilling there in 2016.  The Medley's have since sourced what they consider to be superior Bourbon for their brands since the closing of their namesake distillery. 
Medley's Private Stock uses rye as a secondary grain and will be bottled at 90 proof.  There will only be 1,000 cases available starting in October for about 20 markets which will include New York, San Francisco, Los Angeles, Kentucky, Nashville, Atlanta, Chicago, Boston, D.C., Charleston and parts of Texas.  This new release has a suggested price tag of $60.
Charles commented, "Sam and I are excited to celebrate the family history of the Bourbon started by my great-great-grandfather in 1873.  We think it stands up the quality the Medley family has brought to market for eight generations."