Louisville, Kentucky (November 18, 2022) – Following the success of their initial launch in July, the team behind Hidden Barn returns for round two with Hidden Barn Kentucky Straight Bourbon Whiskey Series Two,  available this December. Series Two  is composed of 10 barrels expertly blended by Master Blender Jackie Zykan.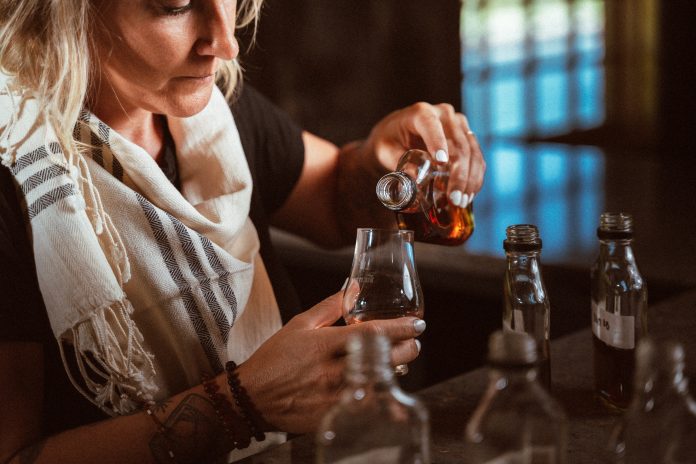 Hidden Barn Series Two  brings together pot still production and generously high rye mashbill, resulting in a flavorful and complex spirit, per the brand.  Barrels were distilled at M.B. Roland. The mash is fermented for three-four days using Christian County, Kentucky water and industry standard yeast.
It is then double pot distilled and collected at 110 proof. The undiluted distillate is then matured in wood-fired Kelvin Cooperage American White Oak barrels. Barrels rest on property, and once matured, are filtered only for sediment before bottling. Located in Pembroke, Kentucky, M.B. Roland was the founding distillery of the Kentucky Bourbon Craft Trail.
"As with all Hidden Barn releases, we are looking to showcase the nuance and depth of flavor found only in small batches which allows each barrel to really shine," said Zykan. "With Series Two, we opted for a high rye mashbill to showcase the multifaceted contribution this flavorful grain brings to a bourbon recipe."
Hidden Barn Series Two showcases a high rye mash bill and its versatility outside of just spice. Batch #001 presents as a viscous mouthfeel with juicy, overripe blackberry and a hint of sweet Concord grape. The palate brings in smoky undertones, milk chocolate, and roasted nutty notes. The finish is clean on the front of the palate with fresh mint shining through. Series Two Batch #001 is presented at an undiluted batch proof of 112 proof/56% ABV.
In addition to the launch of the second series, Hidden Barn Series One, Batch #005 is currently available, along with a limited edition release finished in Madeira Casks.
Hidden Barn Kentucky Straight Bourbon Whiskey was founded in the spirit of community and fellowship by a team of four friends and founders: Master Blender Jackie Zykan; Royce Neeley of Neeley Family Distillery; and Nate Winegar and Matt Dankner of Colorado's 5280 Whiskey Society. 
PRICING AND AVAILABILITY
Hidden Barn Kentucky Straight Bourbon Whiskey Series Two  will be available beginning December 1 and is offered at a suggested retail price of $74.99. Hidden Barn products are currently distributed in Kentucky and Colorado and  available online in Florida, California along with 20 additional states and the District of Columbia. Also in December, distribution will begin in Missouri, Zykan's native state.
Product: Hidden Barn Kentucky Straight Bourbon Whiskey, Series Two #001
Number of barrels: 10
Producer: MB Roland Distillery (D.S.P. 15010), Pembroke, Kentucky
Mash: 60 percent Corn (Christian County Grain), 35 percent Rye (Walnut Grove Farms), and 5 percent Malted Barley (Southfork Malt House)
Fermentation: 3-4 using Christian County, Ky. water
Distillation: Double pot distilled, collected at 110 proof
Maturation: Between 5-6 years
Barrel: wood-fired Kelvin Cooperage American White Oak
Fill: 110 proof (undiluted)
Filtration: Sediment filter only
TASTING NOTES/BRAND PROVIDED (in order of prominence): juicy, overripe blackberry, sweet Concord grape, smoky undertones, milk chocolate, roasted nuts, fresh mint