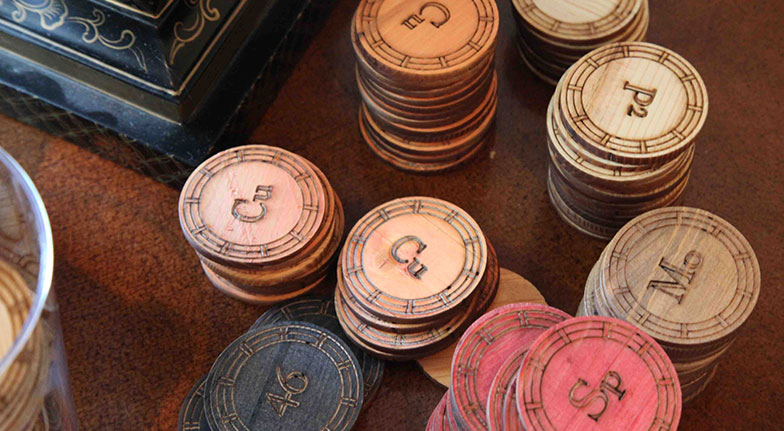 Story & Photos by Justin Thompson
Since the first bottle of Maker's Mark was filled in 1958 by the Samuels family, they have attempted to do things a little different than the rest of the Bourbon industry.  Right out of the gate Bill Samuels Sr. chose to use wheat as the secondary ingredient for Maker's Mark in hopes it would produce a softer, sweeter Bourbon when compared to others that normally use rye.  They have been considered pioneers in marketing.  Constantly changing their ad campaigns that usually have a mixture of quirky, classy and modern tones.  Their distillery was one of the first to court large crowds of Bourbon enthusiasts so they could witness the process of making Bourbon first-hand.  When it came time to bring another mass-produced Bourbon to market, they chose to launch Maker's 46, using an aging process no other Bourbon company had performed to date.  Now, Maker's just revealed a program to some of its most loyal retail and bar customers to select their own barrel.  And of course, the folks at Maker's have made this an experience that will be hard for other Bourbon companies to copy.
The 46 Revolution
Ironically, for a company that pumps its chest about being different you might be surprised to learn that for 52 years Maker's pretty much made only one brand.  They have released a few different variations of Maker's Mark that were bottled at higher proofs here and there, but were only available to export markets for a limited time.  Maker's Mark employee Jane Bowie sums it up with, "Those who have spent any time at Maker's Mark know we preach consistency with distilling.  Everything we do has been from one man's vision [Bill Samuels Sr.] since 1953.  He laid out what he thought his Bourbon should taste like, and 147 people show up here everyday working towards that taste vision.
In 2010, Maker's bucked their tradition of offering only Maker's Mark and released Maker's 46.  The vision for this product belonged to Bill Samuels Jr., who had been the face of the company for 40-plus years.  Bowie explains, "He was retiring after four decades and the idea of 'I've spent my whole career not screwing up mom and dad's whiskey, how do I leave this industry and not do something on my own' bothered him.  So, he set out to figure out how to amplify key characteristics of Maker's Mark."
Bill Jr. along with their Master Distiller at the time, Kevin Smith, got to work and thought about what they wanted their new Bourbon to taste like.  They both agreed that amplifying the baking spices, especially the cinnamon and vanilla flavors that are already present in Maker's Mark would be their goal.
Bill Jr. and Smith then turned their attention to their barrel maker, Independent Stave Company (ISC) to help make their taste vision come true.  After 124 experiments, ISC helped Maker's zero in on a process that exposed mature Maker's Mark to French oak staves that had been placed in a recently dumped barrel.  These staves had been seared on both side with infrared heat in order to release the specific flavors in the wood that Bill Jr. and Smith wanted.
Brad Boswell, President of ISC told The Bourbon Review in a 2010 interview that, "We wanted to elevate the toasty character but still maintain a nice complexity and character with tannins.  That's why we sear it on both sides, kind of like a Pittsburgh-style steak."  As far as why he chose French oak as the species of wood to work with, "This oak, without a doubt, has a different and more intense spice profile than the typical oak used to cooper a whiskey barrel."
Those three men settled on a process that required 10, one-inch thick toasted French oak staves to be inserted into a barrel that originally housed Maker's Mark.  The barrel is then refilled with mature Maker's Mark were it will age another nine weeks. And because no unnatural agents are added and the special staves are from oak, the product is still a Bourbon.
Maker's only fills barrels for Maker's 46 from October through February. The last barrels that get filled are scheduled to be ready for bottling no later than May.  Maker's doesn't age Maker's 46 in the summer months because the heat forces the Bourbon to have too much interaction with the inserted French staves, which causes whiskey to take on too many tannins.   If the Maker's 46 barrels are exposed to heat over 60 degrees, they will take on too much unwanted flavor from the tannins located deep inside those French oat staves.
Maker's Mark Private Select
When Maker's started looking at doing a barrel selection program, they immediately ruled out the traditional system of having a buyer visit their distillery to taste several barrels and buy the one they enjoyed the most. Instead they opted to put together a program that allowed buyers to build their own unique barrel of Bourbon.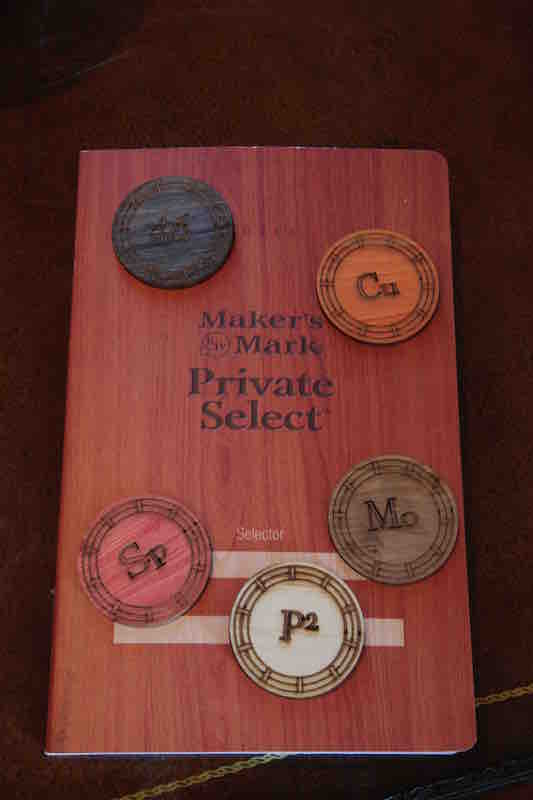 "When we originally looked at doing a barrel selection program, we thought it seemed really boring, because everything we do is about making [Bourbon] taste the same" Bowie shares.
But, Maker's had gained a significant amount of knowledge on how to manipulate their flagship product over the two years spent developing Maker's 46.  Several different oak staves were used while performing those 124 different experiments Bill Jr. and Smith conducted.
So, Maker's decided to implement the lessons learned from Maker's 46 to develop a barrel buying program that allows the buyer to craft their own barrel based on what flavors they choose to amplify.  Again, Maker's went to ISC and worked with them to develop other staves that could be used to tweak the flavor of regular Maker's Mark.
Bowie adds, "The idea was born out of [Maker's] 46.  We thought what if we let our closest friends and customers come down [to the distillery] and create their perfect version of Maker's Mark.   So, the first thing we did was put together a tasting taskforce, and we mapped out the flavors in Maker's Mark Cask Strength.  We then decided what flavors we wanted to highlight.  We then went to Independent Stave and challenged them with producing finishing staves, similar to [Maker's] 46, that would amplify these different key flavors in Maker's Mark."
It's All About The Wood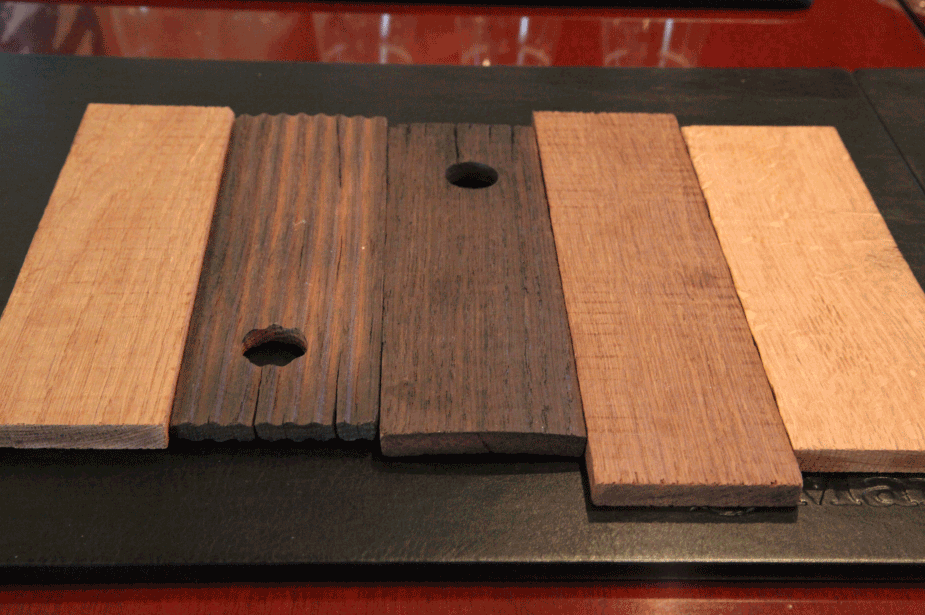 It seems that ISC has once again risen to the challenge of what Maker's Mark envisioned for the 40 customers they chose to participate in the inaugural Maker's Mark Private Select.  Along with the seared French oak staves used for Maker's 46, buyers of Private Select barrels can select up to four other staves to add different flavors to the overall taste of their barrel.
After the story of Maker's 46 is explained to Private Select participants, they are educated about oak and where the flavor lives in the wood.  Participants are given summaries on which flavors can be released based on the duration and temperate the staves are cooked for.  They're also schooled on the physiological cell structure of oak and what chemical components can be altered when heat is applied to them.
Once the quick Oak 101 class is over it is the time the participants have been waiting for.  In front of them is a tasting mat with six altered expressions of Maker's Mark Cask Strength on it.  There is the base product Maker's Mark Cask Strength along with five other samples.  The other five expressions were created by taking Maker's Mark Cask Strength and finishing it with a bundle of different oak staves that were designed to amplify a particular flavor.
The five different variations of Maker's Mark Cask Strength, specially developed for this barrel program, smell and taste very different from one another.  The attended individual flavor profile for these five Bourbons that Maker's Mark is trying to produce is as follows:
Baked American Pure 2 (P2)
This is the only Private Select Bourbon made with a stave from American oak which is called Baked American Pure 2 or P2 for short.  The P2 stave was designed to make the Cask Strength finish even more forward on the palate and produce intense oak, vanilla and sweet notes.  This stave has also been cooked inside of a conventional oven for a long time on a low temperature.  This low and slow process is how the oaky and sweet flavors are amplified.  According to Bowie, "What this stave will do for your barrel is it will bring the whiskey to the front of your palette.  If you like a forward finish, one of these staves does it for the whole barrel. It will add sweetness, but not necessarily in the creamy or textured sense.  It's a sharp, bolt of oakiness that goes right to the front of the palate."
Seared French Cuvee
This stave is seared using an infrared oven, which is the exact cooking process the Maker's 46 stave goes through except the Cuvee stave is not cooked as long.  It's darker than the P2 stave, because it is exposed to higher heat.   It also has ridges cut into the stave, which creates more surface area for the juice to interact with. It also opens the door for different flavors to be present within those ridges.  When looking at those ridges you can see the tips are darker than the valleys.  This is because the tips were closer to the heat, so there is a blend of flavor because not all of the stave's exterior received the same amount of heat transformation.  Bowie shares, "Because of that extra surface area, this stave can be the alpha stave.  The goal of this stave was to add intense butterscotch, caramel and it also has a little nuttiness.  If you like things like heavy whipping cream, pork belly, basically fat then this texture will appeal to you.  It should also add sweetness like the P2."
Maker's 46
It's the exact stave that is used to make Maker's 46.  Like the Cuvee, this is cooked using an infrared oven except this one is cooked for a few more minutes and doesn't have the grooves in it.  But the two taste completely different.  The Cuvee was designed to add a sweet vanilla while 46 is more of a spicy vanilla.  The few extra minutes this stave is cooked is all it takes to amplify the spicy characteristics it contributes.  It's also dryer and the creamy feel is not present.   Bowie adds, "46 is going to be the most balanced by design.  You can maybe see why we sell this as an everyday product and why the others are little more polarizing."
Roasted French Mocha
This is also French oak and has been cooked in a conventional oven like the P2, but instead of cooking low and slow it is exposed to a higher temperature.  That higher heat is used to unlock dark chocolate and roasted coffee flavors and heavier char flavors.  It's also supposed to produce a longer but dry finish compared to regular Cask Strength.  Bowie's notes are, "This is the most back palate Maker's Mark you're ever going to taste.  Very long finish and to me gets sweeter as it finishes.  If you need to achieve a longer finish you need some Mocha staves."
Toasted French Spice
This is the fourth stave to use French oak and has been put through the most unique cooking process.  It was first seared in an infrared oven at high temperatures and then moved over to the convention oved to be cooked for a while at lower temperatures.  It was designed to produce fruity spice flavors some even as complex as coumarin, which is a cinnamon and smoky spice.  Bowie adds, "This is the only [variation] that doesn't hit you in a specific part of the tongue.  And when you compare this to the mocha where it's so dry, this is very astringent."
Customers who get to buy these barrels are asked to sample a version of Maker's Mark Cask Strength that has been made using these unique staves.  Each sample contained Bourbon that went through a finishing process for a year with 10 of the unique flavor amplifying staves inside of their barrel.  The proof for most of these expressions is around 110.
The idea is these buyers will be able to build their own unique expression of Maker's Mark Cask Strength, by adding any combination of these 10 unique staves to their barrel.  The buyers create their own blends from tasting the five samples, so they get a very close idea of what their barrel will taste like.
The samples are done by creating 100 milliliter (ml) samples.  Since there will be ten staves inserted into each barrel, every 10ml added from a particular sample will account for one unique stave.
The buyers of these barrels are encouraged to build and sample several of their custom blends until they zero in on the blend they prefer the most.
Once a combination of staves is decided on, the participants are then taken into a different part of the distillery so they can actually insert the staves themselves.  A freshly dumped barrel of Maker's Mark is opened and the staves can then be placed in the barrel right there.
The participants and their barrel are then escorted to another room where a tank of Maker's Mark Cask Strength is waiting.  The barrel is then filled with the Cask Strength and then ceremonially placed in a warehouse where it will rest for around 9 weeks.
Just like their regular Cask Strength and Maker's 46 Cask Strength (which is only sold at the distillery) the barrels from the Maker's Mark Private Select program will undergo a very light filtration process that focuses on mainly removing only the char residue from the barrels.

President of Maker's Mark Rob Samuels explained why his team took on this ambitious barrel program by saying, "We've had bars, restaurants, and retail outlets asking us for years to come up with a single-barrel program like other distilleries to let them choose their own individual barrel of Maker's Mark that they could tout as their own. But that wouldn't work for us. At other distilleries, one barrel in the rickhouse may indeed taste completely different than another because of the different temperatures throughout the building over the years. But at Maker's Mark, we hand-rotate our barrels during the aging process in order to create consistency from one barrel to the next. So, merely choosing one barrel over another wouldn't result in a very distinctive offering. The Private Select program addresses that head-on and lets participants create their own personalized expression of Maker's Mark."
Demand for Maker's 46 is forcing Maker's to break ground on an underground aging facility that will be specifically designed to age Maker's 46 and Maker's Mark Private Select barrels.  The plan is to reach a depth that can remain 50 degrees year round so they can start aging these barrels throughout the year.  This facility is scheduled to open in September of 2016.
Time will tell what the demand from consumers will be for the Private Select barrels, since these selections haven't matured yet. However, currently, Maker's is having a hard time keeping up with the demand for 46 and its flagship product Maker's Mark.
When asked why Maker's Mark is trying these new expressions like Cask Strength, 46, 46 Cask Strength and the Private Select program, Samuels (the third-generation to run Maker's Mark) simply answers, "We're just responding to what our customers have been asking us to do."