As the official bourbon of the Kentucky Derby, Woodford Reserve has a slew of Derby traditions – including the $1000 Mint Julep charity program, which raises money for a great cause each year.
This year, Woodford is taking a look back at the earliest days of the Derby, when African American jockeys dominated with 15 wins before they were being pushed out of the sport by racism and segregation. Proceeds from the 2021 cup will go to the Project to Preserve African American Turf History (PPAATH) to help tell the story of some of the first professional athletes in the country.
"The jockeys played a significant role in horse racing that many people know little about," Woodford Reserve Master Distiller Chris Morris said. "It's time to honor them and their legacies. They each exemplified love for the sport and the pursuit of excellence, despite the inequality and injustice they faced throughout their lives and careers."
Woodford works with local Louisville jeweler From the Vault to design the hand engraved gold- and silver-plated cups, each bearing the name of a Derby-winning African American jockey and the year (or years) they won. The cups come in a custom purse designed by Louisville artist Albert Shumake, and each cup is cradled in decorative silk designed by Louisville artist Gwendolyn Kelly. Kelly's custom pattern is the "four-man clover," representing the interconnected network of support and strength among Black jockeys, trainers, and groomsmen.
The cups sold out as quickly as they always do (for $1000 each, which is where the name comes from), but that doesn't mean you've missed out on the fun. You can raise a glass to the cause with this fun Cherries & Cream Mint Julep recipe while you watch the Run for the Roses from the comfort of your couch – and with a much smaller dent in your wallet.
"Cherries and cream were common ingredients for a Derby Day menu in the late 1800s and early 1900s," reads a press release from the brand. "The vanilla bean pods represent the cream." Read on for the recipe to sip something special for the Kentucky Derby!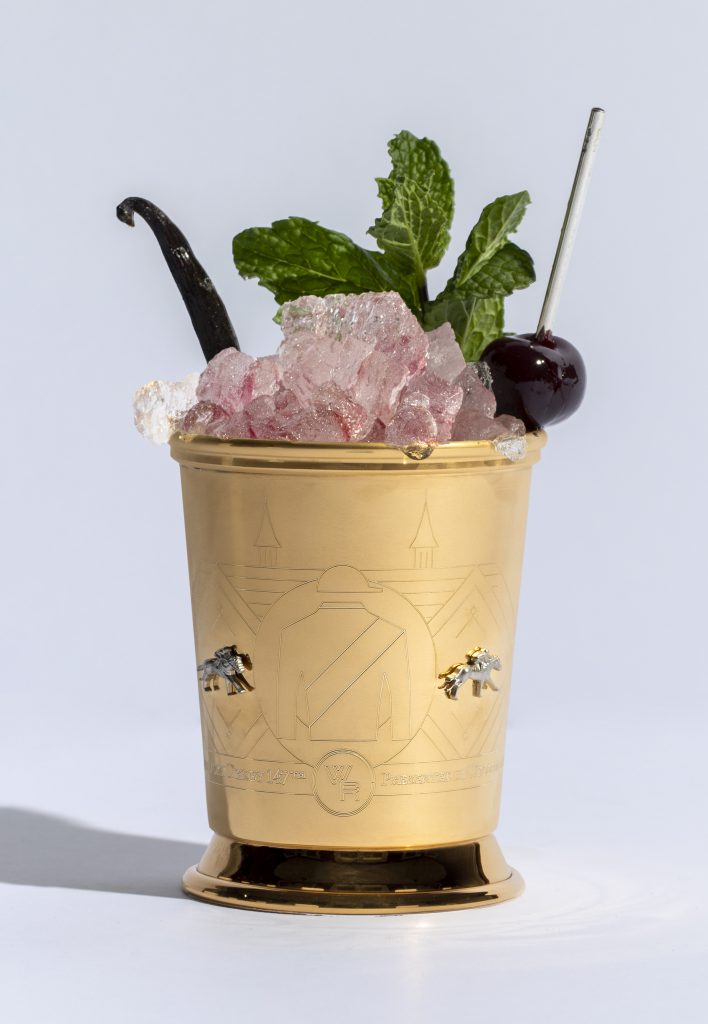 Cherries & Cream Mint Julep
2 oz Woodford Reserve Kentucky Straight Bourbon
.5 oz cherry juice
Half a vanilla bean pod, cut into small segments
1 tsp powdered sugar Mint sprig, cherry, and vanilla bean pod for garnish
Crushed ice (pro tip – Sonic ice is perfect if you don't want to spend time with a mallet)
In the julep cup, add .5 oz cherry juice. Add half a vanilla bean pod cut into small segments. Add 1 tsp. of powdered sugar. Muddle or mix together. Add crushed ice to 2/3 of the cup. Add 2 oz of Woodford Reserve. Top off the cup with crushed ice. Garnish with a mint sprig, real cherry, and vanilla bean pod.