KY225 – Celebrating 225 years of statehood.
The Bourbon Review gang and their guests spent the first weekend of June celebrating 225 years of everything that makes Kentucky the state that we call home. While our state is widely known for its horse racing, the southern cooking, bluegrass music, and of course, Bourbon, were what made our festivities uniquely Kentucky.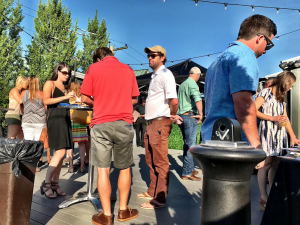 Our first soirée on Thursday, June 1st, took place on the rooftop at Belles Cocktail House in downtown Lexington with Makers Mark, Keeneland, and Custom Made Bluegrass. Keeneland's executive chef Marc Therrien crafted a premium Burgoo for the crowd, with local veggies, farm raised meats, and corn fritters on the side. Maker's Mark ambassadors were on hand sharing Maker's strawberry lemonade cocktails as Custom Made Bluegrass played for the crowd.
The party kicked into high gear the next night as over 150 people packed the roof to hear local legend Larry Redmon. Redmon played both original and cover songs, including a heartwarming rendition of "My Old Kentucky Home" that had everyone singing along. Lexington Mayor Jim Gray made a special appearance to declare June Kentucky's birthday month, while 21c head chef Jonathan Searle served warm, fluffy, buttermilk biscuits with crispy fried chicken, spicy honey, local sorghum butter, and more. Guests sipped Bourbon barrel-aged Manhattans and boulevardiers made with 1792 Single Barrel and Small Batch Bourbon. Barton's 1792 further commemorated the occasion with their Kentucky-only release of their 225 Anniversary Bourbon.
Saturday's encore event had a live blues soundtrack provided by The Northside Sheiks, and a BBQ banquet smoked by Willie's Locally Known. As they watched the sun set over the rooftop, guests sampled two expressions of Woodford Reserve – both their Double Oaked and their traditional Bourbon.
If you missed us this month, but still want to celebrate Kentucky-style, tickets are now available for the Bourbon Shindig August 24-26. This Kentucky lifestyle weekend of horse farm and distillery tours is capped off with the Shindig itself – a Bourbon tasting event you'll never forget. Get your tickets here!