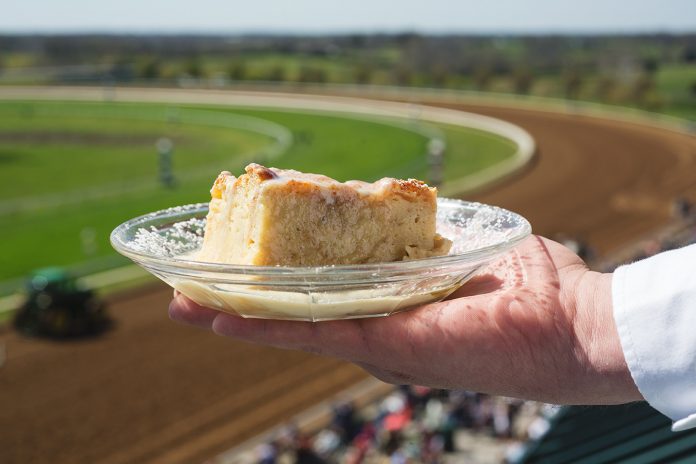 Its a distinctly Keeneland dessert – Keeneland's Bread Pudding! Due to the Coronavirus outbreak and social distancing practices in place, it had all of us Keeneland Racecourse goers worried we would miss out on a slice of tradition. However, Keeneland gave us all what we were craving – the recipe so we could make make Keeneland Bread Pudding at home!
Recipe and Photos by Keeneland Racecourse found here.
"It's the recipe you've been waiting for! The Keeneland Bread Pudding is a tradition of the track, and the Maker's Mark bourbon is the key to the incredible sauce. Here's the recipe to bring a taste of Keeneland home, and don't forget to share the results with us on social. Enjoy!"
INGREDIENTS
BREAD PUDDING
8 cups whole milk
2 cups sugar
8 eggs, beaten
2 teaspoons vanilla extract
12 cups Sister Shubert rolls, cut into 1 in. cubes
1 cup golden raisins
1 tablespoon cinnamon

MAKER'S MARK BOURBON SAUCE
1/2 cup butter
2 cups powdered sugar
1/4 cup Maker's Mark Bourbon

METHOD
In large bowl, whisk together the milk and sugar, add eggs, vanilla and mix well. Mix in diced bread and soak for several hours.
Preheat oven to 275°, spray a 13 x 9 x 2 in. baking pan.
Pour break mixture into prepared pan, garnish top with raisins and cinnamon, make sure to press in the raisins.
Bake until firm in center, about 1.5 hours.
For the Maker's Mark Bourbon Sauce, allow butter to soften to room temperature. Place in mixing bowl and add the powdered sugar, whip until well blended, slowly trickle the bourbon in.
Spread the thick sauce over the warm bread pudding.