The results from Christie's Pre-Prohibition whiskey auction are in, and estimates were way off; the lots of bourbon and other American spirits all went for several times what was expected earlier this month.
American Whiskey stole the show at last Friday's sale, touted as "the most comprehensive and important collection of pre-Prohibition bourbon ever to appear at auction."
This unprecedented treasure trove of more than 40 cases of 100 year old whiskey was discovered last year under some serious lock and key. In the late 1920's, California based banker Jean Baptiste Leonis constructed two secret whiskey vaults inside his properties, one in Hancock Park in Los Angeles and one in Little Tujunga Canyon.
Each hidden bank vault door and combination lock was covered by a book shelf, and was filled with hundreds of bottles of bourbon, whiskey, and rye. After J. B.'s grandson, Leonis C. Malburg, passed away in 2017, his family discovered these secret vaults — undisturbed after 90 years in hiding.
Some of these rare, vintage bottles found inside the vaults have labels that are familiar today. Old (that is, E.H.) Taylor, J.H. Beam, and Seagrams are all names bourbon lovers recognize now, but others are long gone, some killed off by Prohibition just years after they were bottled. Both modern and historic bottles, however, realized prices thousands higher than those listed.
Sixteen cases (containing 24 pints) of Bottled-in-Bond Hermitage Whiskey distilled in 1914 and bottled in 1923 were valued between $5,000 and $9,500 per case. These values were dependent on condition, fill level, and number of intact bottles and tax strips. But once the dust settled on the bidding wars, these cases fetched up to $26,950 – roughly three to five times what Christie's specialists expected.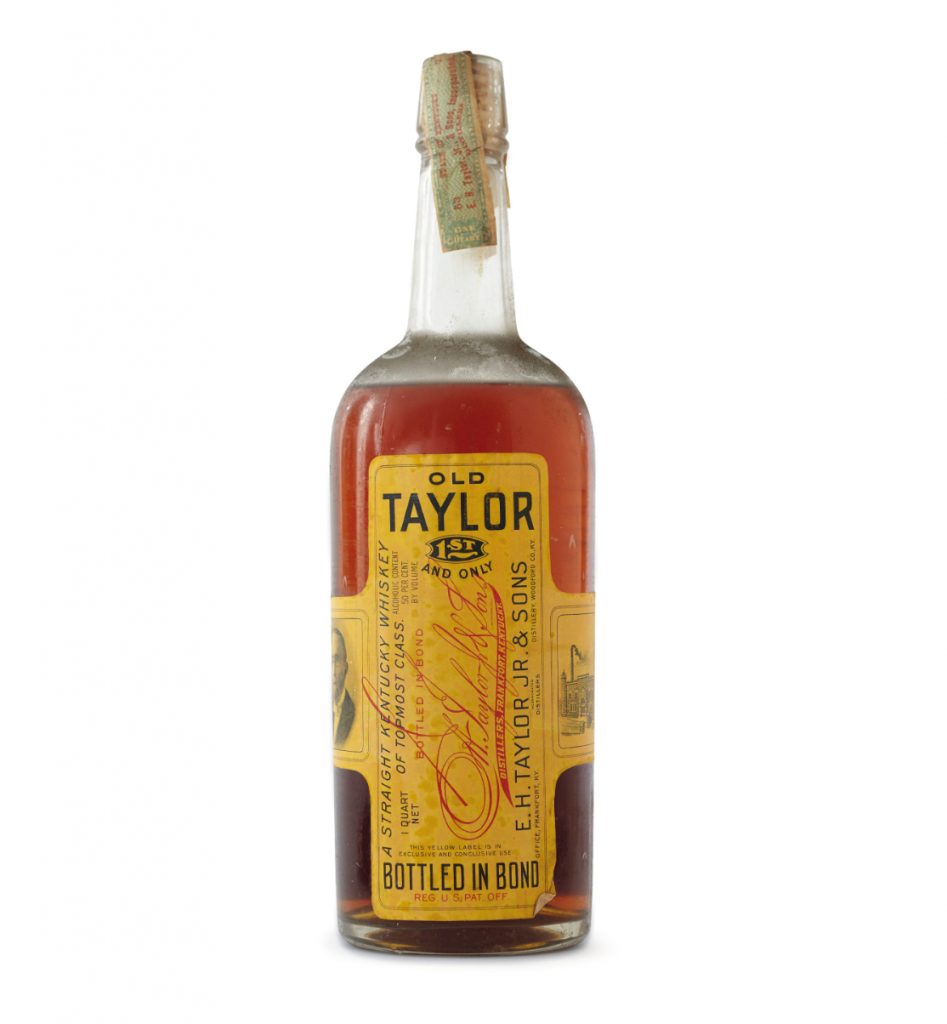 Cases of J.H. Beam Old Style Brookhill Sour Mash distilled in 1912 did even better. Just 9 quarts of this bottled-in-bond whiskey from Nelson County, Kentucky were valued at $3,800 to $5,000, but realized $26,950.
Perhaps the most recognizable of the group, just two quarts of Old Taylor Bottled-in-Bond Straight Kentucky Whiskey distilled in 1914 and bottled in 1918 went for $9,188—almost nine times the expected value of $1,000 to $1,400. (Click here to browse the full list of lots.)
These bottles weren't in perfect condition. While they were properly stored in their original cases, some labels were soiled or missing, corks were depressed, and fill levels were below mid shoulder. However, for a 100 year old bottle of whiskey, they're considered exceptionally preserved.
While the final bids were much higher than expected, there are several reasons these dusties went for high dollar. Estimates were likely based on the relative affordability of modern bourbon, which can cost a fraction of the bottle price of other whiskies, such as Scottish single malts. New high-end scotch bottles debut with suggested retail prices of tens of thousands of dollars—and vintage bottles can fetch millions at auction. The prices fetched for these American whiskies track more closely with what you'd expect from a vintage whisky around the world. And at auction, sales like this regularly outperform private sales. The story behind the sale also received substantial media attention, which contributed to the final number.
If you missed your chance at these bottles, not to worry. The interest surrounding this auction will likely bring other bottles from the same era to the market. Check out ongoing auction lots at Christie's here.