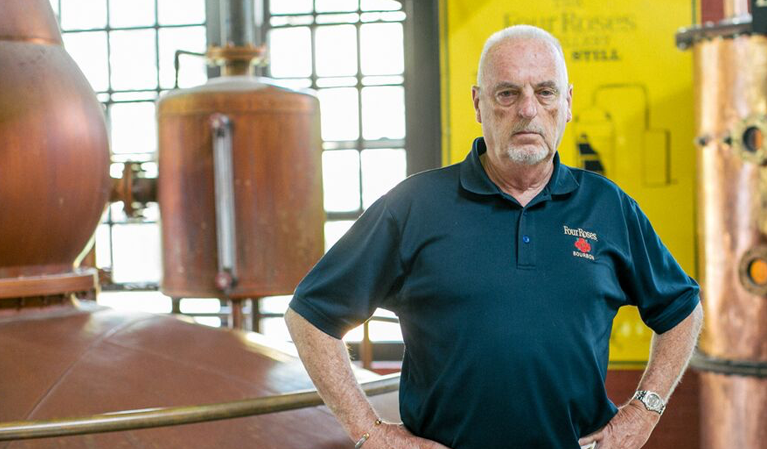 Photos by Victor Sizemore  |  Story by Justin Thompson
One of Kentucky's most notable distillers will be hanging up his copper thief this September after spending 49 years of his life to support the same distillery.  Jim Rutledge will be remembered as one of best distillers of a generation loaded with Bourbon Hall-of-Famers.  Rutledge seemed to be born with a DNA that was specifically structured for hard work, hard-headiness and forging the courage to always speak his personal opinion.  He used all of those traits to save one of the most historical Bourbon brands from extinction.
The Seagram Years 
Rutledge's job search after college didn't seem that
different from college students today.  While he attended the University of Louisville he worked at Sears on evenings and weekends and for about 6 months after graduating with a bachelor's degree in marketing and chemistry.  He remembers, "I was trying to find something that I really liked and was a potential career opportunity, not just the first job offered."
What he felt could lead to a career was a research and development job with alcohol behemoth Seagram's, who owned over 200 brands.  One of those brands was Four Roses. "The first real job I had was with Seagram R&D, which was headquartered in Louisville at that time at their Calvert Distillery."
The stint in R&D didn't last long and Rutledge was asked to work in one of Seagram's five Kentucky distilleries.  "I ended up working in just about every area of production," Rutledge recalls.  Rutledge learned every aspect of what it took to run a distillery.
It was gratifying work for Rutledge who loved the early years he was involved with distillery production.  But he had other talents that did not go unnoticed and the brass at Seagram decided to transfer him out of the distillery and into a larger corporate role.
During the winter of 1975, Seagram asked Rutledge to transfer to New York City, home of their corporate headquarters.  Not thrilled, Rutledge did move to New York to take over the title of chief industrial engineer for Seagram's U.S. distilleries.
He remembers, "I was given two weeks to move up there.  Basically, not long enough to find another job."
When Rutledge started at Seagram's they were operating five distilleries in Kentucky.  But the declining interest in Bourbon caused many companies, including Seagram's, to consolidate operations and close non-profitable distilleries.  When he moved to New York City in 1975, Seagram's had only five distilleries running in North America total.  There were down to two in Baltimore, one in Indiana and one in Kentucky.
A decade later, the task of long-range distillery planning and budgeting for Seagram's U.S. distilleries was added to Rutledge's workload.  Early in his tenure at this position he noticed that their barrel inventory for foreign markets could not come close to meeting supply.
"In 1988, demand for Bourbon in Japan did not just grow, it shot through the roof.  [Four Roses] had already been the number-one brand in that market for 20 years.  So I made the choice to sell the brand names Eagle Rare, Antique, Benchmark and Henry McKenna and devote those barrel inventories to the only global growth market in the Bourbon industry which was Japan."
Four Roses gained a presence in the Japanese and European markets after Seagram's purchased the brand in 1943.  Eventually, Seagram's decided to pull Four Roses Bourbon from the U.S. and replace it with a cheap blended whiskey under the same name and only sell the Bourbon in its foreign markets.
It was also during this time that Rutledge starting asking Seagram's brass if he could get back into distillery operations during his annual reviews.  He fondly recalls, "People in New York couldn't understand why someone with the opportunity to ride a train for two hours to commute to work every day and two hours back and wear a three-piece suit in New York City would ever want to go back and work in a dirty distillery."
But a year later Seagram's moved their production headquarters from NYC to White Plains, NY where Rutledge's commute time shorted from four hours to about an hour.  He started to believe if he didn't get directly involved with distillery operations then he could at least manage with the shorter commute now.
As fate had it, in 1990 his direct supervisor asked him if he'd actually been serious about wanting to get back into distillery operations.  He told Rutledge he was retiring soon, but promised he would do whatever he could to get him back into distillery operations if that's what he really wanted.  Rutledge confirmed he'd prefer to take another shot at working inside a distillery.
In 1992, Rutledge got his wish and was transferred back to Kentucky at the Four Roses Distillery.  His bosses wanted him to start working at the distillery immediately, but Rutledge actually fought the idea because he didn't feel comfortable jumping into the head leadership role with such a long absence in production.  He wound up starting out at their warehousing center at Cox Creek and ran that along with most of the administrative and forecasting duties for the distillery.
A Bourbon Baron is Born
A meeting during April of 1994 would cement Rutledge's legacy.  The executive VP of Manufacturing came for a visit to the Kentucky
distillery.  The executive shared with Rutledge that they needed him to come back to New York during September and October of that year to help them perform his old job of completing the industrial budgeting for the following year.  He assured Rutledge that he could go back to Kentucky, but they were ready for him to start running the distillery.
That executive also shared with him that the quality of the alcohol that they had been distilling over the last three years, was so substandard that if it didn't improve dramatically before the summer shut down, a common practice in distilling, that they would close the distillery for good.  This was shared with Rutledge and no one else at the distillery.
"They already had the contracts for another distillery to produce our Bourbon, which at the time was not being sold in the U.S. either.  The majority of the whiskey produced here was being put into Seagram blended whiskies."
According to Rutledge, his known competitiveness was used to get him interested in taking on the responsibility of turning around the Lawrenceburg, KY distillery.  "The guy knew how competitive I was.  He played volleyball and softball in some of the leagues I was in, so he knew how serious I took any competition."
Every competitive bone in Rutledge's body wanted to take on this task, but he still thought there were other people at Seagram's in distilling operations that might have been better for this task.  "I told him I thought there were a lot more people in the company more qualified with more experience in distilling operations so I asked him why do you want me to come back to run this in such a critical state? And he responded, 'It's because it is so critical that we want someone with the right attitude who will hopefully do what it takes to save the distillery.'"
"He knew I'd say 'yes' so I came back to Kentucky, November 1st, 1994 and I was given until the second week of June 1995 to turn around the distillery."
Rutledge's task was simple.  He had to get the distillate that was being made at the Four Roses Distillery back on par to the same quality the other distilleries in the company were producing.  "We had a four-point quality rating system.  A four was good quality.  A three was alcohol containing minor deviations.  A two was serious deviations but after aging in a barrel what came out was sometimes usable.  A one was an automatic reject no if, ands or buts and we wouldn't fill our barrels with it.  Just sell it to someone else and take the loss.  For over three years our average had been 1.9.  So most of what was in our barrel inventory, should have never been put in barrels."
It didn't take Rutledge long to discover one of the major reasons the Four Roses Distillery was producing low quality distillate.  According to Rutledge, he noticed several supervisors not practicing a consistent process during distilling.
"They were making two changes today, one the next, one the day after that. I couldn't tell if something was working or not, because we were in a constant state of flux.  So I had to say, no one makes another change except me which ran some people out of the distillery believe it or not."
Rutledge also knew that he was going to have to prove himself to the distillery workers first-hand how dedicated he was to turning around the distillery.  "I was spending 16 hours a day here and started to form a real tight bond with all the workers.  I told them we were not going to put a single gallon in a barrel if it didn't belong."
"At nights I would get samples of distillate from our Lawrenceburg, Indiana distillery and would start comparing.  What Indiana was sending us was really good, and what we were making at the time, it was almost hard to believe we were putting it in a barrel.  It was really bad stuff."
Receiving these superior samples from Indiana pushed Rutledge's competitive spirit even harder.  "They had two quality guys in Indiana that I used to say had the best noses in the industry.  Seriously.  So everyday I started bringing up samples for them to inspect to help see what changes I had to make.'
Moment of Truth
In early winter of 1995, Rutledge felt that things were
getting better at the distillery.  "I got a call the third week in February from one of those guys in Indiana.  I remember he said, 'What in the heck have you all been doing!  I can tell by just the smell!' My heart just dropped because I thought we were getting better."
Turns out the 'guy' in Indiana was having a little bit of fun with Rutledge.  After a few minutes of leading him on to believe their daily samples were not improving, he finally broke character and gave Rutledge the news, "I'm just calling to let you know that your distillate received the first 4 [rating] that it's had in over three years."
From that point on Rutledge's distillate averaged a 3.4 rating until the deadline of the summer shut down finally arrived in mid June.  It was time for the Seagram to make their decision on to keep the distillery open or shut it down.
According to Rutledge, "The financial people in New York were salivating because they thought they were going to get rid of a bunch of overhead by closing down the Kentucky distillery.  But our corporate quality department, which was located in Montreal (Canada) actually overruled the financial people.  They said, 'We can't shut down this distillery.  It's too good of a distillate to quit making.'"
It seemed the 16 hour work days and the phone calls during those weeks to get out of bed when something wasn't working, paid off during those his first six months as head of the distillery.
A Bourbon Brand Is Reborn

After Rutledge got the Kentucky distillery back on track and saved it from closure, he started lobbying Seagram's to start selling Bourbon in the United States again since all of it was going to foreign markets.
Right before Rutledge came back to run the Kentucky distillery, he had introduced the idea to his superiors at Seagram's to quit making the Four Roses blended whiskey and return the straight Bourbon back to the U.S., just like it was during the 30's, 40's and 50's when it was the number one Bourbon in America.
"While I was in New York I never really pushed the idea too hard of bringing the Bourbon back to the United States.  But when I went back to Kentucky and certainly after surviving the closure attempt in June of 1995, it became a burning passion of mine to bring [Four Roses] Bourbon back to the U.S."
Anytime Rutledge spoke to his superiors back in New York he would always ask them, "When are we going to stop making this rot-gut whiskey and bring our Bourbon back to the U.S. market?"  They would reason not bringing it back with several excuses but the biggest was that Seagram's was not willing to spend millions of dollars on a brand to correct a mistake it had make almost a half century ago.
It took Seagram's getting out of the alcohol business in 2001 to make Rutledge's dream come true when their distributor in the Japanese market, Kirin Brewing purchased the Four Roses brand and the Kentucky distillery.
"When [Kirin] finalized the purchase and brought their contingency to the distillery in January of 2002, they asked me if I had any questions for them.  Of course my first question was a comment and I said, you probably don't know it, but Seagram's has a blended whiskey here in the U.S. that has our distillery name on it, but has nothing to do with the Bourbon being made here.  Are you willing to make that go away and let us bring our Bourbon back home to the U.S.?  Their immediate response was 'Yes' so that was the beginning of getting our Bourbon back in the U.S."
Rutledge only had the barrel inventory to launch in one market so they chose Kentucky as the first market to release the newly branded Four Roses Single Barrel in September of 2004.  It quickly became the best-selling single barrel Bourbon in Kentucky according to him.
"We were focusing on showcasing we are a premium Bourbon distiller and this is a premium Bourbon we're bringing to market."
Then in September of 2006, they launched Four Roses Small Batch.  "We tried to come up with a bottle that would catch the eye and take up a little more space to stand out when designing the package for our Small Batch."
It was shortly after this launch that Rutledge started lobbying to increase production so more Bourbon was put back for the future.  He says his cries fell on deaf ears as modest increases were chosen over a more aggressive growth potential.  But who could really blame Kirin as it appears no Bourbon company predicted the insane growth Bourbon has seen over the last half decade.
In 2011, Four Roses sales numbers grew 42%.  That insane one-year growth even surprised Rutledge who thought to himself, "This will never happen again."  The next year in 2012, they were up 58% compared to the previous year.  In 2013 and 2014 they were up 71% and 78% respectively.
Rutledge admits that there is a barrel inventory shortage at the moment to continue their growth pattern, but compared to the problem of just keeping their stills operating 20 years ago it's a problem he prefers leaving as part of his legacy.
"We'll come out of this shortage in a couple of years.  We got out of the contract with Diageo to make Bulleit over a year ago so we're on our way to meeting growth demands."
Bucking the Trends
With his legacy in place, it was time to ask Rutledge what he thought about the rest of the industry.  When asked about the hype older Bourbons have been receiving lately, Rutledge quickly argues, "It's an erroneous perception that age is good.  There's a perception that a 12-year-old [whiskey] is not as good as a 15-year-old and a 25-year-old is a whole lot better than that.  That's not always true especially in Bourbon."
He goes on to share, "Bourbon and Scotch are two totally different whiskies so having the perception that what is good for Scotch is good for Bourbon is not accurate.  [Bourbon distillers] age everything in a brand new barrel.  Bourbon is a sweet whiskey especially compared to Scotch and people think it's like that because of the grains.  Well, it's not.  Its sweetness comes from the natural sugars located in the American white oak barrels.  When you fill a barrel the performance (the flavors added by the interaction of the distillate with the barrel) really starts to climb in the first years and peaks out between six to nine years.  15 to 20 years ago people would have said the peak was around five to seven years."
Rutledge firmly believes aging Bourbon inside of a barrel after the natural sugars have dissolved is counterproductive.  He does admit that sometimes those sugars do last 15 to 20 years in barrels and when that happens, "There's nothing better." But his 49 years in the industry lead him to believe that most of those sugars stay in the barrel for no longer than nine years.
He continues, "You have to remember, almost two-thirds of the flavor in Bourbon are generated from the aging process from the natural sugars.  The sweet flavors like vanilla, caramel, maple syrup come from the barrel.  But when that sugar leaves, you start picking up tannins and some of the harsh flavors that wood can provide. That's why I say I am not a fan of old Bourbon just because it's old.  But I also say that the best Bourbon in the world is from barrels that the sugars haven't left after 18 or 20 years.  But you cannot depend on those sugars hanging around that long."
While the consumer and media craze for extra-aged Bourbon gets under Rutledge's skin, it doesn't come close to what he believes is the worst trend in Bourbon.  "What's hurting the industry more than anything right now are these flavored Bourbons.  I said it at the Bourbon Classic when Fred Minnick (known Bourbon author) asked me, 'When are we going to see a flavored whiskey from you?' and I answered as long as I'm Master Distiller never.  Because to me it's not Bourbon."
Rutledge feels some of the companies that market flavored Bourbon along with whiskies that used to be Bourbon but have been changed through a second barreling process are riding the coattails of Bourbon's heritage.  He even believes it's possibly misleading consumers into believing what they're drinking is Bourbon, when in some cases it's not.
Rutledge defends his opinion with, "To me, it destroys the definition of Bourbon.  Eventually, everything that is brown and put into a bottle in the United States is going to be called Bourbon.  The history, the integrity, the creditability, the respect of our industry is being destroyed by the financial people of the large [Bourbon] companies."
He also admits that it has been discussed internally at Four Roses about producing flavored Bourbon.  "I was approached a couple of years ago.  I attended a meeting and they (another unnamed Four Roses executive) started off the meeting saying, 'We're missing the boat.  The fastest growing category in our industry are flavored Bourbons.'  I started biting my lips.  They asked me at the end, 'What do you think?' I said by God it's not Bourbon, we're deceiving the public and consumers and it's never going to happen as long as I'm Master Distiller.  The meeting was then over."
The Watch Is Over

Four Roses is handing off
Rutledge's duties to Brent Elliot.  He has been with Four Roses for 10 years and according to Rutledge is qualified to handle the production duties.  This doesn't mean Rutledge is leaving without any worries of what challenges lay ahead for the company he has given the majority of his live to.
Rutledge confesses, "The focus [of Four Roses] can never be quantity versus quality.  That is what got the distillery in a mess to begin with.  We're putting some emphasis on expanding but I hope we stick with what I've said from the beginning which is if we're not producing quality Bourbon then we don't need to be putting a gallon in a barrel.  We don't have to change anything (on how the Bourbon is made) we just got to sustain what we're doing.  The focus has to be on quality and there will be no downsides.
That's my biggest fear.  Is that [Four Roses] will start to look at making money instead of quality.  Because you can do both.  Just maintain that integrity, credibility and respect of our industry.  That worries me more than anything.  I'm not going to be here.  They don't have to listen to me say that anymore."
Rutledge does have a positive outlook on what the future holds for the former distillery he saved from closure along with the entire Bourbon industry.  "We are just barely scratching the surface of where we can be in 5, 10 or 15 years from now.  I believe people around the globe are starting to realize that there is another whiskey in this world and it's not Scotch.  It's Kentucky Bourbon."
Four Roses Jim Rutledge