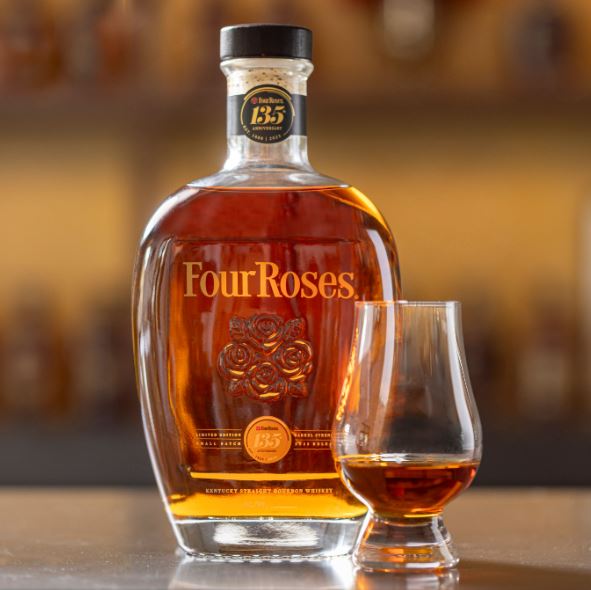 Wake up and smell the roses, and if you're lucky – drink them;)…Four Roses Bourbon (Lawrenceburg, KY) has announced it will launch its 135th Anniversary Limited Edition Small Batch on September 15. The release will be the 16th in its series of annual limited-quantity special bottlings, and has the OLDEST BOURBON EVER USED in its Limited Edition history.
Quick Facts:
108 Proof
Blend of Four Bourbons:

12 year OESV recipe (35%)
14 year OESK recipe (40%)
16 year OESV recipe (20%)
25 year OBSV recipe (5%)

SRP $199.99
Release Date: Sept 15th
15,060 Bottle Count
Bottled at 108 proof, the 135th Anniversary Limited Edition Small Batch features four hand-selected
bourbon recipes: A 12-year-old and a 16-year-old OESV recipe, which features notes of delicate fruit and
caramel; a 14- year-old OESK recipe, with notes of baking spice; and a 25-year-old OBSV recipe that
boasts delicate fruit and rye flavors.
A key differentiator for the distillery, Four Roses combines two mashbills with five proprietary yeast strains to create 10 distinct bourbon recipes, allowing for Master Distiller Brent Elliott to not only create consistency across the brand's core product line, but to innovate and
achieve an endless range of flavor profiles.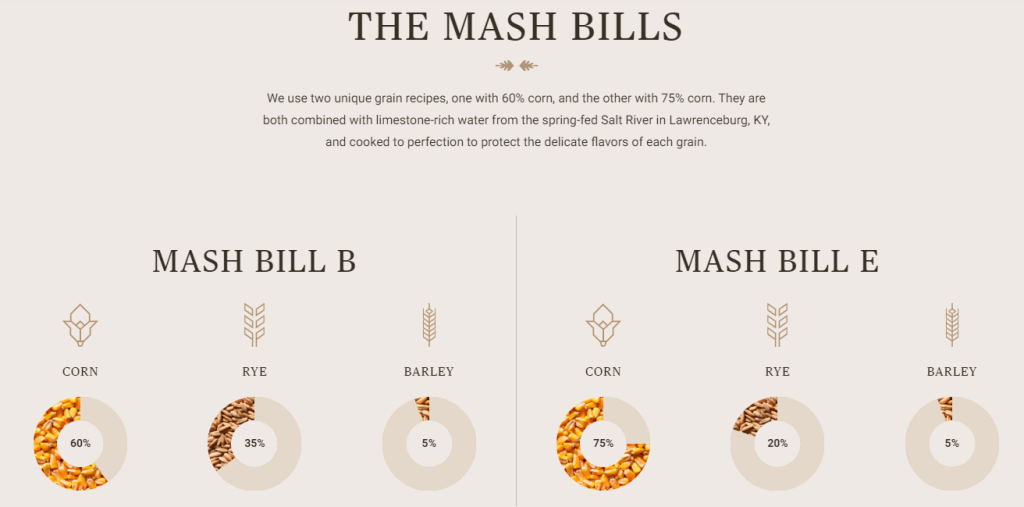 "This release celebrates 135 years of meticulously crafted, high quality bourbon, and I'm excited to hear
what our devoted consumers have to say about it," said Brent Elliott. "In crafting this blend, I wanted to
create an elegant bourbon worthy of the brand's heritage. Each of the 12-, 14-, and 16-year-old batches
possess individual characteristics that complement each other perfectly. Once the ideal balance of these
three batches was achieved, I looked at several other batches of various ages and recipes to add an extra
layer of nuance to the blend. Ultimately I selected the 25-year-old OBSV, which melds perfectly with the
other batches and adds additional complexity and depth."
TASTING NOTES (Brand Provided): The 135th Anniversary Limited Edition Small Batch bourbon offers delicate aromas of allspice, vanilla and elegant oak, mingled with a hint of cinnamon and clove. The palate boasts rich layers of honey and rye
spice, balanced out by the taste of ripe berries and pear that lead to a long mellow finish.
LOTTERY DRAWING: What we know – From August 22 – 28, you can enter the online lottery via, CLICK HERE, for the opportunity to purchase your bottle at Four Roses. From the sound of it, this looks like the only way to get a bottle at Four Roses. Speaking of lotteries, Old Forester Birthday Bourbon lottery opens Aug 28th.
The release comes on the heels of the Four Roses' recent brand refresh. Fans will see the new packaging
details on the limited edition bottle, including the brand's updated logo and an engraved rose cluster on
the cork of the bottle.
For the latest in Bourbon, visit www.thebourbonreview.com.