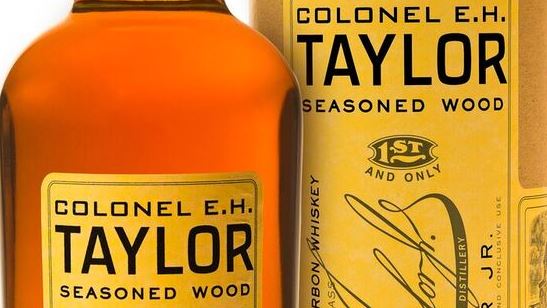 Story by Justin Thompson
Buffalo Trace Distillery will be releasing another version of their acclaimed  E. H. Taylor, Jr. collection of whiskies this March, with the Seasoned Wood Bourbon.  To create this Bourbon, Buffalo Trace Master Distiller Harlen Wheatley took a wheated mashbill (meaning he used a grain recipe where wheat was the secondary grain instead of rye) and aged the distillate in barrels that had some extra attention given to them.
The barrels used for this Bourbon, or more specifically the staves, were given an extra seasoning process.  Some barrels comprised of staves that were soaked in an enzyme heavy bath that included water heated to 100 degrees.  These staves where then places into kilns so they could be dried to a specific humidity level Wheatley wanted.  Other staves were left outside to season from six to 12 months before they were made into barrels for this project.
The purpose for Wheatley taking the extra effort of seasoning these barrels, was to create a much different tasting wheated Bourbon then consumers are used to from Buffalo Trace.
Seasoned Wood Bourbon will be the eighth release under the E. H. Taylor, Jr. name and follows the previous Old Fashioned Sour Mash Bourbon, Single Barrel Bourbon, Warehouse C Tornado Surviving Bourbon, Barrel Proof Bourbon, Straight Rye Whiskey, Small Batch Bourbon and Cured Oak Bourbon.  The Sour Mash, Warehouse C Tornado Surviving Bourbon and Cured Oak were limited releases and are no longer available.
The namesake of this series, Colonel Edmund Haynes Taylor, Jr. is credited with helping bring the Bourbon industry into the modern age of production in the mid and late 1800's with some of the innovations he installed as a distillery owner.  He also lobbied for the Bottled-in-Bond Act of 1897 which protected the integrity of those making Bourbon.
Seasoned Wood Bourbon will be 100 proof and have a suggested price of $69.99 a bottle.  It will start hitting the shelves in late March.