We've noticed a trend with America's most interesting little towns: It's always the quiet ones that have the most to share. Danville, Kentucky keeps up appearances as a sleepy little town, but that's all a ruse they keep up to stay one of the best-kept secrets in Kentucky.
We recently spent three full days in Danville, and we still weren't able to fit in everything it has to offer, even with tips from the local visitors bureau and a boost of great coffee from one of downtown's best cafés! That's how many treasures are tucked into this small corner of Central Kentucky.
We've compiled our favorite things below. Whether you're a history buff, a foodie, a lover of the outdoors, or passing through on a Bourbon adventure, Danville is your ideal weekend destination.
WHISKEY
This wouldn't be a story from The Bourbon Review if we didn't deliver the goods on Kentucky's favorite spirit. Luckily, Danville delivers the goods as well.
Danville's great hometown bars somehow manage to hang onto the best bottles just a little longer than everywhere else. Shout out to Jane Barleycorn's, where we enjoyed the last precious pours of a Fitzgerald that seemed all but extinct in Louisville and Bardstown. Jane Barleycorn's bar carries over sixty varieties of Bourbon, and the business also houses a small but gem-bottle-packed wine and spirits shop.
But the bars aren't all there is. Danville's Wilderness Trail is producing Bourbon and rye mashbills as we speak, in volumes around 50,000 barrels a year–just on the big side of small. This spring, they're releasing the first bottles of their bottled-in-bond wheated Bourbon.
We had the chance to try samples of the mashbill a few months before the release was announced, and the juice is worth a drive to Danville all on its own.
Wilderness Trail is unlike most distilleries in the world today, possessing a NASA-like sense of cleanliness and organization. That's because its owners, Pat Heist and Shane Baker, constructed it from the ground up based on years of watching other distilleries make mistakes.
Behind the good ol' boy look, Heist and Baker hide decades of laboratory experience, from career time spent helping other distilleries diagnose problems under their fermentation science company Ferm Solutions: the other half of an odd-couple pairing of mad scientist workshops.
Ferm Solutions is the first-born business component of Wilderness Trail Distillery. In many ways, it's a lab. Their primary purpose is diagnosing fermentation and distillation issues for brewers and distillers. They're the guys you call when something's not working, and not in the sense that you might speak with a mechanic.
Though they can't disclose names, it's likely that every Bourbon you've ever consumed has at one point called on these guys to solve a problem with a batch, whether something's gone awry with the yeast, or they can't get the temperatures right in the still. If the Bourbon Trail was Washington, D.C., making a stop by Ferm Solutions would be the equivalent of touring the FBI Headquarters after all the monuments: this is where everything is protected.
It's one of the country's most important whiskey institutions, and they make some damn good spirits of their own just next door.
What To See:
ADVENTURE
Danville is crisscrossed by dozens of hiking and biking trails, with more in development for this year. And the region's mild climate means these outdoor opportunities can be enjoyed nearly year-round.
The Central Kentucky Wildlife Refuge features about 500 acres of natural preserve, a beautiful open space accessible from dawn to dusk year-round. We're especially fond of it during the fall as the leaves change, but spring and summer afford excellent opportunities to stretch your legs while admiring a vast swath of gorgeous greenery untouched by modern life.
And for those who like to enjoy nature by hitting the links, Danville also is home to the Old Bridge Golf Club, one of the finest eighteen-hole courses in the state.
What To See:
Central Kentucky Wildlife Refuge
FOOD AND DRINK
Danville has a wonderfully diverse and delicious dining scene, especially for such a small town. And many restaurants are in the center of town, a neighborhood so lovely it recently received a Great American Main Street award from the National Trust for Historic Preservation.
At breakfast, The Hub Coffee House and Cafe is the perfect place to grab coffee and a treat from their extensive bakery selection. You can even pick up soup or a sandwich for later. And of course, you'll want to take some pics of their latte art for your Instagram page!
Or stop by Burke's Bakery and Delicatessen to load up on fresh baked goods. Burke's offers seasonal options and sandwiches too, but once you look at their famous donuts, you may not need to look further.
If midday finds you hungry and wanting not only to refuel but to re-energize, check out Plank on Main. Plank features a juice bar with comfortable seating, nitro cold brews on tap and a great, healthy menu. Choosing between lunch options there was tough for us, but we went for the avocado toast and had no regrets! And Plank is not only a lunch destination but a fitness studio, with classes that will strengthen, relax and ready you for the rest of your day.
Looking for some brews and a look at the town's nightlife? Head over to Beer Engine. This small brewery, Danville's oldest, features a wide, rotating variety of beer styles that make for a great evening of tasting. Beer Engine doesn't serve food, but you're likely to find at least one food truck outside on any given night, cheerfully making burgers or tacos to go along with your IPA. It's very easy to create a cycle – two beers, two tacos, and so on – for the rest of the night.
Harvey's is a great stop for some easy comfort food and a nice cocktail, especially if you're trying to catch a few minutes of a big game. The family eatery has just a hint of sports bar magic, with draft beer and cocktail options.
But for the best dinner in Danville, head on back to Jane Barleycorn's. Owner Mary Robin Spoonamore has created a delicious, locally-sourced menu that offers gourmet food with a Southern pedigree. The whiskey list has no rival in Danville, and the cocktail program (if you can imagine turning away from small batches and single barrels) is the best in town.
What To See:
HISTORY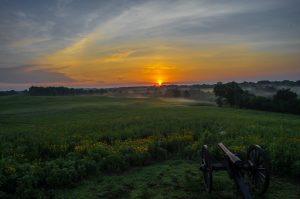 We'd be remiss if we didn't lead you through the bevy of historical offerings that make Danville a unique and vital part of Kentucky's history. Danville, after all, is home to the intersection of many important parts of Kentucky's heritage, from the founding of the Commonwealth itself to one of the bloodiest battles of the Civil War to the state's first hemp crop.
Danville is the birthplace of the Commonwealth of Kentucky. A replica of the old courthouse, in the center of town, honors the ten constitutional conventions that led up to our state's 1792 separation from Virginia.
And no visit to Danville is complete without a visit to the Perryville Battlefield State Historic Site, which marks the 1862 battle that was the Confederacy's last attempt to gain control of the border state of Kentucky. The Battle of Perryville was one of the most pivotal and destructive conflicts of the Civil War, leaving over 7,000 dead, wounded or missing.
Author Jeff Shaara has named Perryville one of the top ten great Civil War sites to visit, and we agree, especially if you can time your visit to one of the site's exciting and authentic re-enactments.
Just a short drive outside downtown Danville lies Shaker Village, which throughout the nineteenth century was home to the largest community of Shakers in the United States. Learn about this vibrant religious community, then visit the Trustee's Table restaurant and spend a night in the historic Inn at Shaker Village.
Danville also stands as an important part of Kentucky's Hemp Highway: In 1775, it was home to the first reported crop of hemp ever planted in the state. Until its criminalization, hemp remained integral to naval ship rigging, supporting our nation's defense until new fibers were discovered near the end of World War I.
Whether you're a die-hard history buff or just curious, it's surprisingly easy to understand a vast swath of American history simply by spending a day visiting Danville's fascinating attractions and landmarks.
What To See:
Constitution Square and Historic Downtown Danville
Perryville Battlefield State Historic Site
ACCOMMODATIONS
Danville has several gorgeous downtown Airbnb options right in the heart of town. We'd advise you to consider these first, as you're then only a few steps from Danville's main streets first thing in the morning. Parking downtown is plentiful, and many of these older buildings feature immaculately redone and modernized interiors.
Where to Stay: