Story by Sara Havens
With four wineries and two distilleries, the Bullitt County itinerary is easy, fun and informative.
With more than 1 million tourists flocking to Kentucky for the ultimate bourbon experience each year, the endless options of what to do, where to go, how many stops to make a day, etc., can be daunting for first-time travelers embarking on the Kentucky Bourbon Trail. 
But one commonwealth county has developed a unique experience for those interested in both whiskey and wine, and it's easy to complete as a one- or two-day excursion. Bullitt County's Wine & Whiskey Trail features two bourbon experiences and four wineries, all located in the 300-square-mile county that sits just south of Louisville. 
Included in the trail are the Jim Beam American Stillhouse and Four Roses Warehouse & Bottling Facility, as well as Forest Edge Winery, Wight-Meyer Winery, MillaNova Winery, and Brooks Hill Winery. 
And just like the Kentucky Bourbon Trail, those looking to complete the Wine & Whiskey Trail can pick up a passport/brochure at a participating location and collect stamps along the way. 
Once you've visited all six, you turn in your completed passport to the Shepherdsville/Bullitt County Visitor Center and receive a very cool and extremely functional souvenir glass that features a wine glass up top and a shot glass on the bottom. In other words, it's the mullet of glassware. 
With the slogan "Wine Down or Straight Up" etched into it, it makes a great showpiece for any bar or mantle.
Troy Beam, executive director of Bullitt County Tourism, says the idea for the Wine & Whiskey Trail began in 2012, when bourbon tourism had already taken off and Kentucky's wineries were on solid footing. With four established wineries, one major distillery and a second bourbon experience all within the vicinity of Bullitt County, it just made sense to create a connection between them.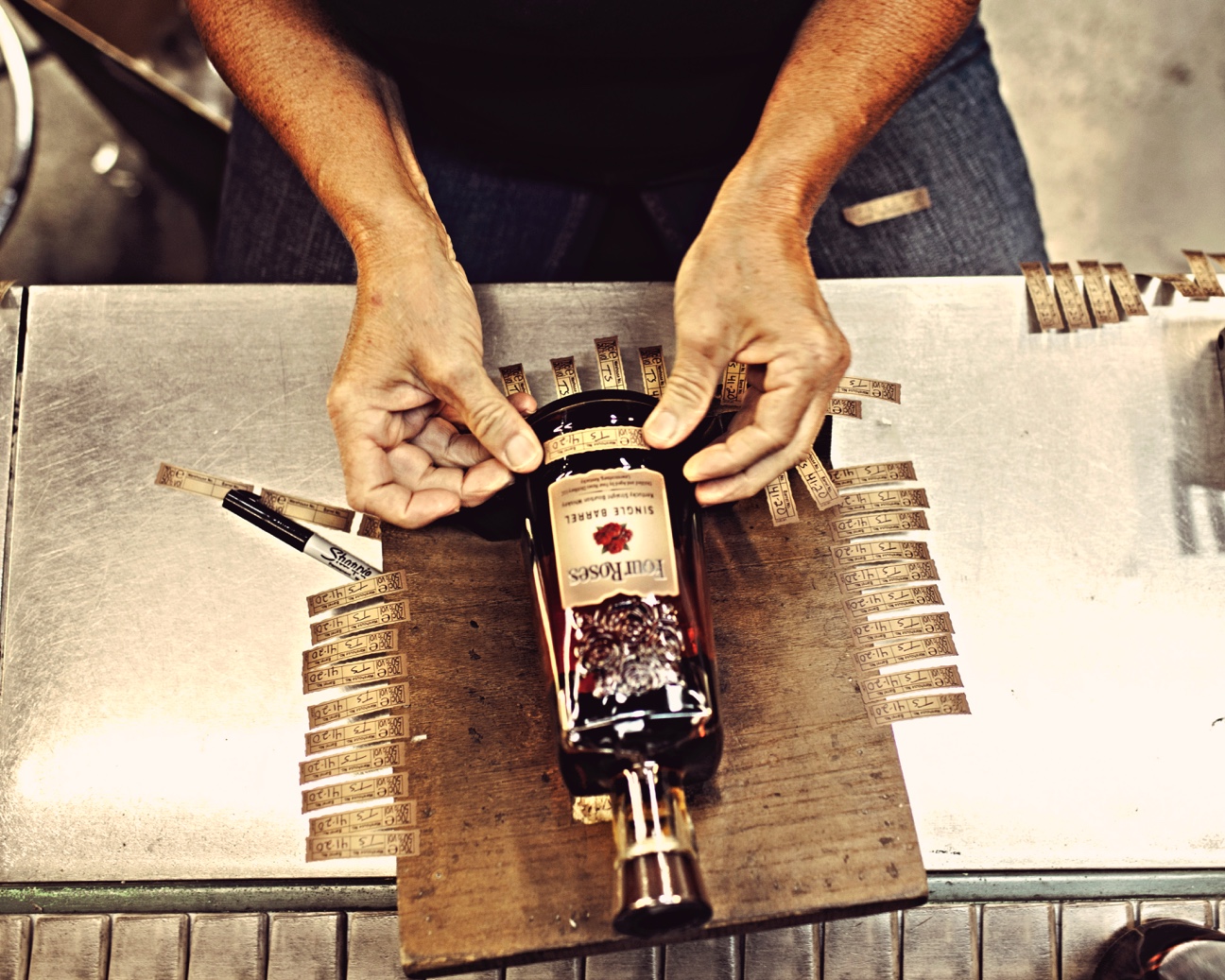 Beam says more than 1,500 people have completed the trail, many of whom were enamored with the prize. 
"A lot of those folks are people who stopped in the Visitor Center and saw the unique 'Wine Down or Straight Up' souvenir glass and had to have it," he says. 
Although Beam won't name a favorite stop on the trail, he does believe all of them have their own unique charm and character. 
"I like to visit them and take new and old friends with me to show them off," says Beam. "So many times I get the response of, 'Wow, we didn't realize all of this was here.' As hard as we work on getting the word out to people, there are still so many who do not realize what gems we have here in Bullitt County."
The Bourbon Review recently spent a day traversing the Bullitt County Wine & Whiskey Trail, and we were able to make it to all six stops. Some of those we stopped and chatted with the friendly staff — and enjoyed an affordable tasting — and others we ran into just to get a quick stamp.
We were thrilled to learn that each place was no more than 20 minutes from the next one — some even closer. And all six of the wineries and distilleries were familiar with the Wine & Whiskey Trail and happy to give us a stamp. 
Here are more details about our afternoon journey through Bullitt County. 
Wight-Meyer Vineyard & Winery — 340 Meyer Drive, Shepherdsville, Ky.
This quaint Shepherdsville winery has been stomping grapes for nearly 14 years. The small tasting room is nestled among five-and-a-half acres of vineyards, where owners Jim and Sandy Wight grow their own fruit for their wines. 
With more than 25 wines to sample from — it's $5 for a tasting of six wines — most varieties are covered here, from dry reds and whites to sweet rosés, dessert wines and bourbon barrel-aged products. 
Sandy led our tasting, and she recommended best-sellers Diamond, a sweet white wine, Pink Diamond, a rosé, and Sassy B, a sweet and refreshing blend with raspberries. Another best-seller is the Buffalo Head Red, a sweet red concord wine aged 10 months in a used Buffalo Trace bourbon barrel.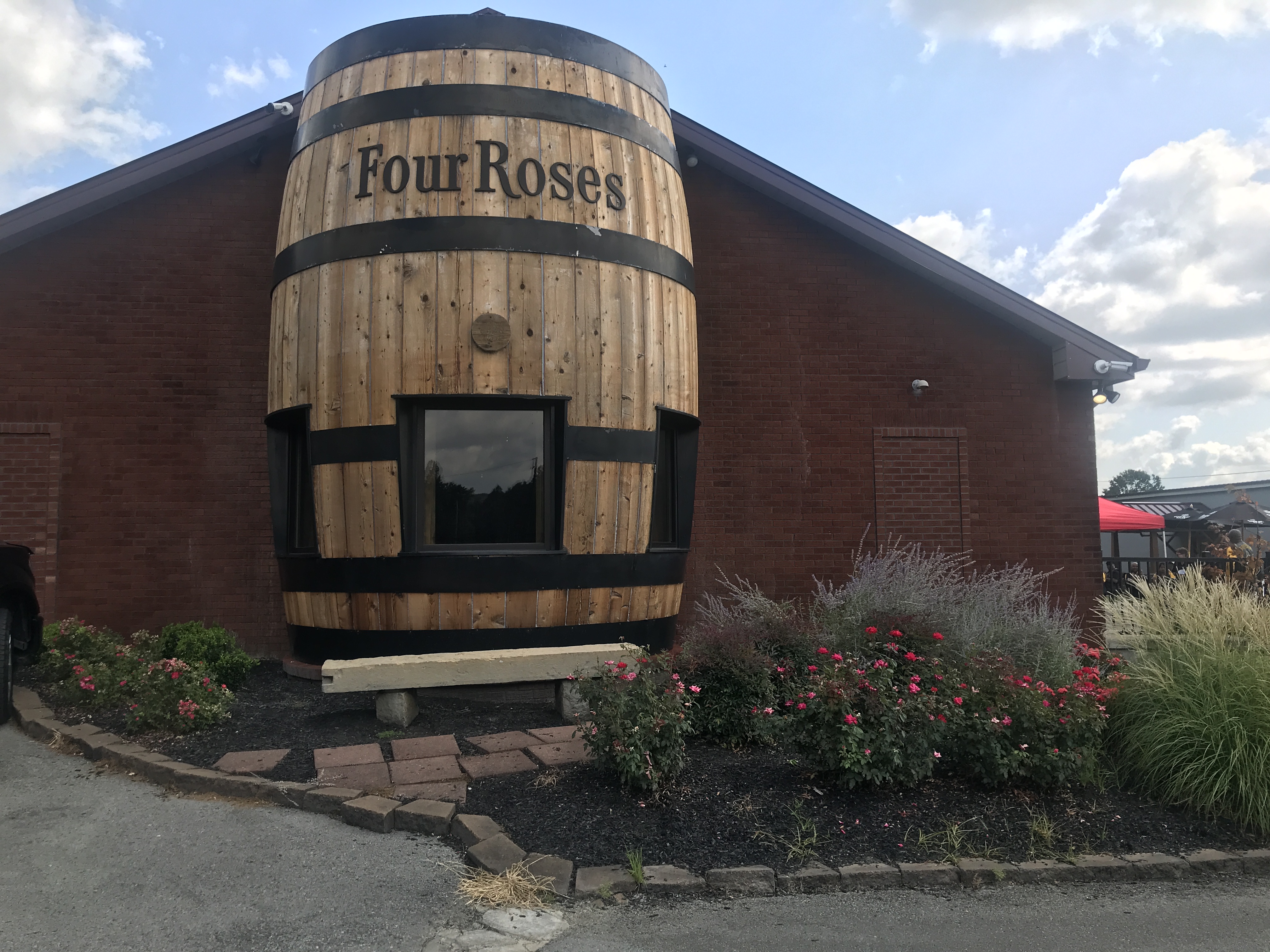 Four Roses Warehouse & Bottling Facility — 624 Lotus Road, Cox's Creek, Ky.
While the main Four Roses Distillery is located about 50 minutes away in Lawrenceburg, Ky., the Four Roses experience in Bullitt County offers guests tastings in the gift shop as well as a full tour of the campus, which includes many single-story rick houses. 
On the afternoon of our visit, the place was packed full of tourists who had traveled by motorcycle and were enjoying bourbon tastings, tours, Four Roses swag and the like. We decided to forgo the $7 tasting experience, and the courteous host kindly gave us a stamp. 
Jim Beam American Stillhouse — 526 Happy Hollow Road, Clermont, Ky.
Just down the road from Four Roses is the Jim Beam American Stillhouse Distillery, which has been producing the world's No. 1-selling bourbon for more than 230 years. Of course you can do full distillery tours here, as well as check out the gift shop, grab lunch and enjoy a cocktail. 
The campus is huge, but the tours are personal and interactive, and you get to see every step of the bourbon-making process — from grains to glass. Tours start at $14 and include tastings.  
We decided to skip this tour as well to stay on schedule, and as we were getting our passport stamped, the host recommended we check out the barrel room at our next stop — Forest Edge — as many of the wines are finished in Jim Beam barrels. 
Forest Edge Winery — 1910 Clermont Road, Clermont, Ky.
Located next door to Jim Beam and across the street from Bullitt County's scenic Bernheim Forest, Forest Edge Winery has been making delicious wines since 2011. The welcoming tasting room offers all kinds of wine-themed knickknacks and even a separate game and TV room for children.  
There's also a winery cat, Ava, who likes to make her presence known as you're deciding which wines to sample from a list of more than 20. Owned by Brance and Traci Gould, the winery imports its grapes and uses local fruit for some of its offerings, like Berrylicious, a sweet wine made with blackberries.  
From Chardonnay to Zinfandel, Forest Edge has all the varieties covered, and they also have a barrel-aging program for wines like Ridge Runner Red and Toasted Tawny, a port-style wine aged in bourbon barrels for six years. Tastings are $5 for six samples.
One of our favorites here was Forest Fire, a sweet white wine infused with Thai chili peppers. In fact, a pepper can be found inside each bottle — like a worm in a tequila bottle. There was major heat even from one small sip, and we have to admit it was delicious and painful at the same time. So we bought a bottle to take home. 
MillaNova Winery — 744 Gentry Lane, Mt. Washington, Ky.
This beautiful Mt. Washington winery will be celebrating its 10th anniversary this fall. On the afternoon we arrived, the crew was preparing for a 250-person wedding, which the winery often hosts throughout the year, but they were happy to talk with us and facilitate a tasting. For $6, you get four samples — from a list of 22 wines — and a souvenir glass. 
Owned by John and Donna Miller, the winery also offers most varieties of wines and features some pretty creative names. Some of those include Berry White, Vixen Vickie, Mean Girls and Mint Julia, the last of which is a mint-infused white wine that is usually served over crushed ice, much like a Mint Julep. 
Our cordial host Melanie Horn was happy to give us the lowdown on the wines, despite the wedding chaos happening nearby, and she never missed a beat, even when the mother of the bride came up to grab a bottle of Pinot Grigio. 
Brooks Hill Winery — 2746 Brooks Hill Road, Brooks, Ky.
Opened in Bullitt County in 2007 by Mike and Karen Hatzell — and their dog Lili — Brooks Hill Winery is a picturesque place perched at the top of a hill. Rows and rows of vineyards greet you as you pull in, and the Southern hospitality is as tangible here as the grapes it grows. 
Brooks Hill was buzzing with people when we stopped by — there was even a small wait for a tasting. And for all the people inside the tasting room, there were even more in the massive pavilion out back. The winery offers about 22 wines from dry to sweet, and tastings are $5, which includes five samples and a complimentary wine glass.  
We decided to skip the tasting here because it was so busy, but a friendly host behind the bar answered all our questions while quickly filling her customers' samples. She said the winery sits on about 30 acres and uses three varieties of grapes. She also told us the sweet wines outsell the dry wines 7-to-1, and their best-seller is Black & Blue, a blend of blueberry and blackberry wine. 
With live music every Saturday night during the spring, summer and fall, Brooks Hill keeps people coming back week after week. 
If you decide to tackle the Wine & Whiskey Trail more slowly, breaking it up into two days to enjoy each experience to its fullest, there are several top notch hotels. The folks from the Bullitt County Visitor Center also recommend several local restaurants, including Cattleman's Roadhouse, Hillview Family Diner, and Cluckers, and other experiences like Kart Kountry, Bernheim Forest and Fire Studio & Gallery. Call 502-543-8656 or follow them on Facebook or Instagram @travelbullitt to learn more.