Story Caroline Paulus and Shea Davidson
Photos Shea Davidson
Bourbon and candy aren't strangers by any means. Kentucky's famous Bourbon balls, for example, are the gold standard for blending whiskey and chocolate. But what about another class of candy – the kind you can get for free by harassing strangers or stealing it from your kids? The editors that brought you the low down on Bourbon Ice Cream have put their palates to the test again with six of the most popular Halloween candies. Through intense research and painstaking experimentation, we've determined what to sip with your sweets.
1. Smoked Maple Knob Creek and Candy Corn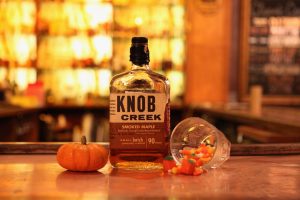 We first tried to cut the cloying sweetness of the candy corn with a high proof Bourbon, but it turns out we needed the maple syrup flavor in this Knob Creek blended Bourbon to play off the corn syrup (or perhaps to drown it out). Either way, we could feel the cavities this pairing was giving us after just a few bites. Our tip for Bourbon drinkers with a sweet tooth – pour yourself a few fingers of this seasonally appropriate Knob Creek and put the candy corn in the trash where it belongs. You're welcome.
2. Buffalo Trace and Kit Kat
The spiced brown sugar of Buffalo Trace perfectly complemented the relatively low sugar content in the crispy Kit Kat. The wafer's thin layer of milk chocolate added just the right amount of sweet without overpowering the pairing, while the candy helped the Buffalo Trace go down even more smoothly than it usually does. This is a great pairing for Halloween fans who don't have many sugar cravings, or those usually satisfy them with Bourbon.
3. Basil Hayden's and York Peppermint Patty
The high rye and low proof combo of Basil Hayden's just can't seem to stay away from fresh, cool, mint. We've matched Basil Hayden's with Thin Mint Girl Scout cookies two years running, and couldn't get enough of a Basil and mint chocolate donut pairing last month (spoiler alert – full donut pairing coming soon!). The York Patty was no different, matching the slight mint hint in Basil Hayden's like they were made for each other.
4. Wild Turkey 101 and Reese's Cup Pumpkins
The Reese's cup was surprisingly hard to pair. While its probably the most popular candy on our list, pairings of rye whiskey, wheated Bourbons, and more all fell flat compared to the chocolate peanut butter punch of the Reese's. Then we pulled out a bottle of Wild Turkey 101. The high proof cut through the fattiness of the peanut butter and balanced well with the thin layer of chocolate on the Reese's pumpkin. This pair of heavy hitters starts out bold but finishes round and nutty. Who knew we should be chasing our shots with peanut butter?
5. Elijah Craig Small Batch 1789 and Left Twix
Twix was another difficult pairing, but Heaven Hill's Elijah Craig Small Batch 1789 had the exactly the right amount of vanilla and molasses to match the buttery caramel and shortbread in the Left Twix. While you might think that the buttery caramel and shortbread in the Right Twix would blend just as well, you would be wrong.
6. Maker's Mark and Caramel Apple Suckers
Maker's understated wheated profile balanced the tartness of the green apple suckers, while the caramel notes in both were perfectly paired. These were classic Fall flavors, and boy did we fall for them.
Got a favorite Bourbon and Halloween candy pairing? Tag @bourbonreview on Instagram to share your sweets!