Photos Courtesy of Bourbon Classic
Bourbon Classic is pleased to announce the winners of the 2018 Bourbon Classic Cocktail & Culinary Challenge, held Friday, March 2, at a new venue for the event: The Foundry at Glassworks.
The challenge featured cocktails and small plate pairings prepared by nine teams of chefs and master bartenders representing sponsoring distilleries. Each chef used Kentucky Proud products as a main ingredient, focusing on foods raised, grown, or processed in Kentucky. The inventive and delicious creations were judged by an expert panel including Kelsey Hoffman, Bar Manager, Rye; Jason Horn, Freelance Writer; and Jordan Cahill, Bar Mangager, Mr. Lee's Cocktail Lounge. Winning Recipes will be available soon at www.BourbonClassic.com.
And the winners are…
Best Classic Cocktail
Representing Barton 1792 Distiller
Bartender Oliver Miller, Proof on Main
Cocktail: Final Ward, featuring 1792 Small Batch Bourbon
Best Classic Small Plate
Representing Blade and Bow
Chef Bobby Benjamin, Butchertown Grocery
Dish: Fried Plantains, featuring sunflower shoots from Fire Greens LLC in Louisville, KY
Best Classic Pairing
Representing George Remus Bourbon
Bartender Austin Garrison, Bouquet Restaurant
Cocktail: New York Sour, featuring George Remus Bourbon
Chef Stephen Williams, Bouquet Restaurant
Dish: Bourbon Soy Cured Kentucky Carp, featuring Kentucky Carp from Fin Gourmet Foods in Paducah, KY
Best Contemporary Cocktail
Representing Heaven Hill Distillery
Bartender Briana Hlava, Butchertown Social
Cocktail: Hair of the Dog, featuring Evan Williams Single Barrel
Best Contemporary Small Plate
Representing Heaven Hill Distillery
Chef Loreal Gavin, Private Chef
Dish: Steak and Eggs, featuring Strip Loin from Foxhollow Farms in Crestwood, KY and Farm Fresh Eggs from Farmer Joe's in Salvisa, KY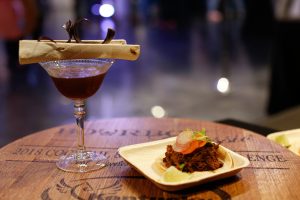 Best Contemporary Pairing
Representing Blade and Bow
Nic Christiansen, Butchertown Grocery
Cocktail: Flamenco, featuring Blade and Bow Bourbon
Chef Bobby Benjamin, Butchertown Grocery
Dish: Street Taco, featuring Black Radish from Spade & Table Farm in Louisville, KY