When Booker Noe, the late master distiller of Jim Beam, put his name on the new bourbon he made available to the public in 1992, he was helping to usher in a new industry trend which would ultimately revitalize the spirit – small-batch Bourbon.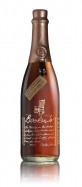 Noe, the sixth generation of the Beam family to produce Bourbon, hand selected the barrels which would fill the premium Bourbon, called Booker's, and this month Noe's son and current Jim Beam master distiller, Fred Noe, will be releasing a special 25th anniversary, limited-edition variety of Booker's. Along with being uncut and unfiltered, like all Booker's, the anniversary edition also will be aged with a touch of sentimentality.
"These barrels were laid down in January 2003. Dad passed in February 2004, so I guess essentially you could say that these are some of the last barrels that dad produced before he passed away," Fred Noe said in a promotional video for the product.
Only about 1,000 cases of the special edition will be released, and the commemorative bottle will look different from original Booker's bottles, but it will still be decorated with Noe's familiar, but difficult-to-decipher, penmanship.
The original Booker's Bourbon, a cask-strength spirit with a proof that usually ranges from 120 to 130, is normally aged for six to eight years. The special-edition batch is over 10 years old, giving the product some extra characteristics and making it a fitting tribute to an important character in the Bourbon industry.
"The extra-aged Bourbon here is very special," Fred Noe said, "so we're going to do this one in honor of my dad."
Author: Robbie Clark