<<< PREVIOUS – AirBnbs | Best Places to Stay – NEXT >>>
The Ruin Bed and Breakfast | Versailles, KY: Built on the ruins of Glenn Springs Distillery, once owned by Dr. James Crow who is credited by some as helping perfect the sour mash process in the 19th century, the ancient stone façade of this Woodford County bed and breakfast welcomes guests to their temporary home. Tucked into the rolling hills of Kentucky's Horse Country, The Ruin is only minutes from famous farms like Ashford Stud, where Triple Crown Winner American Pharoah lives in neatly appointed stables and freshly mown pastures. The rooms at the Ruin are named after famous horses such as Royal Delta and Danehill, but we know you're really here for the Bourbon. Drive just a couple minutes up the road to tour and taste at Woodford Reserve, or schedule a tour at the newly opened Castle & Key Distillery which is a few miles past Woodford Reserve.
Park Mammoth Resort | Park City, KY: Park Mammoth Resort is the only Lodge on our list, and for good reason. Here, Bourbon lovers can not only find their next favorite in a tasting room, but spend their days outdoors on the golf course and the shooting range. Perfect for an outdoorsy bachelor party, the resort is also close to Mammoth cave for any explorers. The patchwork quilts complete the frontier feel, or get out of the area to explore craft distilleries like Boundary Oak and Corsair.
Castle Post | Versailles, KY: Set on the picturesque rolling hills in Versailles, you can't miss The Kentucky Castle from the road. This European-style castle offers the opportunity to live like royalty, all while only minutes horse country and Bourbon Country. Feast at the in-house Castle Farms, where the commitment to farm to table is evident, and stay in the innermost "Chalet Suite" if you really want to feel like a King. Head to Woodford Reserve only 10 minutes down the road, or head the other direction towards downtown Lexington's Town Branch or Bluegrass Distillers if you want a more urban setting.
EarthJoy Treehouses | Brooksville, KY: While this may not seem like the traditional place to find the Bourbon lifestyle, we loved the unique feel of these hand-built treehouses. Featured on Treehouse Masters, these Germantown properties offer you the opportunity to hang outdoors and earn your booze climbing their many routes. Bring your own Bourbon to share later in the day as you enjoy the sunset from the treetops. The Old Pogue Distillery is located about 20 miles to the east. Or you can drive a half hour to Northern Kentucky to visit Boone County Distilling Co. or New Riff Distilling, and visit Bourbon bars like Newberry Bros. Coffee, Old Kentucky Bourbon Bar or Wiseguy Lounge.
The Inn at Shaker Village | Harrodsburg, KY: The Inn takes you back to a simpler time, where early Kentuckians settled more than 200 years ago. Stay in guest rooms, suites, or rustic cottages while you ride horses on the farm and hike through preserve and the river on site. Or, make the quick drive to Wild Turkey and Four Roses, about half an hour up the road. Return to the Village to dine at the Trustee's Table, a farm-to-table restaurant that features fresh and seasonal fare – and offers a full bar of Bourbon.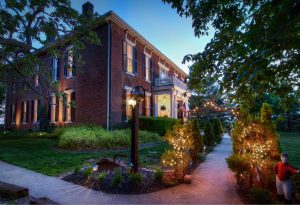 Maple Hill Manor | Springfield, KY: Maple Hill Manor has so much more than Bourbon – Fruit orchards, an alpaca herd, and more make this Bed and Breakfast a must-stay for anyone with interest in agrotourism. Bourbon Trail visitors will be happy to know that this beautifully maintained antebellum home will help you organize top shelf tours (in a Limo no less) to various distilleries, Bourbon restaurants, and more. Or, get a discount on your stay and immerse yourself in the countryside lifestyle by working the farm as you learn about the care and keeping of adorable alpacas.