It's Christmas in July, aka AMAZON PRIME DAY.
Who doesn't love the thrill of the deal? For some (OK, a lot of us), the hunt surpasses the deal itself. But scrolling through the ends of the e-earth, that takes time.
You're very welcome as we've done the hunting for you and rounded up some pretty cool things that you likely never knew you needed until now. HINT: ship 'n a bottle decanter set!!
What started out as 4 to 5 items blossomed into the 16 whiskey things to feast your eyes upon.
Cocktail Smoker Kit with Torch, Old Fashioned Whiskey Smoker Kit for Bourbon with 4 Flavour Wood Chips, Drinks Smoke Infuser Kit with Ice Cube for Cocktails Lover (No Butane)
PRICE: $22.74
SAVINGS: 35%
Pricier than the standard smoking gun, but that barrel presentation is pretty sexy.
PRICE: $199
SAVE: 20%
OK, it's not technically a Prime Day deal. But knowledge is power and knowledge is priceless. Especially at 31% off! And by acclaimed booze expert author Lew Bryson.
PRICE: $18.99
SAVINGS: 31%
PRICE: $17.51
SAVINGS: 20%
C'mon, you know you've always wanted that ship in the bottle decanter set. Here's your chance, at 51% OFF!
PRICE: $63.99
SAVINGS: 51%
What we liked about this – PRICE and ICE MOLDS INCLUDED. You and your Bourbon sippin' buds are set for an eve on the rock. Comes to $8 per glass AND ice mold.
PRICE: $31.99
SAVINGS: 47%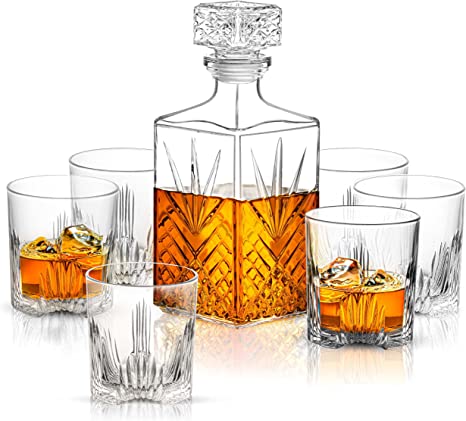 PRICE: $23.99
SAVINGS: 27%
PRICE:$51.00
SAVINGS: 42% "Amazon's Choice"
Some comic relief, a fine prank gift to any of your serious whiskey drinker pals. And if you buy it for yourself, well, we'll never know.
PRICE: $11.97
SAVINGS: 52%
Can age your spirit within, fun to play with. Or, it has food grade bag liner that can be used converting it to a decanter.
PRICE: $43.99
SAVINGS: 20%
Be your own distiller. When you move up the ranks and have your own Fortune 500 whiskey co., be sure to let us know.
PRICE: $111.99
SAVINGS: 20%
PRICE: $45.59
SAVINGS: 20%
We liked the price accompanied by the leather cigar holder and stainless steal cutter. Good gift idea for the bucks.
PRICE: $21.59
SAVINGS: 20%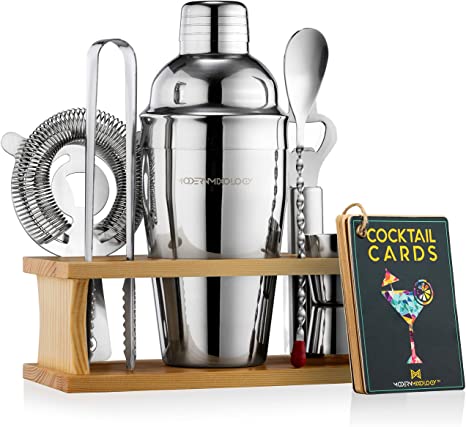 Nice beginner's homebartender set, quipped with drink recipes to get you started. Great price.
PRICE: $24.74
SAVINGS: 61% "Amazon's Choice"
We're digging the display aesthetic. And with all the inclusives for around $50, feels like a winner to us.
PRICE: $51.90
SAVINGS: 26%
Good for splitting up bottle liquid amongst friends, club members, et et. Included funnel prevents spillage.
PRICE: $29.69
SAVINGS: 20%
For the latest in Bourbon, visit www.thebourbonreview.com.