Need to get mom something for Mother's Day? If your mom is a bourbon fan — we've got you covered! Here's 9 bourbon gifts to buy your mom if she's not a regular mom, but a cool bourbon mom!
Bourbon Candy
You can never go wrong with candy, especially bourbon candy! Plus, there are so many options to choose from! Pappy & Co. has their Borbon Barrel-Aged Nib Brittle, Old Forrester has delicious truffles, and Art Eatables even makes chocolate Glencairns!
Woodford Reserve has multiple size boxes of bourbon balls and other bourbon candy-like Woodford Reserve Bourbon Butter Crunch and my personal favorite Woodford Reserve Dark Chocolate Caramels with Sea Salt!
FIND IT HERE
Tickets to 'The Bourbon Classic'
Give mom tickets to an event she'll look forward to all year! The Bourbon Classic brings together the best of the Bourbon, Cocktail, and Culinary worlds through a collection of rare, interactive events. Infused with exceptional tastings, workshops, and unrivaled sips, these events are sure to thrill any Bourbon connoisseur and enthusiast. Gather in Louisville, the gateway to all the heritage and innovation of Kentucky's Bourbon Country, to explore the "best of the best" in the world of Bourbon.
(Hint: Go ahead and get dad a ticket too for Father's Day!)
FIND IT HERE
A 'Bourbon Country' Pillow
Let mom show off her love of Bourbon Country with this rustic, handmade Kentucky-shaped burlap pillow! Just like a single barrel of bourbon, no two pillows are exactly the same since they are handmade!
Use the Code: BOURBONCOUNTRYMOM at checkout for $5 off a pillow!
FIND IT HERE
'Aging to Perfection T-Shirt
Just like a fine barrel of bourbon – your mom is aging to perfection! Let her know with this extra soft poly blend t-shirt, available in sizes S-3XL!
FIND IT HERE
A Subscription to The Bourbon Review
Gift mom the gift of Bourbon knowledge! We are proud to be a leading source for information on Bourbon and American Whiskey. Each issue contains exclusive content as well as fun bourbon recipes and more!
FIND IT HERE
Julep Cups and Silver Drinkware
A timeless and timely gift! Order your mom a set of Julep or Stirrup Cups that she'll be able to use year after year come Derby time for Mint Juleps! Plus, Julep Cups also make beautiful flower vases once the most exciting 2 minutes in sports have come and gone!
FIND IT HERE
A Bourbon Scented Candle
There are so many awesome bourbon candles out there (check out this story for a full list of our favorites), but this Buffalo Trace candle smells so good you might be tempted to drink the wax!
FIND IT HERE
A Barrel Planter
You might be a Kentucky gardener if you've ever heard, "Don't plant anything outside in Kentucky until after Derby Day!" If your mom has a green thumb get her a barrel planter! They are great for plants and can house anything from annual flowers to tomato plants! We're a fan of ones that are real wood, and come from used oak barrels!
FIND IT HERE
A Subscription for a "BOURBON GOODS" Box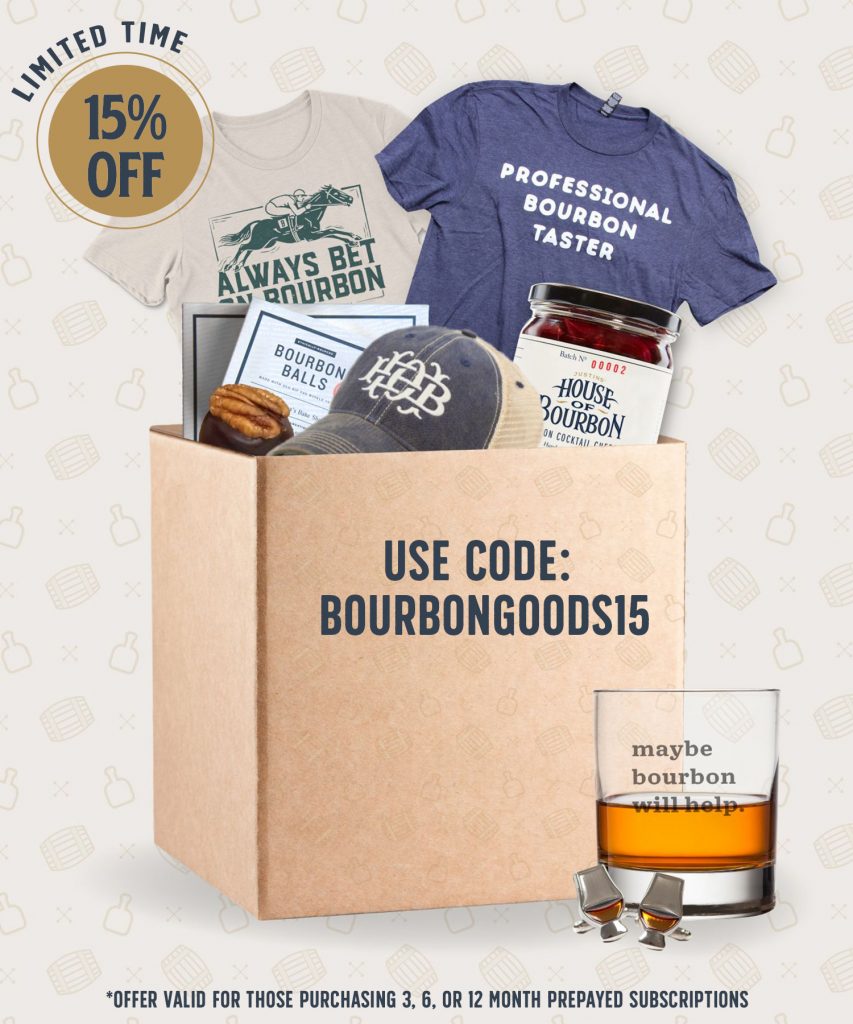 Something mom can look forward to each month! Bourbon Outfitter is offering a monthly 'Bourbon Goods' subscription service where you can receive bourbon goods each month, at a discounted rate + Free Shipping!
Each box includes a bourbon apparel item, like a hat or t-shirt (you can choose S – 3XL). A barware item, like a set of Glencairn's, rocks glasses, or cocktail syrup. A small bourbon accessory, like a small package of bourbon balls or a tin of bourbon barrel smoked sea salt! And you can get 15% off your first box with the code BOURBONGOODS15 if you purchase a 3, 6, or 12-month prepaid subscription.
FIND IT HERE