We're all about getting the most out of our bourbon – pouring to the last drop, upcyling empty bottles in creative and useful ways, and most importantly, making memories with friends that last a lifetime. It's easy to avoid waste if you're drinking neat or on the rocks, but there are tons of creative ways to incorporate fruit and veggie scraps that would normally get tossed to make simple, more sustainable craft cocktails.
Bartender and Tennessee Native Carley Gaskin has paired up with Bulleit and Cocktail Courier to bring us ten great tips for making your home bar more friendly to Mother Earth. If you need some help getting started, try Gaskin's "Sip of Paradise" cocktail kit – a bright pineapple and citrus bourbon sipper that will have you thinking spring right away.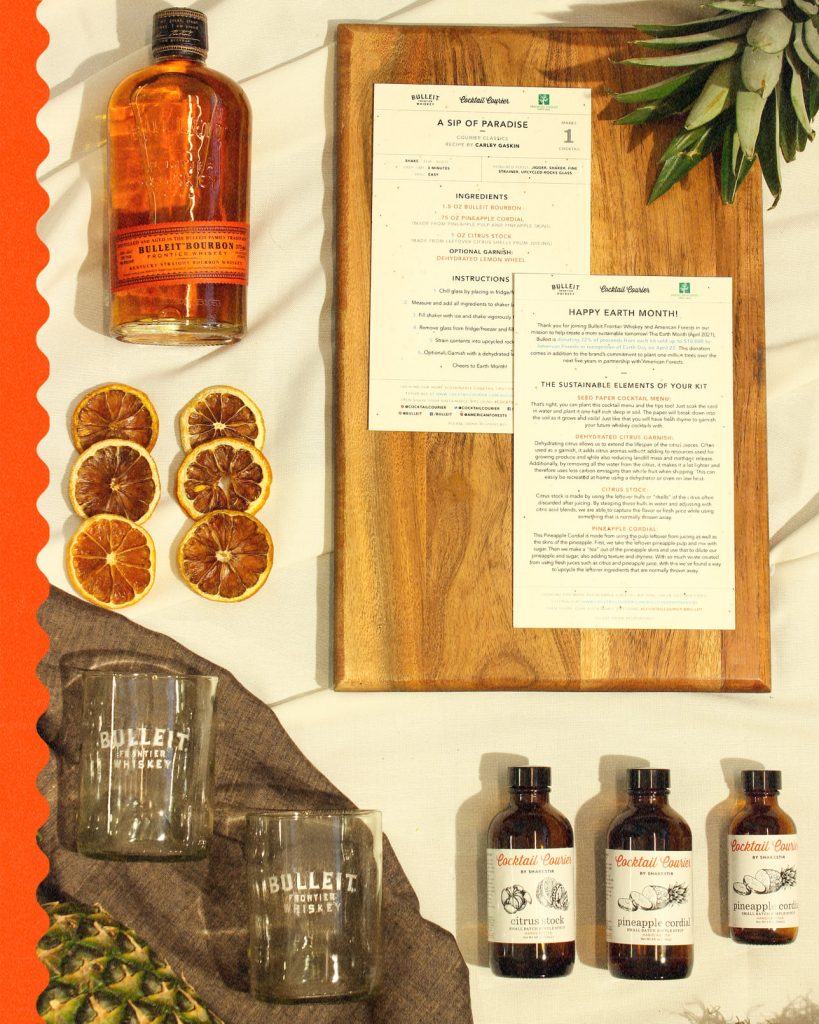 Cocktail Courier puts simple kits on your doorstep with everything you need to mix up drinks for a crew of 8 (for $69.99) or just for 2 ($35.99) – in this case, a bottle of Bulleit, Gaskin's sustainable citrus stock (made from leftover citrus shells from juicing), and a pineapple cordial (made from leftover pineapple skins and pulp). For even more fun, the menus in this month's kit can be planted to grow fresh thyme to use as a garnish for future cocktails!
"Continuing the brand's mission of helping to create a more sustainable tomorrow, Bulleit will donate 22% of sales of kits during the month of April (projected to be $10,000) to AmericanForests in recognition of Earth Day on April 22," reads the Cocktail Courier site. "Enjoy this Earth Day 2021 by sipping with a smaller footprint!"
Read on for sustainability tips curated by Gaskin herself! Follow her on Instagram @carleygaskin and link here to shop her collaboration with Cocktail Courier.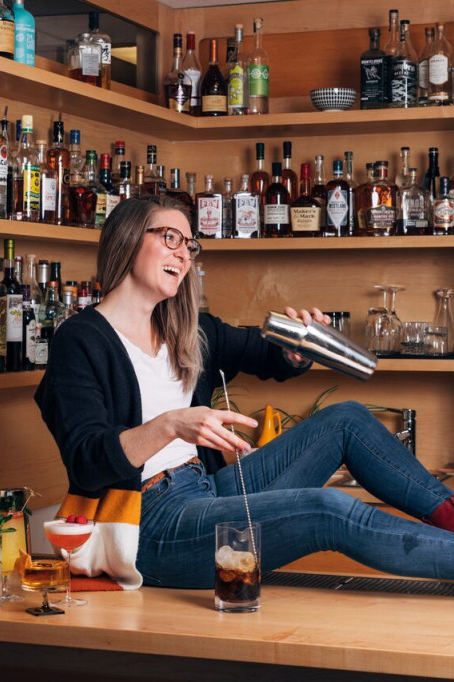 Sustainability Tips for the At Home Bartender by Carley Gaskin
1. A great cocktail starts with a great spirit! The same can be said about crafting a sustainable cocktail – it starts with making responsible choices. Choose a brand that takes a mindful approach to distilling. (Editor's note – Bulleit Distilling Co has made huge steps towards a carbon neutral distillery, as well as building a five-year partnership with American Forests to preserve the white oak. Buffalo Trace and Angel's Envy are two other major distilleries that have made hugely impressive commitments to reforestation.)
2. Reuse before you throw things away. Take those fresh herbs that are starting to brown and steep in hot water for 15-20 minutes. Remove the herbs and add with equal parts sugar. Now you have a delicious simple syrups to create your own signature drinks at home!
3. Avoid plastic straws. Most drinks don't require a straw, but if you'd prefer to use one, opt for a metal or sustainably made straw such as hay or corn straws. The turtles will thank you!
4. Use ingredients that are available year-round or are in season. Thankfully, Bulleit Bourbon is available all year round!
5. Ugly produce may not look great on a plate but it sure tastes great in a drink! Turn your fruit that's about to turn or ugly vegetables into a syrup or puree and put into ice cubes for making drinks at home. Your guests will love the pop of color and flavor, and you'll look like a real pro while avoiding waste!
6. Try batching and bottling your favorite drinks. Save some time and water waste by creating several servings at once and store in your freezer.
7. Shop local if you can! I love going to the Farmer's market during the spring and summer to find inspiration for the kitchen and my home bar.
8. Avoid over-prepping. Juice your citrus as you need it to avoid making too much, which is then thrown away. One large lemon or lime will yield about two ounces of juice.
9. When using citrus peels to garnish your drink, try cutting circles instead of whole peels. On average you can get twice as many citrus "disks" out of one piece of fruit and it looks super cute too!
10. Use mindful garnishes such as dehydrated citrus wheels. There is beauty (and sustainability) in simplicity!