In the 1980s, bourbon wasn't booming, and Tom Bulliet was a young lawyer already working in a career he loved. No one would have advised him to start a bourbon brand – bourbon was a grandpa drink, out of style and bottom shelf. "Bulliet Proof: How I Took a 150-Year-Old Family Recipe and a Revolver, and Disrupted the Entire Liquor Industry One Bottle, One Sip, One Handshake at a Time" is the story of how Bulleit took the hard road creating what's now one of the most recognizable bottles in bourbon. Written with Alan Eisenstock, this 224-page autobiography is a must-read for anyone wanting to take inspiration from the challenges Bulleit has face throughout his life. We sat down to talk about his journey, and about why this book is for bourbon lovers, entrepreneurs, and beyond. 
Throughout Bulleit's life, he dreams at many points of starting a bourbon company. When we asked if he ever wishes he would have started it sooner, he replies, "I really don't, I think that things have their way of evolving at the right pace. Sometimes it's not the pace you want them to be – I remember hearing any number of speakers talking about eight or ten failures or different things they did in life before it led them to where they were. I've felt that I wanted to be in the distilling business since I was very young and particularly when I was in college – my family has been in or around it for decades, for generations. But what happened next with me being in the service, which I'm most proud of, my military service, and then practicing law for so many years.
"I am not a master distiller – I'm like the Samuels, I'm a business guy. And what I learned in those 30 years of becoming a lawyer and practicing law, was crucial to my founding the company, and has been crucial to the management and the operation of the company ever since.
"So it was a good time to do it – not that it was a particularly good economic time, because bourbon wasn't doing great. But a lot of times to start a business in an industry when it's up on the top, it's much harder to get into it. So I think my timing was good."
Certainly, we'd recommend the book for bourbon lovers wanting to read the story behind the orange labeled bottle. But more than that, it's the story of a startup business – and Bulleit encourages entrepreneurs to find advice in its pages. The opening pages describe him pounding the pavement, visiting so many bars he forgets which ones he's seen, and evident in every chapter are the man hours he put in to spreading the good word of Bulleit around the world.
"So theres a bunch of little hints for entrepreneurs, many of which I gained from my practice of business law for 30 years, and my individual experience within and out a corporation. You need to have a level of tenacity that was called maniacal in my case. And to emphasize the treasure of relationships – we're all in the relationship business, and it's those people that will help you get where you want to go."
Bulleit recounts his professional life in its entirety throughout the book, the story both beginning and culminating with a press conference in Shelbyville in early 2017, but it's also full of stories that give you a look into his private life.
"The stories that I found the most emotional to recount, for instance, when I was talking about the family, about Betsy or the children, but one that really stands out is when I met my birth mother for the first time, and how that came to be," says Bulleit. "It's a truly extraordinary experience to acquire such a huge new family later in life – 12 new siblings, a birth mother, it was both emotional and fun to recount the story. A lot of people don't understand what a special thing the topic is, and how families are made not just by blood, but with love."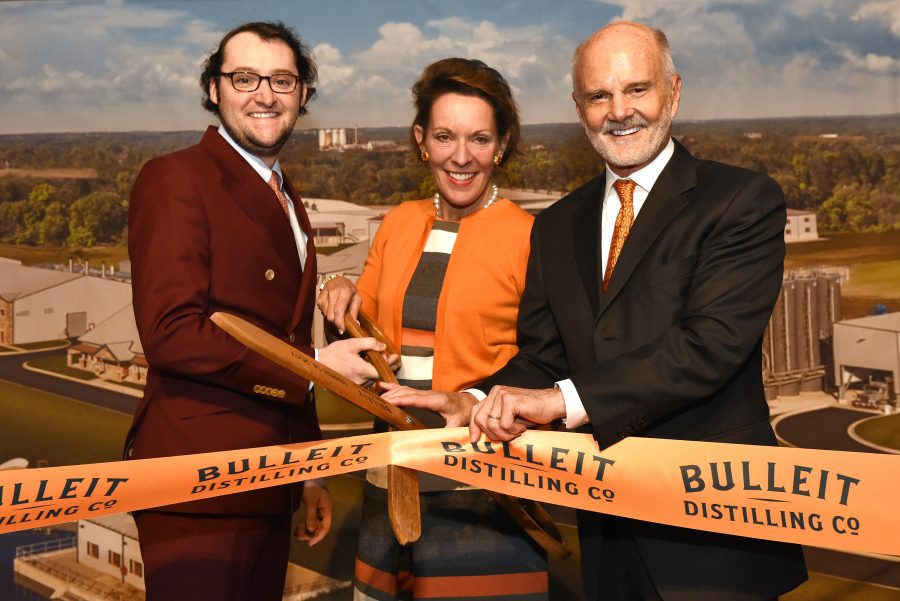 The name "Bulleit Proof" may conjure images of an autobiography full of triumphs, but Bulleit assures us not to judge the book by its cover.
"We've used "Bulleit Proof" in advertisements on and off, here and there, but I didn't really think of the name for the book. We were well into working with Alan Eisenstock, who is really wonderful to work with, and we developed about 750 pages of transcripts and distilled it down into the book as it exists. As we got into it, it looked like I was a bit like the biblical Job, with cancer, Vietnam, and all these things, so he thought Bulleit Proof would be a good title for it – because I have been so not bullet proof through the years."
"It's not a braggadocios tome about me being 'bullet proof' – it's the opposite, it is about facing and overcoming challenges."
"Bulliet Proof: How I Took a 150-Year-Old Family Recipe and a Revolver, and Disrupted the Entire Liquor Industry One Bottle, One Sip, One Handshake at a Time" is available now – link here to purchase.