Check out our top five articles of January to see what you missed this month in industry news, recipes, and more!
1. Bourbon Bachelor Weekend – Destination, Bardstown
Our Bachelor party itinerary shows off the best of The Bourbon Capital of the World – Bardstown, Kentucky. From the best distillery tours and golf courses to fine southern dining and the coolest places to stay, journalist Clay Whittaker and The Bourbon Review take you on a stag weekend like no other. We feature 1792, Willet, Maker's Mark, and more as the guys wander the Kentucky Countryside having the time of their lives. Wedding season is right around the corner, so don't drag the groom to another loud, expensive, and played out weekend in Vegas – give them the whiskey washed Bachelor party of their dreams.
2. Best Places to Stay in Bourbon Country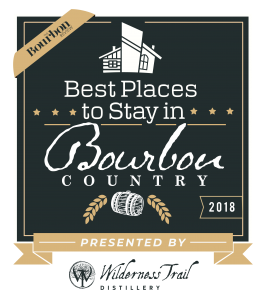 Our new Best Places to Stay in Bourbon Country program is well underway – but there's still plenty of time to nominate the hotel, bed and breakfast, Air Bnb, or state park that you love to stay in when you visit Bourbon Country! The Bourbon industry is booming in Kentucky, and we want to recognize the  excellent providers of hospitality that welcome the more than one million guests that visit our distilleries each year. Nominations will be accepted until Feb 15th, and the full list will be published in the spring issue of The Bourbon Review. Follow the link here to nominate your favorite place to stay in Bourbon Country!

When the first snow of the season hit, we dusted off an old recipe that was a huge hit with our readers. We get a lot of debate about how people drink their Bourbon – neat, rocks, or in cocktails – but we think that this way is easily one of the most fun! A blend of your favorite Bourbon, maple syrup, and vanilla mix with snow for an ice cream like treat you'll love. It's snowing again tonight in the Bluegrass, so put a pan out now to start collecting the freshest, fluffiest mixer you can.
4. Suntory to Invest $904m in US Bourbon Brands
We all know Bourbon is booming in Kentucky. In fact, the global whiskey market has grown 60% in the last decade. Millions of dollars of expansion are happening at Buffalo Trace, Wilderness Trail, Bardstown Bourbon Company, and more. The latest brands to receive an influx of cash fall under the Beam Suntory umbrella – Jim Beam, Maker's Mark, and more. The majority of the company's investment will go to increasing capacity, in the form of warehouses for aging whiskey. Suntory purchased Bourbon giant Beam Inc. in 2014 for $16bn, and credited it's American Bourbon holdings for last year's Q2 financial results.
5. Maple Bacon Bourbon Chocolate Donuts
We love any recipe with Bourbon. Or bacon. Or chocolate. Or donuts. So really, this combination was a no brainer. These moist yet fluffy chocolate donuts get a boost in flavor from a maple bourbon icing and a bacon topping for a breakfast that can't be beat.