By: Shea Davidson
Score big by throwing a Super Bowl party straight out of Bourbon country. You'll be hosting with a home-field advantage by incorporating Bourbon into your drinks and dishes.
We came up with a few of our favorite Bourbon recipes. While your guests may be split between the Patriots or the Eagles – everyone is team Bourbon.
Bourbon-themed cheese platter
A quick, stress-free appetizer that requires little prep work is a Bourbon themed cheese plate. We caught up with Tim Gaddis also known as "The Cheesemonger" and as Atlanta's top purveyor of cheeses. His affection for cheese is closely matched to his love for Bourbon. He came up with a list of cheeses that compliments some of our favorite brown water brands. Don't worry, all of these cheeses pair well with any Bourbon, but Tim has narrowed down some of his personal favorite combinations.
Bourbon Bellavitano
Sartori Cheese, Plymouth, Wisconsin
Source: cow
This Bourbon-bathed beauty tastes like a cross between Cheddar and Parmigiano-Reggiano and is made exclusively for Murray's cheese shop. It's washed in Kentucky Bourbon, infusing a sweet and smoky woodiness on the outside with a strong, milky saltiness on the inside. For those of you already living in Bourbon country it's available at Murray's cheese shops inside Kroger. Tim's suggested Bourbon pairing: Weller 12 year.
Rowdy Gentleman
Prodigal Farm, Rougemont, North Carolina
Source: goat
Washed rind goat milk cheese.  The washed rind has a bolder stinky flavor that is offset by the sweetness of Bourbons. Tim's suggested Bourbon pairing: Bulleit Bourbon.
Ted
Kenny's Farmhouse Cheese, Austin, Kentucky
Source: cow
A Kentucky cheese with Kentucky Bourbon! Ted is a 6-month-old clothbound cheddar style cheese.  It has some deep, rustic flavors and notes of straw. The Cheesemonger finds that Ted pulls out the wheat flavors in Bourbons. Tim's suggested Bourbon pairing: Larceny.
Peekville Tomme
Many Fold Farm, Chattahoochee Hills, Georgia
Source: sheep
Peekville is pure 8-month-old sheep milk and loaded with fat.  Rich and buttery flavors up front with a complex finish of fresh grass and olives. Tim likes how the fat cuts through the alcohol and softens the bite of the Bourbon. His suggested Bourbon pairing: Knob Creek.
Smokey Blue
Rogue Creamery, Central Point, Oregon
Source: cow
Slow smoked over hazelnut shells. The spiciness of the blue cheese mellows with the spicy/heat of Bourbon, and the buttery smoky flavors of the cheese and Bourbon rise to the top.  Providing you with some pleasant unexpected flavors. Tim's suggested Bourbon pairing: Woodford Double Oaked.
L'Amuse Signature Gouda
Koster of  L'Amuse cheese shop, Santpoort-Noord, Holland
Source: cow
Aged for at least 2 years. The flavors are deep caramel and brown butter. Tim's suggested Bourbon pairing: Angels Envy.
Bacon Bourbon Wings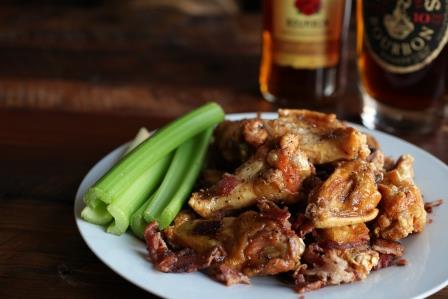 Is it really a super bowl party without wings? The National Chicken Council estimates people will eat 1.3 billion wings for Super Bowl 50. Kick it up a notch and serve yours slathered in Bourbon and bacon.
2 pounds wings, split at the joints, tips removed
Salt and freshly ground pepper
8 slices applewood smoked bacon, cooked, drained, and crumbled, reserve bacon grease
1/2 cup maple syrup
4 tablespoons cider vinegar
3 tablespoons bourbon
Season the wings with salt and pepper and roast in a pre-heated 400° F oven until crisp and golden or deep fry for about 10 minutes. Whisk 3-4 tablespoons bacon drippings with maple syrup, cider vinegar, and Bourbon. Toss the wings with the syrup mixture and bacon.
Charleston Brown Water Society Punch
A Bourbon punch is a great option for a large crowd like a Super Bowl party. Throw some stuff in a bowl and you're left with something everyone can enjoy. The Charleston Brown Water Society Punch is one of our favorites. It's great for the Bourbon purist and those new to brown water.
3 cups Bourbon
2 cups dark rum
1 ½ cups freshly squeezed orange juice
½ cup freshly squeezed lemon juice
2 cups honey simple syrup (1 cup honey dissolved in 1 cup water)
2 cups demerara sugar syrup (1 cup demerara sugar dissolved in 1 cup water)
3 cups soda water
Orange slices
Combine all the ingredients except the soda water. Chill. Pour into a punch bowl with a large block of ice, and add soda water just before serving, with orange slices for garnish.