As the weather warms and social calendars start to blossom again, entertaining responsibilities are also going to return anew. In times like this, it's good to keep an easy recipe in your back pocket, whether you're hosting or attending.
Behold the charcuterie board. A choose-your-own-adventure kind of appetizer, or aperitivo hour complement, the charcuterie board is a low-effort crowd pleaser.
We asked chefs from around the country to offer their expert advice on how to build the perfect charcuterie board for your entertaining needs.

Start with a Theme
While a good charcuterie board is an edible menagerie, you want to make sure everything's going to go together coherently. "Pick a theme, whether it's Italian, French, Scandinavian," says Doug Psaltis, chef and partner of RPM Italian and RPM Steak in Chicago.

Keep it Complex
Once you've established a theme, get creative with your major components. "I am always searching for ways to create a diverse charcuterie board that includes a variety of meats and fish," says Rob Roy, sous chef and Macelllaio (Italian for butcher) of Nostrana in Portland. "The components should be an array of flavors and textures that will peak the interest of both distinguished and adventurous food lovers." There are certain flavors you'll want to hit with your ingredient choice. "Balance out a charcuterie board with salty, sweet, acidic and umami," says Psaltis. "Always add in a pickled or fermented vegetable to break up the richness of the meats."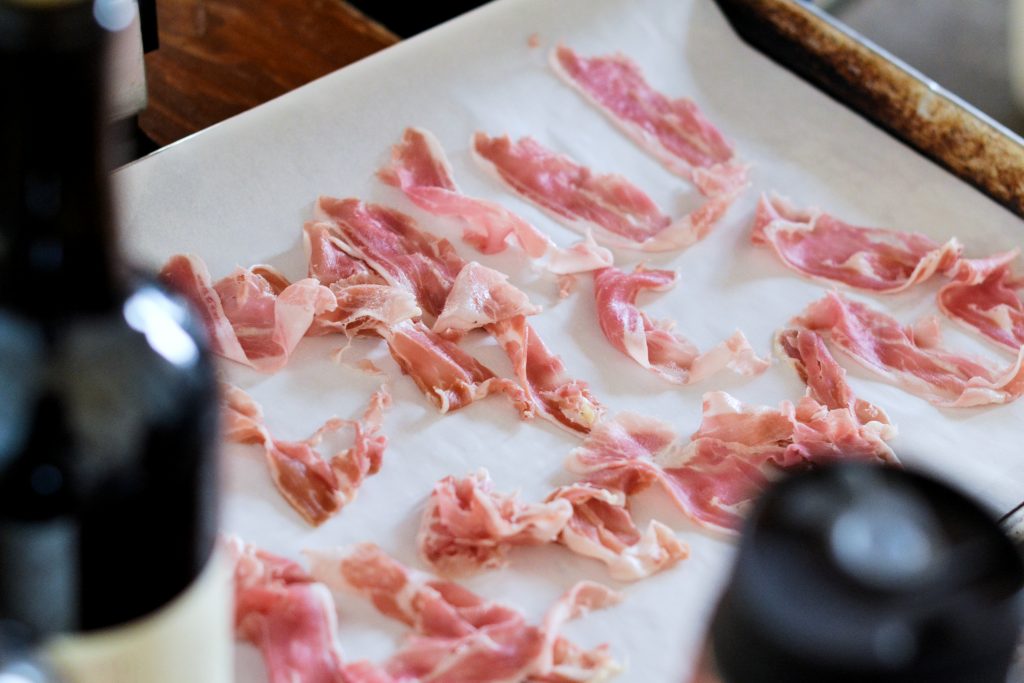 Anchor your board with pork
Pork is an essential charcuterie board element. "The pig is the quintessential creature that has given life to what we understand as the 'charcuterie board,'  it has all the right elements in perfect proportions," says Roy. "Pork combined with luscious pork fat is a crucial must, and a great way to pay homage to our favorite creature: pork rillettes, ciccioli, country style pork terrine with cubed back fat, or just whipped lardo."
Brian Baxter from Bastion in Nashville has more specifics. "For the meat, I would always try to have the following: 2 hard salamis (my favorite soppressata and ciauscolo); 1 pate or terrine (any country-style pate is a good go-to); 1 emulsified sausage (mortadella or a bologna here in the south); 'Nduja; 2 whole muscles: One large muscle (like a culatello or, again, for us in the south – a country ham), one smaller muscle, like a lonzino or bresaola; and a little rillettes or potted meat."

Embrace Offal
Offal, essentially organ meat, can be a polarizing ingredient. Go big and embrace the controversy. "Sometimes I hide it, sometimes it's right there on the plate, it's an important part of the animal, it's delicious, healthy, and we should respectively eat it," says Roy. "Seared chicken livers blended with caramelized onions and loads of butter is great, it's a crowd pleaser, we love it!" Roy also does a seared spleen rolled up with prosciutto, and beef heart pastrami.

Condiments are Mandatory
Every chef recommends including mustard in your charcuterie spread. Which kind you choose is up to you. "Thiercelin Green Apple Mustard strikes the right balance of sweet and tart," says Psaltis. Baxter suggests "A nice, spicy house-made mustard, either whole grain or Dijon." Pickles are another tart component to consider. "Always add in a pickled or fermented vegetable to break up the richness of the meats," says Psaltis.
Then there are sweet condiments. Don't forget a jam or chutney on your charcuterie board. " I like to go with accouterments that compliment rather than contrast," says Levon Wallace, chef for Strategic Hospitality in Nashville. "Rich, creamy flavors of chicken liver mousse pair perfectly with fruit and aromatic chutneys or jams or sweeter wine."


Balance the Board with Bread
Bread is a good vessel for meat eating, although it's by no means mandatory. "You know..sometimes you don't really need to have a bread component, especially with more nuanced dry cured sausages where you want the flavors to shine," says Wallace. "However, it's nice to have a little something to break up the textures and flavors. I recommend thin, crispy lavash type crackers or flatbreads for shaved or thinly sliced meats. Pencil-thin grissini or breadsticks will work well here too. On the flip side, If you're serving anything spreadable, like spicy-funky 'nduja or whipped lardo, it's pretty hard to beat freshly baked, crusty, chewy bread."

Drink Accordingly
"If you're drinking wine, go for lighter wines that can be chilled like Prosecco or dry Lambrusco," says Wallace. "If you want bourbon with your thinly sliced country ham (who doesn't?) go for softer, slightly sweeter wheat-forward bourbons."
For a cocktail, try the Brooklyn from Andrew Hannigan at Bastion. "The Brooklyn is really just a savory version of the Manhattan," says Hannigan. "The complexity of it holds up to the variety of flavors found in a charcuterie board.  The complexity of the amaro and herbaceous elements of the vermouth compliment the cured meats well."
Brooklyn Cocktail
2 oz Michter's Kentucky Straight Rye Whiskey
3/4 oz Dry Vermouth
1/4 oz Maraschino Liqueur
1/4 oz Amaro Pellegrino
2 dash Angostura Bitters
2 dash Orange Bitters
Garnish with lemon express then discard / maraschino cherry