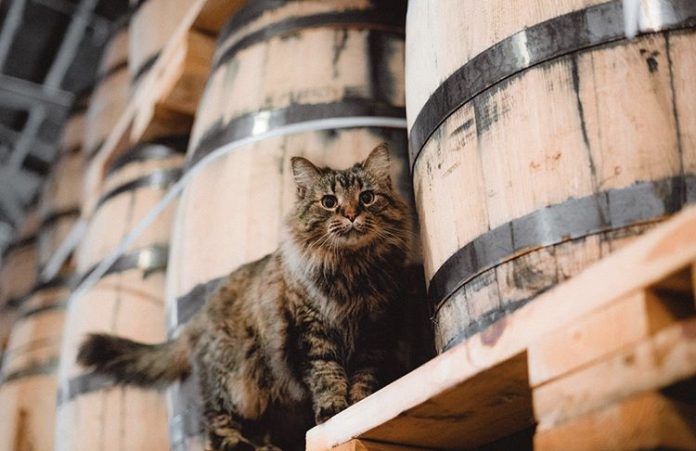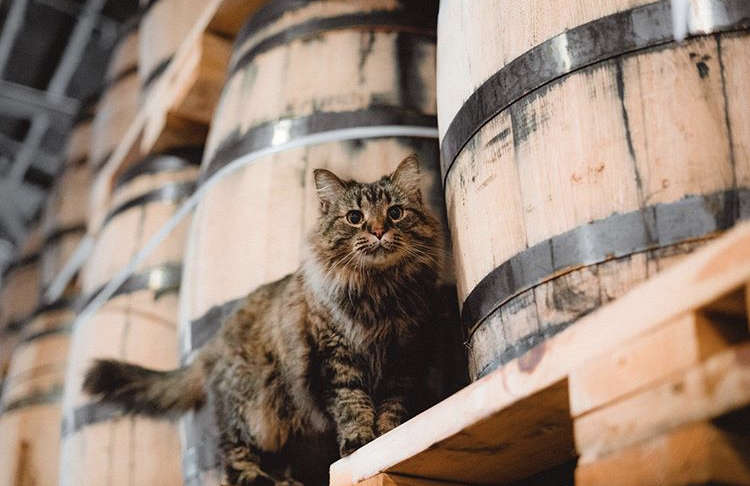 The whiskey world is always quick to recognize the contributions of its master distillers, but today we're recognizing an equally loyal, omnipresent force in whiskey making: the distillery cat.
Though you may have only recently seen their celebrity grow in the form of instagram accounts, these workforce felines are by no means a new phenomenon. Brewers and distillers throughout history have kept large amounts of grain on hand, and have welcomed cats as natural rodent repellent. The cats snatch up the mice (or birds—anything smaller than they are, really) drawn to these stockpiles of snack food, building a mutually beneficial relationship that still exists today.
And because these perfect pest control pets have been around for centuries, we're not the first to write about them. The authority on this four-legged subject is Brad Thomas Parsons, and his book Distillery Cats: Profiles in Courage of the World's Most Spirited Mousers, catalogues kittens from around the world working hard in distilleries and breweries alike.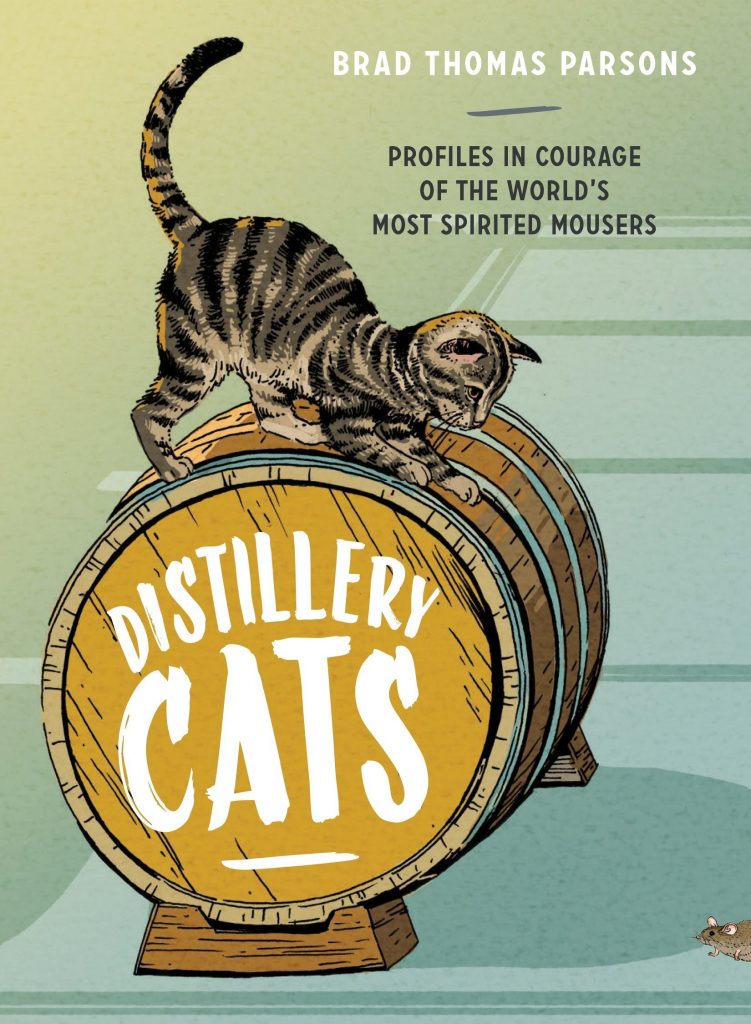 In his book, Parsons' notes that the role of these distillery cats has evolved beyond a lowly mousetrap; kitties earning their keep have also become full-fledged members of the hospitality team. These days they will also welcome tour groups, pose for photos, and some even become inspiration for gift shop merch. Catching a glimpse of the local celeb-kit-ty has become a standard on a visitor's to-do list.
The majority of these cats began their lives as strays, but all have found their forever homes with distilleries. Some of these famous felines may find their photos featured on Parsons' @distillerycats Instagram. Here are five of our favorites, and their social media handles, so you can get to following.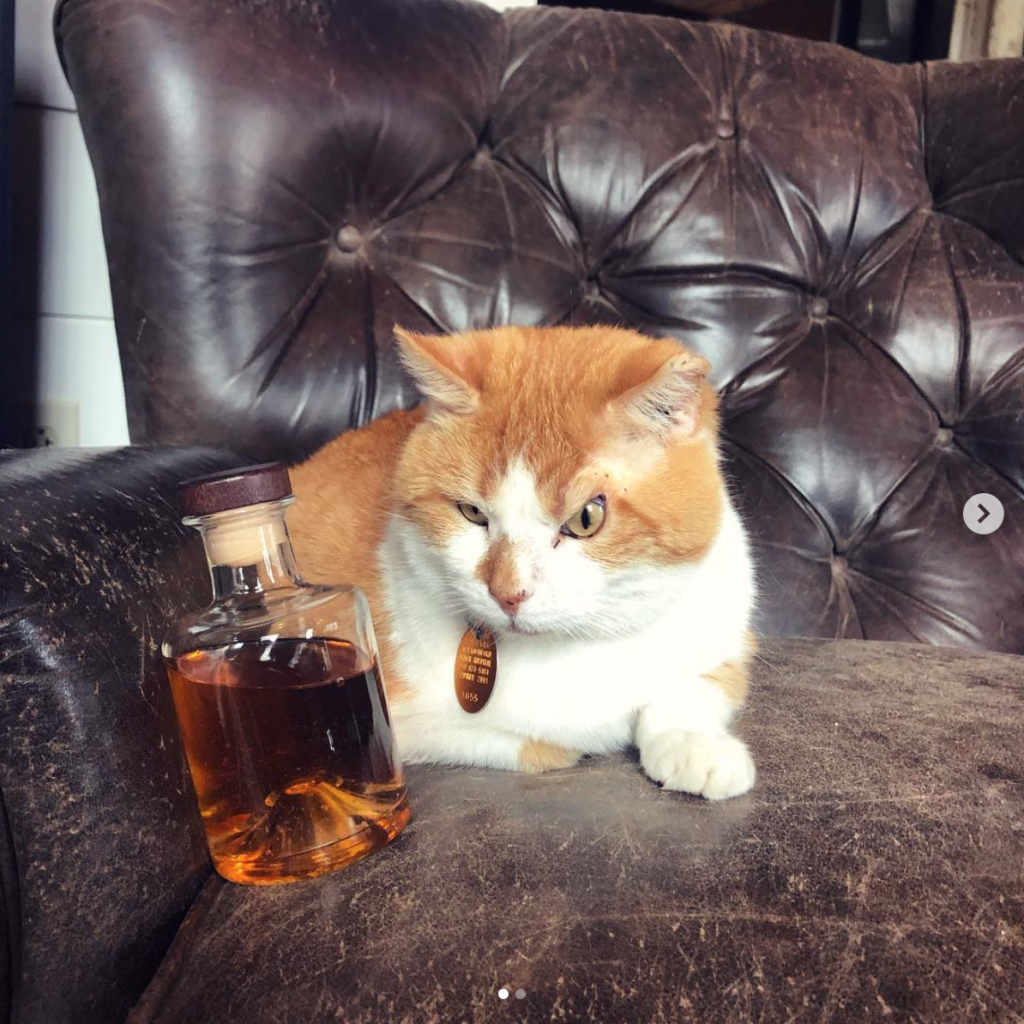 1. Rick Key, at Castle & Key Distillery
Parsons published his book back in 2017, but as new distilleries open their doors, new distillery cats rise to Instagram fame. "Rick is definitely a breakout star," says Parsons.
Rick was adopted by the team at Castle & Key just over two years ago. He is FIV positive, so he was far less likely to find a home before the team gave him a second chance as a spirits guardian and "CatBassador." He was chosen for his sociability, and despite his tough guy appearance he's always happy to accept attention from guests visiting the property.
"He's as much a part of the family as a worker," says Master Distiller (and certified animal lover) Marianne Eaves. "It's a special part of coming out here knowing he's ready to be petted."
Rick can be found on Instagram @therealrickkey – and at the distillery exploring new Cocktail Experiences at Taylorton Station.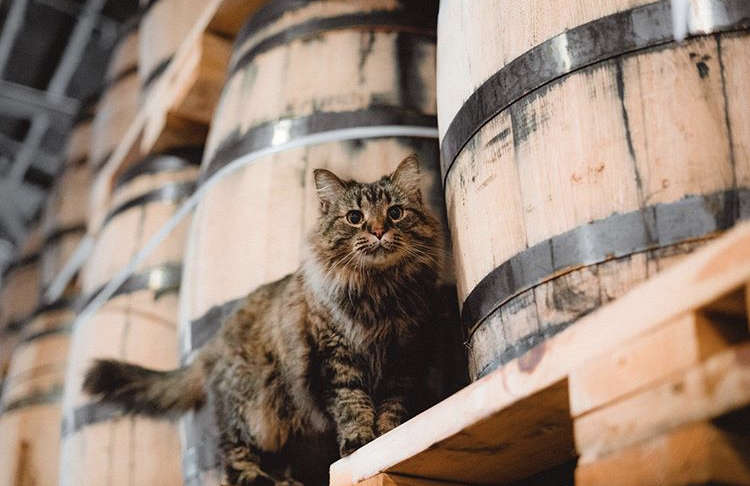 2. Sugar Maple, at Nelson's Green Brier Distillery
This Maine Coon kitty was adopted in 2015 from the Nashville Humane Association – and has completed her rags-to-riches tale with a family of adoring fans and seasonal spa days. "Because of her Maine Coon hair, she's prone to tangles that hurt her skin, so we treat her to a spa every spring and summer for haircuts and skin conditioning!" says Dara Carson of Nelson's Green Brier Distillery.
Don't let the flowing locks lure you in, though. "She loves to be admired and is unfazed by crowds, but only few can pet her… She's very selective with her affection," notes Carson. Her warrior woman tendencies make her the perfect fit for the job, and she's known to "mutilate" any pests who may try to infiltrate her kingdom. Kingdom is not an exaggeration; she's known affectionately as "the Queen."
Sugar Maple can be found on Instagram @sugarmaplecat.
3. Rye, at Kentucky Peerless Distilling Co.
The whiskey at Peerless shares a name with a feline friend: another royal kitten known as Rye, or Princess Rye to her loyal subjects. Rye was adopted from Louisville Metro Animal Services in 2017, tipping the scales at just five pounds. She was skinny and scared from her past as a barn cat, and Peerless put up signs warning visitors not to touch her.
That lasted all of a few months. The team at the distillery now happily reports that Rye has them "wrapped around her little paw." She can famously be found working the gift shop, keeping everyone in line and sitting at the register.
Princess Rye can be found on Instagram @ryemeow_.
4. Junipurr and Rick, at New Riff Distilling
Junipurr and Rick were adopted by New Riff from Campbell County Animal Shelter, and have since become inseparable. "They love to cuddle and groom each other," says Amy Tobin of New Riff Distilling.
Rick was adopted from the shelter's barn cat program, and like his name-twin Rick Key, he still has a few scars from living rough in his past life, including a clipped ear. He still remembers how to use his skills from those days, though; both cats do a great job of keeping the place pest-free.
Junipurr and Rick can be found on Instagram @newriff.
5. Fatty, at Hotel Tango Distillery
This 35-pound potbelly has earned his name. Fatty may have failed a few diets, but he's won dozens of hearts. And he's got quite the back story, should you choose to believe it.
Once named Chuck Norris, Fatty was allegedly smuggled through Asia on a tour of duty in the pocket of his adopted Marine father after being found on the street of Japan. While he started out small, its said he soon outgrew his pocket home and became the Fatty he is today. His missing tail is also a storied subject—it may or may not have bitten off by an alligator.
While the real story may not be quite so exciting, it's important to know who's telling it. Hotel Tango was founded in 2014 by Travis Barnes, a three-time combat Recon Marine war veteran who is known for being quite the teller of tall "tails." He's "borrowing" Fatty from a deployed friend, so catch him at the distillery while you can.
Fatty can be found on Instagram @hoteltangodistillery.