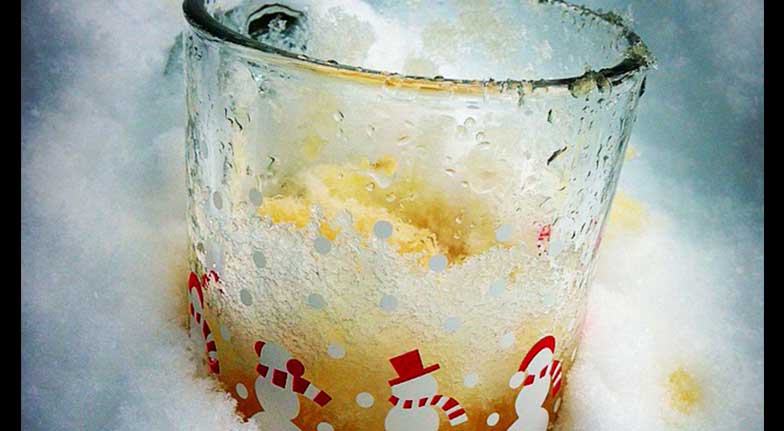 By Elizabeth Roach
Here in the homeland of bourbon, a blustery snowstorm has us in a state of emergency. As road crews man the plows and scatter salt, those of us snowed in are left to our own resources. That can only mean one thing: bring on the bourbon.
As frigidly serene as that snowscape view outside the window looks, there's good reason to pull on your boots and brave the outdoors for a few arctic moments. I'm talking about snow cream.
If you're one of the apparent few (like me) who doesn't have milk on hand during the storm, try the maple bourbon approach. All you have to do is combine your bourbon of choice (I used Michter's) with real maple syrup and vanilla extract, then sprinkle in a bit of sea salt. Pour this elixir over some freshly caught snow, and you're set. You barely have to put on a hat for this one, especially if you set a bowl outside ahead of time. Bonus: if you're suffering from a sore throat, you can substitute hot water for the snow to make a soothing hot toddy.
Just think of it as a socially acceptable way to partake of bourbon in the middle of a weekday. What better way is there to take advantage of that vast expanse of white?  Cheers to snow days!
Maple Bourbon Snow Cream
Serves 2
1/4
 cup bourbon
3 
tablespoons real grade B maple syrup
1/4
 teaspoon pure vanilla extract
A few pinches sea salt
3 
cups fresh snow
Add the first four ingredients to a container with a spout, and stir until combined. Scoop snow to fill two dessert bowls or cups. Drizzle the syrup over the cups of snow. Make more as needed.
(adapted from Food52.com)