It's hard to imagine NFL Sunday's without Terry Bradshaw. He puts the color in color commentary. Love him or hate him, or both, you can't help but be enamored by the tough ol' cuss. The antics. That big smile that runs for days and days. But don't let that smile fool ya. Back in his grid iron era when player safety wasn't exactly a thing just yet, his 6'3″ 220lb frame ruled the game with equal parts rocket arm and grit. But that's not what make's Terry Terry. It's beyond the field, of which he's lived one heck of an interesting life.
Set the NATIONAL JAVELIN THROWING RECORD in High School. Three Weeks in a Row.
This freagin guy. In 1966, Bradshaw flung a record breaking throw of 240ft 2in. The following week, the meet was moved to 6pm making it more accessible for spectators to see the new national record holder in action. On his last throw that day, he launched a 243 footer, breaking his prior record. The following week he slung 4 throws each over 235 ft, setting a new record for longest most accurate throwing as he now had 6 throws breaking the prior record holder.
He was the #1 NFL Draft Pick in 1970. And Sold Used Cars in the Off Season.
Bradshaw played his college days at Louisiana Tech University before being the #1 draft pick by the Steelers in 1970. Back in those days, sports wasn't quite the enterprising network it is today. Ok, not even close. After a Players Association victory in 1970, league minimum salaries were raised to $9,000 for rooks and $10,000 for vets. Hard to believe the players had to actually fight to reach that threshold. As stated, Bradshaw sold used cars in the off-season. Have fun imagining Patrick Mahomes selling used Corollas in the off-season.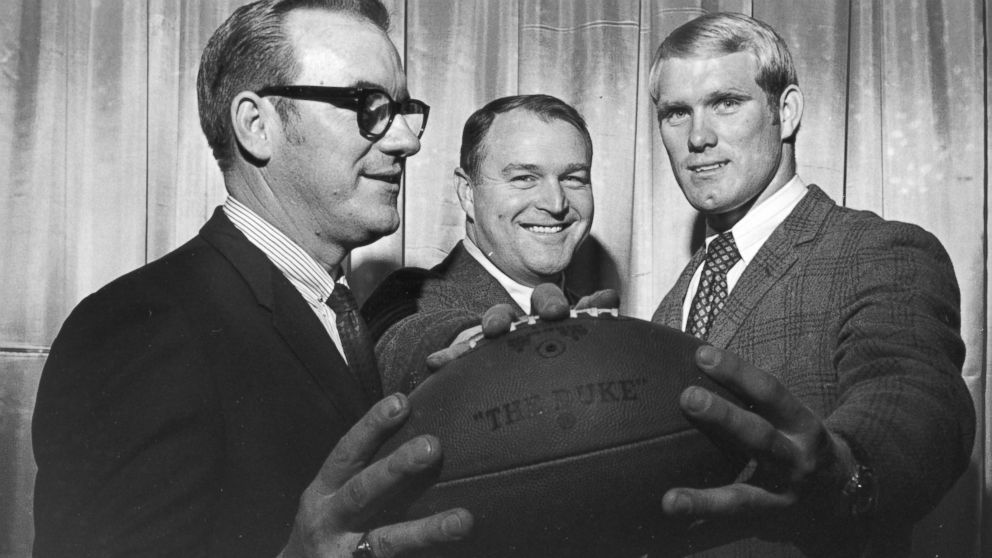 He went from the bench to Super Bowl Champion. Like Fine Bourbon, good things take time to age.
In 1974, Bradshaw was in his fourth year but things hadn't gone so smoothly. His coach has benched him. Bradshaw won the starting QB job back and helped carry his team to a Super Bowl Championship, their first ever. From the doghouse to the penthouse. Unbelievable. It's hard to fathom now, but prior to Bradshaw's arrival (and a hell of a supporting cast), Pittsburgh stunk. They had no tradition, aside from losing. Bradshaw was a founding father of their dynasty. And like a Bourbon getting better with age, Bradshaw went on to win 3 more Super Bowls ('75, '78, '79).
Bradshaw had a Top 20 Country Music Hit in 1976. Damn this guy.
At this point, Bradshaw was flying sky high with 2 Super Bowl rings on his big paws, '74 and '75. It only makes sense he would also have success off the field singing country music. After all, he's a good ol' boy from Louisiana. His cover of "I'm So Lonesome I Could Cry" was a Top 20 hit on Billboard's country music chart in '76.
He Launched His Own Kentucky Straight Bourbon in 2020. The ABV 51.9% was his NFL Career Completion Percentage.
The reason I'm covering Terry Bradshaw aside from of it being Super Bowl weekend, he has his own Bourbon! Only in Terry Bradshaw fashion, the ABV is 51.9%, which come to find out was his NFL Career Completion Percentage. There is no shortage of celebrity booze out there folks. We all know it. But learning that Bradshaw helped curate the Bourbon himself, chosen from barrel stocks within Owensboro, Kentucky's Green River Distillery, that got my attention. And the fact it is above 100 proof, another plus in my book. I asked some folks that were there when Bradshaw was at the distillery, what kind of encounter they had with him? They said he was very approachable, a nice guy to be around. Always love hearing a celebratory that is humble and not a butthead. Here's to a grand Super Bowl weekend and if you're on the lookout for some Bourbon, give ol' Terry's juice a try….And here's more on Green River Distillery.