It's like July 4th year round in Kentucky as the BOOMS just keep rolling in Bourbon Country.  Since 2019, The Bourbon State has seen over 50 new distillery or existing expansion related projects, totaling over $1.1B. Here's to yet another exciting distillery that is just beginning its journey.
This week, ground breaking commenced at Northern Kentucky's Augusta Distillery, located in the town of Augusta on the Ohio River.
Plans call for a $23M distillery full scale operation in the 40,000 square ft. historic "F.A. Neider" building, formerly housing a metal stamping facility continuously from 1887 – 2007.  The distillery site sits on 1.8 acres and aims to create 14 new full time jobs.
The brand is currently known for its Buckner's Single Barrel 13 Year Cask Strength Bourbon, distributed nationally and available  at retailers in both Ohio and Kentucky.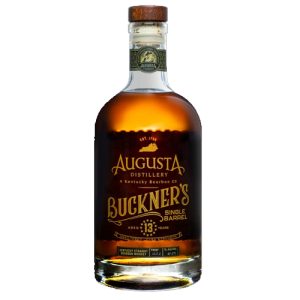 Production is expected to begin by Q1 2024, initially producing 6,000 barrels per year via a 32.5 ft tall 14″ wide Vendome Copper & Brass column still.
"The Augusta Distillery team is proud of our plan to build a state-of-the-art facility in Augusta, Kentucky," said Augusta Distillery Co-Founder and Board Vice Chairman Judd Weis. "We are creating an extraordinary distillery, guest experience and event center. Our hope is that, by delighting our consumers, this investment will create a spike in local tourism and additional economic opportunity for our neighbors in Augusta and Bracken County.
AD Offering Pop Tours & Tastings
Want to get a sneak peek of the site and some tasting while you're at it?  No problem, they have you covered.
"We are open for tours right now and have been for about a month," noted Judd Weis. We've created what we think is a surprising and unique experience. We do tastings that include our 13-year single barrel brand expression, a whiskey thieving experience where you get to dip into the barrels of our one year, 2.5 year, and four year expressions, and a "pardon our dust" tour of our 40,000 square-foot facility."
We wish Augusta Distillery all the best as they embark on this exciting new chapter of their journey.