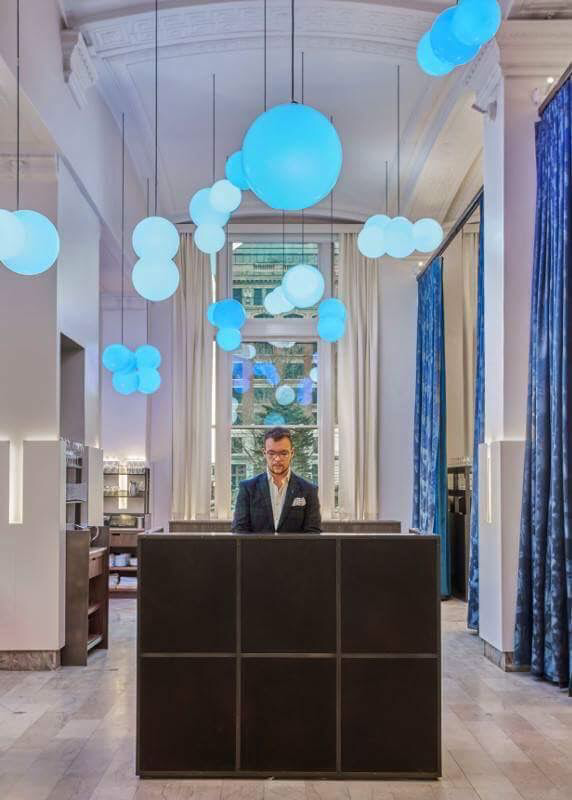 As we've combed through all 162 submissions for our list of The Best Places to Stay in Bourbon Country, a few have stood out to us Bourbon Travelers. Last week, we visited Bourbon Manor with Todd Allen in Bardstown, but this week we keep it local with 21c Museum Hotel in The Bourbon Review's hometown, Lexington.
Story Caroline Paulus
Photos 21c Museum Hotel
The 21c Museum Hotel in Lexington, Kentucky delights every sense. With luxury rooms, cooly lit dinners and drinks in a remodeled bank vault, and rotating art exhibitions, you'll never leave feeling underwhelmed. While their sleek look and modern menu suggest an eclectic crowd, many of their guests come for just one thing – Bourbon.
"[Bourbon] is a huge draw for us," says Jennifer Davis, Director of Sales and Marketing. "We are actually an official sponsor of the Kentucky Bourbon trail so we partner with them to make sure we are always top of mind for the travelers coming to Kentucky to take part in the booming Bourbon travel industry!"
The museum hotel serves up Bourbon to guests from all over the world. Their "Just Add Bourbon" package, an add-on for guests wanting to try flights and more, is available year round. Step into the gift shop to take home bottles of the 21c Selects – can you say souvenir?
Lockbox, 21c's restaurant and bar, lives up to its name in a decades-old vault. Soaring ceilings, white columns, and blue lighting and drapes set the scene for delicious seasonally-inspired southern cooking and cocktails. Their barrel pick program (the aforementioned 21c Selects) has pours from almost every big name distillery, as well as lesser-known (but still delicious) bottles like Whistlepig Rye and Old Scout Smooth Ambler.
"We get so many people in for the Bourbon Trail," emphasizes bartender Norma Beakman. "People spend their whole vacation here, coming from California or Chicago, just to travel between here and Louisville."
For first timers, Norma recommends their Penguin Flight. "It's more accessible for travelers, or those just starting out in Bourbon." The Penguin includes barrel picks from from Maker's Mark, Russel's Reserve, Old Forester, and Four Roses.
Although you may feel you've had your fill at the bar, their food can't be missed. Head chef Jonathan Searle makes what we consider some of the best fried chicken in the city. Brined, tender, crispy, and perfectly spiced, we love it with a whiskey or on the huge buttermilk biscuits served alongside – all in a warm cast iron skillet.
For those with more sophisticated palates, Lockbox offers a range of locally sourced small plates. We recommend the creamy mushrooms and ricotta and the gorgeously hued beet and citrus salad. Looking for a more spirits-focused dining experience? Try their Fork and Bottle Dinners!
And of course, no trip to the museum hotels is complete without a walk through the museum. The current collection, A Global Gathering, features works from artists all around the world.
Ready for the sights, the sleeps, and the sips at 21c Lexington? Click here to book your stay!