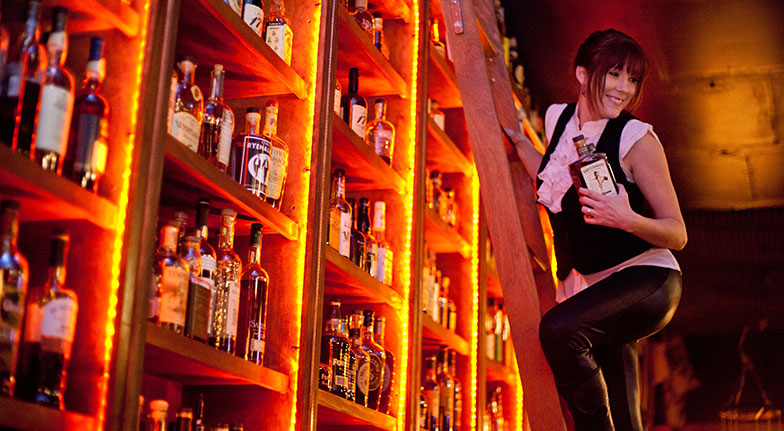 Overview  |  Bourbon Country  |  Northeast Region  |  South Region  |  Midwest Region  |  West Region
The 2014 List of America's Top Bourbon Bars  |  The 2013 List of America's Top Bourbon Bars
Yardbird Southern Table and Bar, Miami, FL:  If we told you that one of the hottest restaurants in Miami uses Bourbon as a backbone to its menu would you believe us?  Any doubters can head over to the Bourbon oasis known as Yardbird to enjoy one of their Bourbon flights, or cool down with their signature drink, Blackberry Bourbon Lemonade.
Old Hickory Whiskey Bar, Pensacola, FL : With 412 whiskeys and Bourbon leading the category with 140, Old Hickory should be added to the itinerary next time you're on the Florida Panhandle.
Southern Art and Bourbon Bar, Atlanta, GA:  It doesn't get much better for a Bourbon aficionado than to see a wall of Bourbon that reaches the high ceiling inside the lobby of their hotel.  This bar offers that sight, along with personal select barrels of Four Roses Bourbon.
Local Three, Atlanta, GA
Mac McGee, Decatur, GA
The Standard Pour, Dallas, TX
Julep House, Houston, TX
The Crunkleton, Chapel Hill, NC
Husk, Charelston, SC
Social Southern Table and Bar, Lafayette, LA
Peter Kern Library, Knoxville, TN
Whiskey Kitchen, Nashville, TN:  Plenty of Bourbons to pair with great Southern fare, such as the Fried Green Tomato BLT and the Southerner, a giant biscuit topped with gravy, a fried egg and cheddar cheese with fried chicken as a side option.
Capitol Grille at the Hermitage Hotel, Nashville, TN
Dickie Brennan's Bourbon House, New Orleans, LA:  With almost 100 Bourbons to offer, this certainly is a house of Bourbon.  Coupled with the service and culinary standards you expect from the Brennan name, this place is a must stop the next time you're wandering through the French Quarter.
Overview  |  Bourbon Country  |  Northeast Region  |  South Region  |  Midwest Region  |  West Region
The 2014 List of America's Top Bourbon Bars  |  The 2013 List of America's Top Bourbon Bars