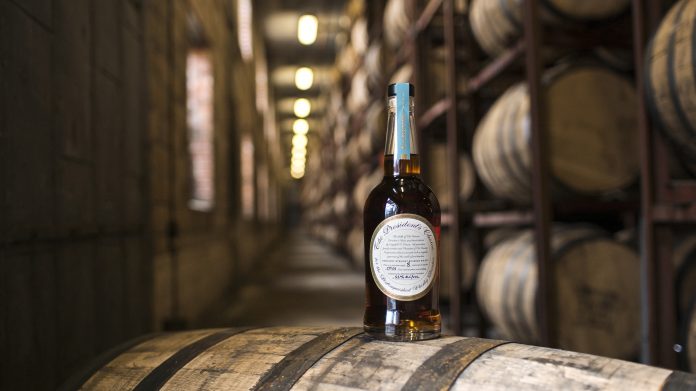 The bourbon industry has certainly had its highs and lows. Distilleries were hit hard when Prohibition took effect in 1920, and many didn't last to see its end in 1933. Even the revered still of Stitzle-Weller ran dry in the early 1990's, after clear spirits took the lion's share of the market from whiskey.
Fewer highs, however, have reached the interest and investment we see in the world of American whiskey today. Hundreds of millions of dollars of development are taking place in Kentucky alone, and microdistilleries are popping up in almost all fifty states.
This modern revival has brought dozens of new bourbon and whiskies to consumers – and has breathed new life into brands considered all but dead. Here are six of our favorite whiskies first distilled decades ago that we're drinking again today.
1. Bond & Lillard
William F. Bond and his brother in law Christopher C. Lillard distilled the first Bond & Lillard 150 years ago in 1869. The label remained popular for over 50 years, even stealing the show at the 1904 St. Louis World Fair, where a judge declared it to have "real delicacy of flavor, beauty in the sparkle and superiority in strength – it bears no equal." Campari revived the brand in 2017 as part of their "Whiskey Barons" series alongside Old Ripy, distilling at Wild Turkey with the Ripy family to recreate these lost recipes.
2. Cream of Kentucky
Now being bottled by J.W. Rutledge Distillery, the Cream of Kentucky name is back with an even bigger name behind it. Legendary distiller Jim Rutledge chose Cream of Kentucky as his first release for his new company, finding the perfect match for the soft, palatable whiskey in 11.5 year old barrels. As the name suggests, Rutledge promises a "creamy mouthfeel, with gentle fruitiness," just as the bourbon had when it was first being bottled in the 1940's.
3. O.F.C. (Old Fashioned Copper)
This bottle brings up more than one famous name! O.F.C. Distillery was established in 1870 by Col. EH Taylor on the site that is now home to the famous Buffalo Trace Distillery. The original O.F.C. Bourbon was distilled under George T. Stagg, who purchased the distillery in 1878 and renamed it after himself in 1904. The first iteration of the modern O.F.C. label by Buffalo Trace was made for donation only, and given to charities around the country to auction off to generous bidders. Each bottle is a labeled with specific vintage, as a nod to the history of the brand. Keep an eye on shelves near you – a new 1993 bottle is available to the public now, packaged in a crystal decanter with copper labels.
4. The President's Choice
As the President of Brown-Forman, parent company to big bourbon names like Woodford Reserve and Old Forester, Campbell Brown certainly has his work cut out for him. Last year, he added one more item to his strenuous workload – choosing honey barrels for the historic President's Choice label. Their tradition of specially selected barrels dates back to 1890, when Old Forester Founder George Garvin Brown chose a personalized bottling for then Governor of Kentucky Simon Bolivar Buckner. Today's label is a nod to the bottlings chosen by George Garvin Brown II in 1964, when his President's Choice program set out to find the most exceptional barrels the distillery had to offer for notable guests.
5. Kentucky Peerless
In 1899, Henry Kraver bottled the first Peerless Whiskey in Henderson County, Kentucky. 115 years and four generations later, Kraver's descendants Corky and Carson Taylor decided to bring their family's brand back. They opened Kentucky Peerless Distilling Co. in Louisville in 2014 under their ancestor's original distilling permit number, DSP-KY-50. Peerless released their first rye in 2016, and we can expect the return of their historic bourbon label this spring. Those wanting to taste a more recent history of this whiskey can order the Peerless Series I – a progressive collection of their bourbon as it ages.
6. Kentucky Owl
Charles Dedman first built C.M. Dedman Distillery in 1879, and distilled and bottled "The Wise Man's Bourbon" until the Feds came knocking in 1916.  As the temperance movement swept the nation, an entire warehouse of Kentucky Owl barrels was seized and sent to Frankfort for "safekeeping." It subsequently burned down under mysterious circumstances, with some saying the barrels inside were stolen prior to the warehouse fire by the famous bootlegger Al Capone. That was the last trace of Kentucky Owl – until the brand was brought back to its home state by Dedman's great-great-grandson, Dixon Dedman and his business partners Mark and Sherri Carter in 2014. It has quickly become one of the most collectible labels on shelves, and we can expect more big things from them soon when Kentucky Owl Park is completed in Bardstown.